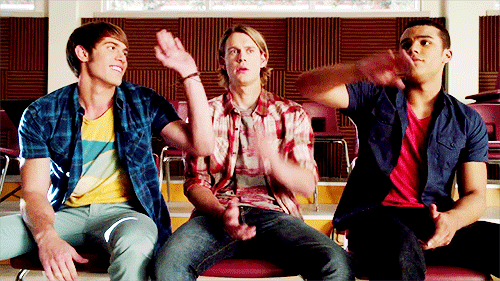 Name: Andrew
Nicknames: Andy, Drew
Gender: Male
Sexuality: Bisexual
Favorite TV Shows: Glee, Big Bang Theory, How I Met Your Mother, The Simpsons
Favorite Sports: Athletics, Dancing
Hobbies: Singing, acting, writing, basketball, improv
Favorite Song of All Time: Man in the Mirror (by the amazing MJ)
Religion: Roman Catholic
Political Views: Republican (apart from LGBT rights)
Favorite Singers: Billy Joel, Katy Perry,
Favorite Bands: The Beatles, Simple Plan, Van Halen, Rise Against, Queen, Foreigner
Favorite Genres of Music: CLASSIC ROCK
Favorite Movies: Marvel, Pixar
What I love:
Friends
Fun
Travelling
Booze
Outdoor activities
Fanfiction
Nice people
Fun-loving guys and girl
What I don't like:
College
Football ;w;
All Pokemon games following the fourth generation.
The sight of blood.
People who do nothing but complain.
Pushovers.
People who are rude without a reason or use brutal honesty as an excuse to be rude.
Whiny people who always think their problem is the biggest.
I wanna know how many people visit my profile. So if you come here, please vote =)
My Favourite Characters
My Favourite Episodes
Episodes I enjoy
Episodes I really don't enjoy
My Favourite Couples
Major Ships
Minor Ships
My Favourite Songs
Season Two
Britney/Brittany
Grilled Cheesus
Duets
The Rocky Horror Glee Show
Never Been Kissed
The Substitute
Furt
Special Education
A Very Glee Christmas
The Sue Sylvester Shuffle
Silly Love Songs
Comeback
Blame It On The Alcohol
Sexy
Original Song
Season Three:
The Purple Piano Project
I Am Unicorn
Asian F
Pot O' Gold
The First Time
Mash-Off

I Kissed a Girl
Hold On To Sixteen
Extraordinary Merry Christmas
Yes/No
Michael
The Spanish Teacher
Heart
On My Way
Big Brother
Saturday Night Glee-ver
Dance With Somebody
Choke
Prom-asaurus
Props
Nationals
Goodbye
Season Four:
The New Rachel
Britney 2.0
Makeover

The Break-Up
The Role You Were Born To Play
Glease
Dynamic Duets
Thanksgiving
Swan Song
Glee, Actually
Sadie Hawkins
Naked
Diva
I Do
Girls (and Boys) on Film
Feud
Guilty Pleasures
Shooting Star
Sweet Dreams
Lights Out
Wonder-ful
Friends