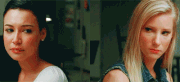 If it's not about Brittana then I could care less ! But let's start from the top shall we ? Hmmm , well I call myself the romance queen because my fan fictions are nothing but romantic drama and I think I do a heck of a job providing the romance ! Most of my fan fictions are about Brittana though , I ship them . . . HARD !
Basic Glee Questions:
Favorite Character:
It used to be
Brittany
, but now it's
Santana
.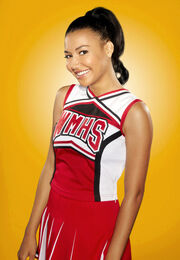 Least Favorite Character:
Hmmm...That's a hard one, but I'd probably say Terri. Even though Terri is hardly seen, sometimes I like her, sometimes i don't.
Favorite Episode:
I have a lot of favorite episodes, but I think if I have to pick my top three. It would be mostly from the second season:
&& Sexy.
Least Favorite Episode:
Hmmm...Probably Preggers. Rachel annoyed the hell out of me during that episode.
Favorite Solo Cover:
Rosie's Turn; I was moved by this song as well as Kurt's performance. It showed his emotions greatly throughout and I applaud Chris Colfer for his amazing protrail of such an amazing character
Jessie's Girl;You can just see the pain in Finn's eyes that Rachel is with Jessie and not him. I love this song
Toucha Toucha Touch Me; Just because it showed Emma in a different side than her original self, and not to add Santana && Brittany singing and dancing happily behind her the entire time
I Could Have Danced All Night; The undertone that it meant to be Emma saying she could have danced all night with Will only made this song that more enjoyable for me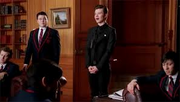 Least Favorite Solo Cover
:
Pink Houses; Kurt attempt of being straight distracted me from liking this cover
I Know What Boys Like; Seriously? They should have choosen a better song for Lauren because her cover sucked.
Blackbird; Kurt CAN sing, but this song didn't do it for me. Because of his high voice this song would have been way better if Blaine sang it instead.
Favorite Duet Cover:
The Boy is Mine && River Deep-Mountain High; Santana && Mercedes did an amazing job on both of these songs. Blew me away.
Me Against the Music; A very hot way of singing this song performed by Britney Spears && Madonna, i bow down to Santana && Brittany
Lucky ("So frickin charming" nuff said)
Dogs Day Are Over
I Dreamed A Dream (Idina did an amazing job with this),
Baby It's Cold Outside (I love the way Blaine && Kurt's voices go together),
Landslide (It was very touching and I enjoyed it, though it was close to being in the least favorite section because even though this song was beautiful it failed to show a lot more emotion than I think it got between Santana and Brittany because Holly did most of the singing.)
Least Favorite Duet Cover:
Pokerface (Though I got the hidden message behind the song and I thought that

Shelby

Added by

Finchel4ever

their voices went greatly together, just the fact that it's a mother-daughter duet threw me off from it),
Nowadays/Hot Honey Rags (The original was way better than this sad attempt),
Candles (Again, it has to do with Kurt's high singing voice. Certain songs they give him don't suit him because it wasn't made for his vocal range, this song was one of them)
Favorite Group Cover:
Imagine,
My Life Would Suck Without You,
Bad Romance (My favorite part of this song is Santana's part),
Do You Wanna Touch Me (Hot!),
Empire State of Mind (I love the way Santana looked so gangsta in it),
Toxic (We finally get Brittany in for a lead solo! yay!),
To Sir With Love (I cried so much during this song)
Least Favorite Group Cover:
Raise Your Glass! (I was highly disappointed in this number, I expected it to be so much more than what it was.)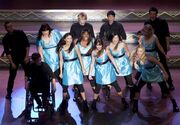 Favorite Original Song
:
Loser Like Me (It really highlighted what was meant to come from it, why a lot of people didn't like it is beyond me),
Hell to the No (Though the words in the song, if you truly listen, was funny and ridicous the beat and Mercedes's voice went great together),
Trouthy Mouth (Despite the funny feel to the song, Santana's jazzy touch to it made this song believable and down right enjoyable.),
Big Ass Heart (I just loved it, it proves that Puck really cares about Lauren.)
Least Favorite Original Song:
My Headband && Only Child (I know they were just beginning songs and both were meant for comedy relief, but I still found these songs to suck drastically.)
Favorite Glee Couple: Clearly it's Brittana...Duh! I also like Quick && Finchel, Oh and Wemma!
Least Favorite Glee Couple: Bartie && Samtana . Ewwww. Never again. Oh and Luck because I think they're better off as friends.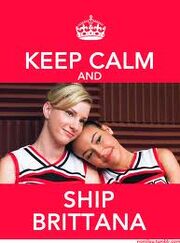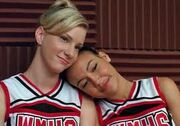 My favorite pages