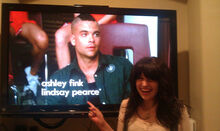 Info
Ah... been inactive for a while... Since like October. I think Lea and Lindsay are hot and their roles are my favorite characters on the show. I changed my name recently, it originally being Andrew.thompson cause i logged on through Facebook. I saw this ther user and kinda based it off that, since i'm apparently a fan of the same things. Glee, Rent and Wicked. Who knew? I look forward to getting back into the groove of the wiki again.
Pilot
The Rhodes Not Taken
Wheels
Power of Madonna
Home
Laryngitis
Journey
Duets
Never Been Kissed
Blame It on the Alcohol
Original Song
Born This Way
Rumours
New York
The Purple Piano Project
Pot O' Gold
The First Time
Mash Off
My Favorite Songs
My Favorite Couples
My Favorite Pairings
Blainchel
Furt
Kurtpez
Hummelberry
Songs I Want to See on Glee
Popular from Wicked - Kurt and Rachel
What Is This Feeling? from Wicked - Rachel and Harmony
I'll Cover You from RENT - Kurt and Blaine
I've Been from Next to Normal - Will
What the Hell by Avril Lavigne - Quinn and Rachel
Womanizer by Britney Spears - Santana
Crazy Dreams by Carrie Underwood - Tina
Anthem from Chess - Puck and Quinn/Shelby
Ireland from Legally Blonde - Brittany's mum to Brittany
Legally Blonde from Legally Blonde - Brittany
All That's Known from Spring Awakening - Finn and other Male New Directions
Seasons of Love from RENT - New Directions
As Long as You're Mine from Wicked - Rachel & Finn, Kurt and Blaine, Tina and Mike
You Haven't Seen the Last of Me from Burlesque - Shelby or Rachel
Make A Man from Mulan - Beiste
Reflection from Mulan - Quinn
A Whole New World from Alladin - Artie anf Brittany
I Won't Say I'm In Love from Hercules - Santana
Wonderful Journey from Anastasia - Tina, Sanatna, Finn and Puck
Favorite Quotes
"Is that the one with the cats?" - Brittany
"In ten years from now, you'll be remember the friends you had and the one's you just tossed aside." - Kurt
"Courage" - Blaine
"When you're different, when you're special, sometimes you have to get used to being alone." - Kurt
"A unicorn is someone who knows they're special and isn't afraid to show it." - Brittany
"Mr Shue i'm honoured but Barbara was 40 when she directed her self in Yentil so it's just to soon."
"I hate you." - Rachel & Brittany
Glee Project
My Favorite Contenders
Marissa
Cameron
Hannah
Samuel
Alex
Emily
Ellis
Matheus
Bryce (Probably would have liked him more if was in longer)
Favorite Songs
Jessie's Girl - Damian
Defying Gravity - Lindsay
Teenage Dream
Raise Your Glass

Added by

StGroffles

Under Pressure/Ice Ice Baby
Maybe This Time - Lindsay
Best 'Keep Holding On'
Cameron
Marissa
Matheus
Mckynleigh
Ellis
Bryce
Emily