I'm Katharina★ and I am from Austria, the most beautiful country in europe (and probably the whole world). I'm 15 years old. English isn't my mother tongue, so please excuse me if I make any mistakes.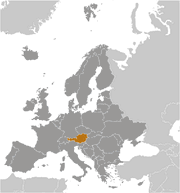 The first Glee episode I've seen is Preggers in German. I instantly fell in love with this show (and with Finchel!). I started to watch Glee in english because I couldn't wait to see what happens (and because I think the german voice-actors sound terrible!) and I think it was maybe one of the best decisions I've ever made! I've been learning English since 10 years now, Spanish since 4 years, Latin since 2 years (It's really the most unnecessary subject ever. I just take it because I have to) and I just started to learn Italian. (Hopefully I will actually be able to speak those languages in 3 years when I finish school...)
Will probably always be the one and only ★Miss Rachel B. Berry★
Not that I don't like the other Characters, because I do. These are really just my favourites.
The only character I REALLY don't like is Brody. I really, really, really can't stand him.
★My Favourite Songs per Episode★ Edit