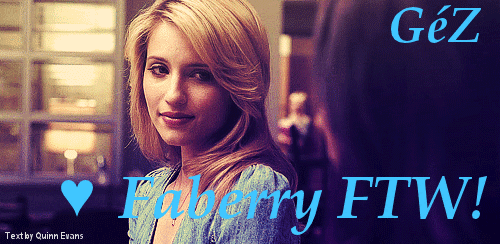 Profile Being Revamped
I will be revamping my profile so each section has its own page (on a blog). These will include my favourite characters, episodes, songs, ships, etc. and it'll make my profile look tidier.
Welcome!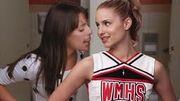 I'm a huge Gleek, and I love acting and singing. I currently attend a drama club once a week. I am on YouTube as well as Facebook and Twitter , feel free to add/follow me (although on Facebook please say who you are when you request just so I know). I love meeting new people and can't wait to meet everyone. I love reading fanfics and I have written several stories, whether they be fanfics or original stories. You can find me on Fanfiction.net under the name GLDx90 . I am bisexual, and proud of it.
| | |
| --- | --- |
| | My OTP is Faberry. |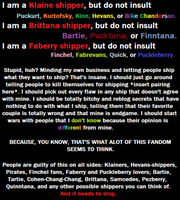 My Glee Story
I first found out about Glee in early November 2009, when someone I was subscribed to on YouTube posted a video demanding the viewers watch Glee, as Kristin Chenoweth (who I was and still am a huge fan of) was on a certain episode (The Rhodes Not Taken ). As I live in the UK, and Glee hadn't come to me yet, I was unable to watch the show, but really wanted to. I then discovered in my recommended videos Glee's cover of Amy Winehouse's Rehab , and once it was finished, I just couldn't stop listening to it. I then listened to most of the other covers Glee had done, some of which I had never even heard of before. Glee made me discover several artists and songs, from the past and present, some I never thought I'd hear of otherwise. Then when I saw Defying Gravity in there (hence I was/still am a massive Wicked fan), it made me even more excited to look forward to the show.
In January 2010, Glee came to the UK. Because video clips kept getting deleted from YouTube due to copyright, I knew little about the characters or plot prior to the show's arrival here. I watched the first episode and enjoyed every minute of it, and I just couldn't stop watching. Then, when I got to the seventh episode (Throwdown ) and its final song (Keep Holding On ), I cried for the first time. It was then that I realised that the Glee Club is very supportive of their members and is like a family. The very first lines, "You're not alone, together we stand, I'll be by your side, you know I'll take your hand", were beautifully sung and had me in tears, and it was very emotional and touching. Each member of New Directions is unique in their own way. I can connect with them, as I have things that make me different, such as Asperger's Syndrome (and the fact that I have been bullied most of my life), and I would love to be part of a group that is so much like a family and will support me no matter what, and I would do the same for anyone else.
Quinn
Sam
Brittany
Blaine
Kurt
Puck
Rachel
Mercedes
Will
Sue (mean but funny!)
Shelby (where WAS she in series 2?!)
The Warblers ♥ My favourite Warbler is Jeff!
Series 1
Series 2
My Favourite Songs From Each Episode
If I had to choose 1 favourite song from each episode. With some episodes, I have so many favourite songs I find it hard to choose!
Series 1


| | | |
| --- | --- | --- |
| Pilot | Showmance | Acafellas |
| | | |
| The first ever New Directions group song, and a true classic. Need I say more? | It's the Unholy Trinity, and Quinn's first solo! These 3 need more songs together. Seriously. | It seemed very dramatic in the scene leading up to the song, and I love the inclusion of the Cheerios. |
| Preggers | The Rhodes Not Taken | Vitamin D |
| | | |
| I loved both of this episode's songs, but this one wins. Definitely one of Tina's best, even if she did mess up at the end. | My favourite Queen song and I loved this cover, and the fact they were wearing blue (my favourite colour) added to the love. | Hard to choose as I loved both the mashups, but it was Mike's epic dancing that stole the show for me here. |
| Throwdown | Mash-Up | Wheels |
| | | |
| For a LOOOONG time, this was my favourite Glee cover ever, it was beautiful how they were all showing support for Quinn. It was just beautiful. It was also the first Glee song to make me cry and it proves how much of a family the club is. | Hard to choose between this and Sweet Caroline, but I love Wemma and had no idea Emma could sing until now, she has an amazing voice. | When I heard they were doing Wicked, I was overjoyed as I love the show! Kurt's was my favourite out of the two. |
| Ballad | Hairography | Mattress |
| | | |
| One of the best mashups of all time, and proof that Mr. Schue is one hot teacher! Rachel & Emma's reactions are PRICELESS! | We need more group numbers with Tina singing lead! This was simply beautiful! | Nearly went with Jump, but this one stole it for me, and do I sense Rachel/Lea trying to do a British accent here? Love! |
| Sectionals | Hell-O | The Power of Madonna |
| | | |
| I love this one, especially when they use dance moves from other songs, and the Wemma moments are just magical. | Rachel Berry with attitude - Love it, especially what she says after the song. And another great dance solo from Mike here! | I wasn't familiar with many Madonna songs and thought this was just 1, couldn't believe it's actually 2 as they were both merged together really well. |
| Home | Bad Reputation | Laryngitis |
| | | |
| I think the title of the song sums it up, and it shows that Mercedes is proud of who she is. | The music video of this was genius, esp. people getting in the way of Rachel, sexy Puck, Brittana as angels and Sandy's cameo as the dad! | Lots of favourite songs this episode, but it was Kurt who stole the show, I loved that he was singing to his dad and it was very emotional and heartfelt |
| Dream On | Theatricality | Funk |
| | | |
| It's Idina freakin' Menzel! It really felt like a real mother-daughter duet and was very heart-touching when Shelby held Rachel. I was in tears at the end of this song. | I was a huge Quick fan back in S1, and when Puck was singing to Quinn it was very emotional, his voice really gives me chills here. | The only song I really liked for this episode, and probably the best Quinn solo. I also liked the backup dancers here. |
| | Journey | |
| | | |
| | Gotta love Queen songs, and I liked how it was partly set to Quinn giving birth as the lyrics were really matched up. | |
Series 2
Audition
Britney/Brittany
Grilled Cheesus

The perfect way to introduce Sam as a lovable character with an amazing voice, and I love Artie's rap too.
I loved all the Britney songs, but I think Britney & Madonna have met their match in Brittany & Santana. And a Brittana duet will always make me happy.
Very emotional, I was crying when I first saw it. All the flashback scenes were very touching too.
Duets
The Rocky Horror Glee Show
Never Been Kissed

Mike & Tina's Sing! was at a close 2nd, but this definitely deserved to win. Amazing chemistry & voices and the introduction to Quam, one of my favourite pairings.
More proof that Will is the hottest teacher alive, and sexy wearing only a tie on his top half. And Brittana as Magenta & Columbia spying had me rolling around on laughter!
To be fair, I loved ALL this episode's songs, so it was hard to choose. Amazing how the Bon Jovi mashups seem better, and these girls just rocked it, not to mention looking hardcore in those leather outfits.
The Substitute
Furt
Special Education

This and Forget You stole the show this episode. Two amazing songs mashed up perfectly well. Feel bad for whoever had to clean up the water though!
This still is my favourite group number of all time. I mean who wouldn't want something like this at their wedding? Love the Quam bits, and did I hear Mike sing here?!
Santana was the perfect choice to sing this song - she rocks it! Also I love Mike & Brittany's dance solo!
A Very Glee Christmas
The Sue Sylvester Shuffle
Silly Love Songs

My favourite Xmas song ever, and I couldn't believe Klaine were just friends at the time as their chemistry was very convincing here!
Got to hand it to the Warblers for the higlight of this episode. I have "tin-tikitin-tintin" stuck in my head!
Two Warblers songs in a row, but this sounds really, really romantic and I love it, from Blaine's lead vocals to the backups, it's amazing.
Comeback
Blame it on the Alcohol
Sexy

Proof that it's possible to listen to a Justin Bieber song sung by a real man. In fact, both Bieber covers were made better than the original.
Tik Tok and Don't You Want Me were awesome, but this is just hysterical! Stupid Finn for interrupting, this was a creative, original song!
Rachel. Quinn. Emma. Puck. Carl. 5 of the best characters and voices ever doing this song? Pinch me please! *sqeals with delight*
Original Song
A Night of Neglect
Born This Way

Added by

Christopher mark lic

Another great Klaine duet. This is actually a break-up song, but they'd just dated, and it felt more romantic hearing this version.
I love Adele, and Holly did a great cover here. It was clear that she was singing this to Will, and I was upset as I kinda liked their relationship.
BEST. GLEE. COVER. OF. ALL. TIME. FINALLY a Faberry duet, and their voices blend superbly well, it sounds very pretty. More Faberry duets please?
Rumours
Prom Queen
Funeral

Lots of great Fleetwood Mac covers this episode, but this one wins. Santana's voice is beautiful as always, and this brings out her nicer, romantic side as opposed to bitchiness.
First Bieber, now Rebecca Black? Congratulations Glee, you've made a song I hate really worth listening! Well done Puck, Artie & Sam!
After Valerie, I was expecting Santana to cover this song too and she can channel Amy Winehouse really well, screw Jesse! R.I.P. Amy Winehouse.
New York

What a romantic cover! And why is this the only Disney song covered on Glee? We need more of them.
| | |
| --- | --- |
| | This user is a huge Quam fan. |
| | |
| --- | --- |
| | This user is a huge Wemma fan. |
I only ship Finchel from time to time and am not a big fan of the pairing. The same goes for Puckelberry, although I'm more likely to ship them than Finchel. While I don't dislike Finchel, I find the pairing overrated, as Finn and Rachel seem to have a scene together in EVERY episode, whether they're together or not.
Couples I Dislike

NEVER get me started on Fuinn. I hate it with a passion.
I also despise any adult/teen couples, e.g. Rachel/Will, Puck/Shelby etc., I just don't think it's right for 2 people of different age groups to be in a relationship.
I also dislike Samtana and Kum, but cannot find templates for these.