you don't need to know much about me except:
-I'm a fierce klainer
-I'm totally insane
-I like having an opinion (in the good way no worries)
-I don't like people who can't make the difference between the actor and the character (like Sebastian and Grant Gustin for instance)
-Woot Woot! (hum. sorry)
-I'm a sarcastic person and I have a big sense of humor, I joke all the time so don't take too seriously everything I say or do.
-bee happy!! yaaay!
(told you)
Kurt Hummel (I'm so in love with lovable Chris Colfer)
Blaine Anderson (you didn't expect that did you? I'm also madly in love with Darren Criss, like if that wasn't possible)
Brittany S. Pierce (go unicorns)
Rory Flanagan (I told you homeboy!)
Sue Sylvester (sloppy babys)
Jeff  the Warbler (I love Riker Lynch can't help it)
gooood I cant't count them! I probably forgot a lot
Every single one (it should be easier to ask for the episodes we didn't like, there would be less to count)
the whole season 2 (except the 13th because I can't stand Justin Bieber)
Original song, the first time... all that.
(By the way, don't you guys think Glee is starting to change and it's a bit wierd now, like it's not like it used to be and I hope it's temporary... and I know there should be a question mark right now but I think it would make my statement look odd)
My Favorite Songs
Now again they should have asked which songs we didn't like...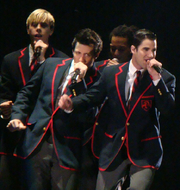 All those performed by the Warblers
All those with Kurt as the lead
Kurt/Blaine duets
Sebastian songs (so far)
Santana/Mercedes duets
Broadway songs
Santana songs (except for constant craving... I can't rock that song, I don't know why, I just can't .)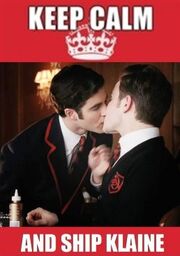 Klaine (so perfect... so handsome... don't touch my klaine and back off Karofsky! Kurtofsky is great as a friendship relationship but it's weirdly handled. And I used to dislike Sebastian but now I love him... such a bitch. He was fun trying to steal Blaine I want him to try again just so that Klaine gets spicy ang bounces (I like that word "bounce") and grows even closer)
Samcedes (I don't know why people find them disgusting, they're one of the most interesting pairing of the show ang they both look great)
Hiram/Leroy
Klaine
oh and Klaine as well.