Comments

10
Season 1 Gleek Back- Pilot: Director's Cut
Pilot is the very first episode of Glee; some say it is the best episode of the series. The episode isn't a personal favourite, but it is the corner stone of this show. This doesn't mean it's free from mistakes though. Here's a recap and look back to the beginning of New Directions.
Glee is a show about a glee club, right? So, why does it open on a cheerleader? This Cheerio isn't even one of the Unholy Trinity; Quinn, Santana or Brittany. Although it is worth noting that Brittany (Heather Morris) wasn't casted until before Showmance. You Keep Me Hangin' On, which Quinn re-sings in Throwdown, can be heard during this Cheerios number. The first words uttered on this show are "You think this is hard? Try being water boarded, that's hard!" by the one Sue Sylvester. I'm not sure why they thought this was a good way to start, but that quip isn't that funny, and the scene doesn't really give the show the best start possible.
Enter Mr Schue. A few things to note from this scene, Puck is wearing a Leatherman jacket, it looks a bit different then they do for the rest of the series, also how could Kurt afford a Mark Jacob design? His Dad runs a tire shop. Since Finn is late in handing an assignment in, this suggests that this isn't the first day of school. This ponders the question, what time of the year is it?
Hank Saunders, the singer of the first song to be sung on glee, is never seen or heard again after being touched by Sandy Ryerson. Sure, he probably transferred after the incident, but this suggests there was already member of the glee club before Will took over. Where did all the previous members go? Rachel says in her voice over that Hank got the solo she deserved, but she states in Mattress that this was her first year in glee club. Wouldn't she have previously needed to be in glee club to be eligible for a solo?
Speaking of Rachel, what is she wearing? Her clothing style isn't your run-of-the-mill to say the least, but pearls, really? Emma is wearing them as well! We get something closer to classic Rachel Berry fashion later on in episode, but her first few wardrobe changes are very odd. This is probably a result of not knowing the character and her style so early on.
On a side note, Sue got four lattés for the other staff members. Will and Ken take two of them. It is awfully nice of Sue to think of other people in that way, especially letting her least favourite teachers have the coffee she bought.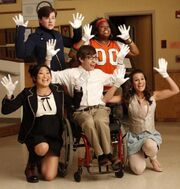 Tina is a good singer, True Colors was amazingly sung, and she barely gets to sing at all, so why did they get her to singI Kissed A Girl? This just makes me uncomfortable, was it supposed to be bad? Kurt's song I have never heard of before and since. On an interesting note, that note that he held was six seconds long, Rachel held hers for seven in On My Own and Lindsay's character Harmony sang for ten seconds during Anything Goes/ Anything You Can Do in The Purple Piano Project. Artie doesn't audition, well if he did, it wasn't shown on screen. This disappoints me; the audition song shows the character of the person. Sit Down, You're Rocking The Boat is sung by him, so you could say that makes up for it, but I would have liked the former. Also does the choir room looks different, or is that just me?
Rachel's life story bit fits interestingly into the episode. The photo in the locker is the most we have ever seen of her dads, the slushy that Puck throws at her looks more like tomato soup and who is still on MySpace? Wouldn't YouTube have given her more exposure? Facebook would have also surpassed MySpace by now, at least that is fixed by Journey. Tina: You know how many Facebook friends I had before joining glee club? Two, my parents.
The trip to Carmel High is riddled with mistakes. Firstly, Emma has a crush on Will, they have been friends for years, but she didn't know how long he has been married for. That is something you tell people very early on in a friendship. Vocal Adrenaline is introduced as last year's Regionals champs. They had won nationals the last three years, isn't that a bit more of a credit? Where is Jesse, or a soloist of some form? In Funeral he says that they always base their performance around one person. Finn is wondering around when he is hit by the paint balls. They are in another town, why are all the football players there? Finn is at a school which he, presumably, has never been before, wondering around by himself; wouldn't they have a bus or something to catch back? Would they even let him on the bus covered in paint, did he have to stand up on the trip home? These are valid questions, but never answered, and the scene itself is ignored afterwards.
When Finn rejoins New Directions at the end of the episode, he said he would bring the
music. He choose Don't Stop Believin', why then in Season 2 they make it out that Mr Schue is the one obsessed with the band. In The Substitute, Holly said she saw their Regional's performance, and that they were doing someone else's favourite music. Sure, it might not be their favourite, but they were more than excited to do a Journey Medley at the time. They didn't even do a song by the band in Season 2, though it was inferred that Will was taking them through the entire catalog of Journey music in both The Substitute and then Comeback.
Pilot: Director's Cut is one of the most referred to and memorable episodes in the franchise, but there are mistakes. I haven't been able to cover everything I hoped to, but this is a large chunk of confusing points. Hope your day is a Gleek one, Joanna.
P.S. If there are any episodes that you would like me to pull apart, leave me a note in the comments section. Only doing Season 1 for now, Season 2 hasn't been released yet in Australia.