Quinn Fabray was my second favou
rite character
on Glee, after Rachel Berry of course, but now I feel like screaming every time she is on the screen. For some reason that is yet to be fully explained she dyed her hair pink, started smoking and all of a sudden wants Beth back. She would even lie to everyone, especially the people who were there for her in her darkest hours, to get what she wants. Quinn has always been a bit of a bully, but even she had her limits. Shoving a kid's head down a toilet isn't something I thought the ex-pregnant, Lucy Caboose would even sink down to doing. What have they done with the once charming cheerleader that I used to know? Well, I didn't know her personally, but you get the i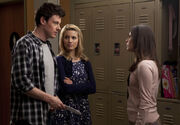 dea.
Quinn changes her mind, and personality, like a girl changes clothes. I have lost count of how many different directions the writers have taken her in the two and a bit seasons of this show. From cheerleading captain, to pregnant teenager, to mother, to cheerleading captain, to obsessed prom queen candidate, to Lucy Caboose, to hair cut makes a difference, to Skank, she's a different person almost every episode, and I'm sure I missed a few there. It also doesn't help that in the Australian promos she is wearing a Cheerio uniform. She hasn't been one since February!
People change, I get that, but Quinn saying that the current version of her is the 'real one' makes me wonder what is wrong. The real Quinn, in my opinion, is what I like to call the Rachel Quinn, Quinn when she is around Miss Rachel Berry. Before you start complaining that this statement is ridiculous, think about it. Try and remember what Quinn was like after Rachel reveals to Finn that he isn't the father is Sectionals and Quinn after she slaps Rachel in Prom Queen. In these two scenes, Quinn is the same person; honest, thoughtful and real. She is almost anytime they are together. If you think about it more, the most sane Quinn has been in these last two episodes was when Rachel was talking to her in The Purple Piano Project. Now, I'm not sure what this means, but if these two don't have a heart to heart about how they feel about Shelby coming back within the next couple of episodes, my next post might not be so kind.
Quin

n Fabray was on '
Honour
Roll', in season 1. I'm guessing that means she's a smart girl, because we don't have them down here. Her planning in Hairography, as against it as I was, it was very well thought out and cleverly planned. How this girl got into smoking and tattoos is a very confusing mystery to me. Also, shouldn't they be illegal for her at that age, someone correct me on that.
Glee is my favourite show, and I love it to bits when it is at its' best. Sure Quinn was one of the original villains of the series, but haven't they redeemed her enough already? Hasn't she suffered enough and been helped too much by the glee club to become this evil clone? All I hope is that Quinn remembers the Lucy inside of her and drops the attitude. Is that too much to ask? Hope your day is a Gleek one, Joanna.