Comments

3
Mr. Shue and Rachel as Brad and Janet...WOW
Check out Rachel Berry, played by Lea Michele, and Will Schuester, played by Matthew Morrison, killing Rocky Horror as Brad and Janet!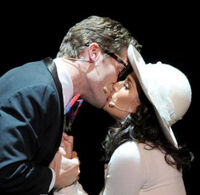 In honor of the 35th Anniversary of the Rocky Horror Picture Show a phenomenal cast of performers put on a tribute concert last night in the Wiltern in LA. Two of our favorite Gleeks, Berry and Schue, stole the main parts of Brad and Janet! It is a little odd seeing the teacher and student as boyfriend and girlfriend but it is still amazing!
Also on hand were Jack Nicholson, Nicole Scherzinger, Evan Rachel Wood, Danny Devito, Jorge Garcia of Lost, and a special appearance by Tim Curry himself!