Comments

5
The Brittana Team - Locker Scenes *DETAILED OVERVIEW*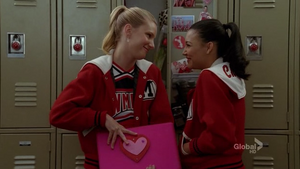 Many of the most
touching
moments in the Brittana relationship have been their talks at their respective lockers, or views of things in their lockers.
Moments at the Lockers
Edit
Shirt locker (the infamous "I'm With Stoopid" and "Lebanese" shirts) - Born This Way
Things inside Santana's Locker
Edit
"Lord Tubbington thinks your purrrrfect... and so do I" Note (Pot O' Gold

)
Many pictures of her and Brittany.
A picture of the Cheerios team from Season 1
The photobooth picture of her and Brittany
A Cheerleading Magazine with her on the cover
Things inside Brittany's Locker
Edit
Possible Other Items
Edit
(The Following could be Quinn's locker)
Picture of her on her stairs
Heart-shaped post-stick notes saying "Call Charlie" (If Quinn could be You,Me & Charlie) and "T_____ a Fuschia elephant"
In 3x18 Kurt has a picture of The Unholy Trinity and Brittana