Comments

2
Glee: From the Beginning - 1.04: Preggers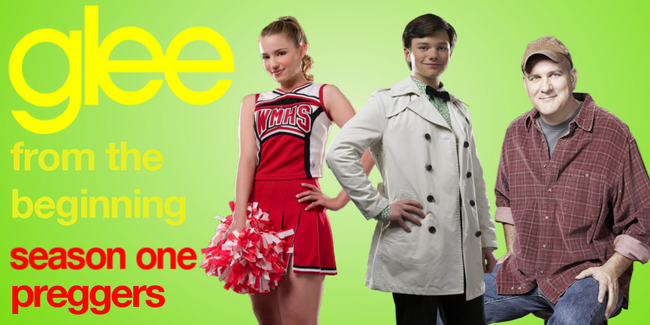 (To get an idea on what the heck I'm talking about, read this: http://glee.wikia.com/wiki/User_blog:Josh_Bullin24/Glee:_From_the_Beginning)
Hey guys :) I'm here today with my review of 'Preggers', the fourth episode of Season 1. Hope you enjoy the review and please leave a comment below with your thoughts! Thanks!
1.04: Preggers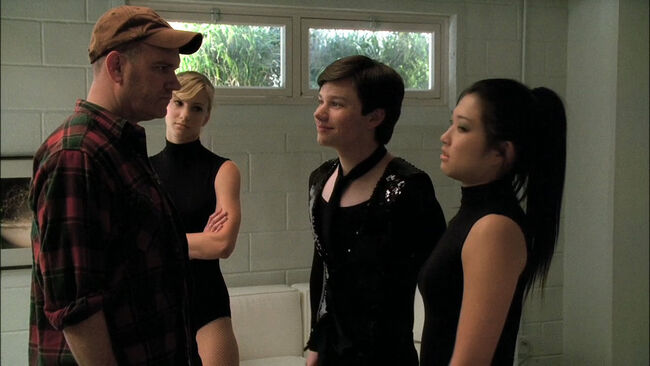 Not many shows on TV have a High School Football Team dancing to Beyonce during a match. But not many shows are like Glee and 'Preggers' is a perfect example of this. 'Preggers' takes a central focus onto Kurt (Chris Colfer) who has been a prime source of one-liners in the last three episodes, as he attempts to join the Football team to hide his sexuality from his dad (Mike O' Malley in his first appearance), while Sue (Jane Lynch) & Sandy Ryerson (Stephen Tobolowsky) lure Rachel (Lea Michele) away from the glee club in an effort to bring down the club and Quinn's (Dianna Agron) world is rocked when she learns of her pregnancy.
The episode begins with Kurt shooting a video of him dancing to 'Single Ladies' by Beyonce with the help of Tina (Jenna Ushkowitz) and Brittany (Heather Morris). The opening scene is hilarious and totally unexpected on first watch, but is cut short when Kurt's dad walks in on them. Kurt covers himself up by claiming to have joined the football team and saying the dance is a fitness exercise. As the title flashes, we cut to Kendra (Jennifer Aspen), giving Will (Matthew Morrison) & Terri (Jessalyn Gilsig) a birth lesson. Kendra & Will's mutual hatred for each other is hilarious as she pops insults at it, almost in a Sue Sylvester manner. In a panic, Terri tells Kendra that she isn't really pregnant and nearly tells Will, but Kendra stops her hastily saying that 'we're gonna have to get you a baby!'
The next day, Emma (Jayma Mays) tells Will & Ken (Patrick Gallagher) of Sue's new segment on the Local News. The flashback is one of Sue's best rants yet, being totally outrageous and hilarious at the same time! As we go back to the Staff room, Sue appears and continues to insult them, making the first of her many amazing jokes about Will's hair. The drama continues, as in a glee club rehearsal Rachel is outraged to learn Will has given Tina (Jenna Ushkowitz) a West Side Story solo. I love Rachel, but I think she was being very selfish in this episode especially considered how awesome Tina sounded on 'Tonight'.
Meanwhile, Kurt asks Finn to help him get onto the football team. Kurt is great in these scenes with lots of hilarious quotes, but he proves to be more than good enough to be the team's kicker. I was laughing out loud at him after he kicked looking at his response ("That was good right, That was good?"). After this Sue is brought some hate mail from a worker at the News Station and her determination to destroy the glee club only increases and Quinn tearfully tells Finn that she is pregnant! Whoops. Even though they never had sex… Anyway the scene is nicely laid out and Dianna does some great acting in it.
This leads to one of my favourite comedic scenes of the episode, where Sue visits Sandy Ryerson in his home, to recruit him into her scheme to bring down the glee club by luring Rachel into playing the lead in a school musical. This scene brings home how disturbingly creepy Sandy is as he wears a ridiculously short robe, shows his collection of china dolls and takes a seat on the 'Casting Couch'. Sue expresses my views perfectly here stating sarcastically how "lovely and normal" his dolls were before saying all that was missing from his home was "Bodies lined and rotting in a shallow grave under the floor boards". Oh Sue! Even Sandy thinks he's "living in a cocoon of horror". Sandy is let back in the school when Sue blackmails Figgins (Iqbal Theba) with a video of him, and we see Rachel's brief audition of 'Taking Chances' where she is immediately given the lead role.
Will is dismayed to learn of Sandy's rehiring and Rachel's betrayal to the glee club. She refuses to stay in the glee club unless she is given the 'Tonight' solo. It's funny how in this episode I actually prefer Will to Rachel! Anyway Will is further driven to give Rachel the solo after insistence from Tina, despite her giving a note-perfect rendition of 'Tonight' despite her bum note at the end. After this, Finn confesses to Will of Quinn's pregnancy. He tells Will that he needs a Football Scholarship and the way to do this is by bringing the football team together – by learning to dance. Will is unsure at first but eventually accepts Finn's plea to teach the team to dance. Its quite a sweet scene, and at this point Will & Finn's father-son relationship isn't creepy.
The football team especially Puck (Mark Salling), are dismayed to learn of the 'dancing' proposition, fully backed by Ken and the others. This leads to a hilarious scene where Kurt teaches the club the 'Single Ladies' dance. ("I think we should end with a show circle!"). Afterwards Finn tells Puck about Quinn, and we learn that Puck is the real father of the baby! Ouch! Quinn angrily tells him he'll 'always be a Lima loser' and runs to her car sobbing hysterically. Creepily, Terri is sat in the car and implies she wants Quinn's baby. And the baby swap begins! It's all a bit 'soap opera' and convenient for the circumstances, but this is Glee, the show where continuity is hardly brought up and it brings an interesting plot arc for the time being.
The big game arrives, and the Football team refuse to dance leaving Finn in a difficult position, not wanting to let Kurt down or lose the game, but not wanting to ruin his reputation. They begin to lose the game, but Finn eventually convinces the team to dance and Puck hands back a fantastic insult to one of the opposing football players. The dance is so odd and embarrassing, but I just couldn't stop laughing and it remains one of my favourite Glee scenes ever. Just awesome, and the team manage to score a point or something (No idea what goes on in American Football, sorry!). Kurt gets his big moment in front of his dad ("He's so little"), but manages to score, sending his dad and the crowd into hysterics as the team wins the match.
The next scene kind of deletes the rest of the episodes events though, in a really beautiful coming-out scene, where Kurt finally admits he's gay to his dad. Its poignant, sweet and funny at the same time and was really nicely handled by Chris Colfer & Mike O' Malley who proves Burt to be a great character. The episode ends as Finn gives Quinn his blanket for Quinn's baby to have, Puck and the mute duo of Mike (Harry Shum Jr.) & Matt (Dijon Talton) join the glee club and Will finally decides to stay with his gut and give Tina the solo, leading to Rachel quitting the club once and for all, as a nice and funny Sue's Corner segment plays over the events.
In my opinion, 'Preggers' is the strongest episode yet, combining a nice mix of comedy & drama through out the episode, adding a potentially good plot arc to the show and having some great character development for Kurt. Maybe having one or two more songs would have been nice, a Kurt solo especially, but overall this episode was fantastic.
Rating: 9.2/10
Best Moment: Either Kurt coming out to his dad or the Football team dancing. Just hilarious!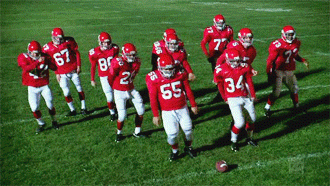 Worst Moment: I honestly couldn't find a really awful moment in the episode, but probably just Rachel's selfishness at the beginning of the episode.
Songs:
Single Ladies (Put a Ring On It) [Kurt]: A Very brief but great dance number, which was unexpected and funny, being very well danced by Kurt, Tina & Britt. I wish there was a full version! 6.5/10
Taking Chances: Amongst Rachel's solo, this one doesn't really stand out, probably due to the minimal screen time of the song, but Lea still sings it amazingly, matching Celine Dion's version well. 7/10
Tonight: Why did they not studio-record this and release it? Please tell me why, because Tina sounds amazing on it and I'd have loved to hear a full version of it. I also prefer it to the Blainchel duet in Season 3 :P 8/10
Single Ladies (Put a Ring On It) [Football Team]: It was just one of the most wonderfully bizarre things Glee has ever done. I couldn't stop laughing during it, and they also danced pretty good! 7.5/10
That rounds up my review of 'Preggers'. Hope you liked it and I'll be back tomorrow with my review of 'The Rhodes Not Taken'. Please leave a comment below letting me know what you thought :) Bye for now!
Review Guide