Comments

2
Glee: From the Beginning - 1.06: Vitamin D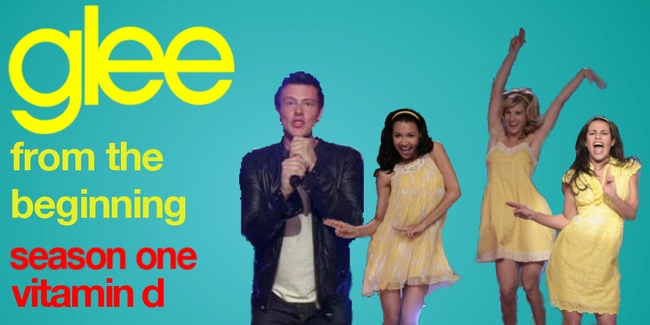 Hey everyone! :D I'm here a little earlier today, with my review of Episode 6, 'Vitamin D'. Hope you enjoy it and happy reading!
1.06: Vitamin D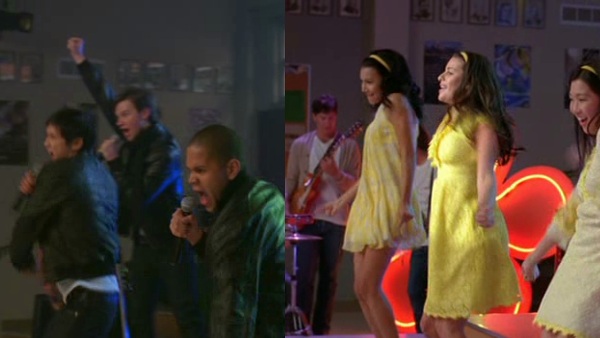 Mash-up songs performed on Glee are among the most successful overall, with songs such as 'Rumour Has It/Someone Like You', 'Thriller/Heads Will Roll' and 'I Feel Pretty/Unpretty' setting the charts alight. The episode that introduces us to the ingenious mash-ups is this one 'Vitamin D', where Will (Matthew Morrison) pits the girls against the boys in a 'mash-up' competition to relight their competitive spark. Meanwhile, Terri (Jessalyn Gilsig) takes up the 'School Nurse' position at McKinley, in order to keep an eye on Will and stop him growing closer to Emma (Jayma Mays).
Will tells Emma he is concerned that the club have become complacent, after they begin to slack off when they learn of their supposedly weak Sectionals competitors. Emma's suggestion of a 'stickerboard' is so cute, but makes Sue (Jane Lynch) butts in and suggests he tries to make them more competitive but says it in a completely innapropriate manner ("They need to be terrified!") :P. This prompts Will to start a Girls VS Boys 'Mash-Up' competition in the glee club and both teams are confident ("Totally, I'm gonna start storyboarding our choreography tonight" "We're planning on smacking them down like the hand of god").
In one of my favourite scenes of the episode, Sue writes in her journal about her growing hatred of the glee club and Will. Sue is hilarious in this scene, firing amazing quotes one after another, but she notices Will & Emma's growing friendship and quickly reports this to Terri and suggests she takes the 'School Nurse' job at McKinley (After Sue slyly put the nurse into a coma) to keep a closer eye on Will, to which she agrees to. Terri witnesses a cute Wemma scene, and quickly puts an end to it, revealing her new job and horrifying Will. Next, we get more insight into Finn (Cory Monteith) as he tells us that he is feeling increasingly exhausted by all his activities and is feeling attracted to both Rachel & Quinn (Dianna Agron).
He falls asleep in a Glee rehearsal and goes to the nurse to have a nap while the girls are still feeling complacent about their chances in the mash-up competition and joke about Quinn's pregnancy, despite Rachel's insistance that they rehearse. Terri tries to help Finn with his exhaustion, by giving him 'psuedoephedrine', which she used in her high school years. This turns Finn into a disturbingly perky version of himself, and he shares his 'vitamin' with the other boys, fuelling their energetic and just plain awesome mash-up of 'It's My Life' & 'Confessions', which intimidates the girls and Rachel with the flawless vocals and awesome Mike (Harry Shum Jr) dancing.
Rachel asks Quinn to return to Glee and they share a really nice Faberry scene, as she tells her she will need the club once people find out about her pregnancy. Its really nicely done, and starts the unlikely friendship between the two. Meanwhile, Terri orders Howard Bamboo (Kent Avenido) to buy a substancial amount of 'Vitamin D' and pushes Ken (Patrick Gallagher) to propose to Emma in order to break off Will & Emma's growing relationship. Aww, I feel really sorry for Ken as he crys about how much he loves Emma. I always think its a shame his storyline ended with him having a 'nervous breakdown' as he deserved to have a happy ending.
Anyway moving on, the girls are confused as to how the boys pulled their performance out the bag but Kurt spills the beans on how they took the 'vitamin d'. Rachel angrily confronts Finn to vent how angry she is about it but is left deflated upon Finn telling her that the boys will win, even if the girls are 'spectacular'. This prompts her and the other girls (and two extra cheerios :L ) to take the medication too, in order to help them win. Will grows agitated of Terri being around him all the time, as they now have nothing to talk about ("A lot of ants on the sidewalk today") and he needs his space while Ken awkwardly proposes to a terrified Emma and her response is left unanswered.
Later in the day, the girls perform an energetic and hilarious mash-up of 'Halo' & 'Walking On Sunshine'. To me, this song is all kinds of awesome and Will & Emma are astounded by their energy. But Finn knows something is up, and we learn that Emma is going to accept Ken's proposal as Will questions why. I agree with Will in this part, it is a bit of an illogical reason to marry a person just because there aren't many other options. Terri is a bit of a bitch in this episode, as in consecutive scenes she bullies Emma into accepting the proposal and refuses to pay for Quinn's baby bills even though she agreed to give her the baby. Emma's acceptal of the proposal is cute and funny but I think it was wrong of her, seeing as she barely likes him.
Meanwhile, Rachel & Finn are both feeling guilty about taking the medication and agree to own up to Mr. Schue and disqualify themselves from the competition and Terri is fired by Figgins for giving the students the 'drugs' and getting Howard Bamboo arrested. The episode ends with kind-of bad things for Will, as he is assigned a co-glee director, turning out to be none other than Sue and he learns of Emma accepting Ken's proposal.
'Vitamin D' was a great episode, having many nice and funny moments, and building the relationships of our characters. The quantity of songs in the episode is more than made up for by the quality of the two mash-ups, both being exceptional in their delivery and vocals. Only nitpicks could be the focus on our adult characters, who are great but it would of been nice to have more moments for the glee club members. But overall, it kept up Glee's consistant streak of strong episodes.
Rating: 8/10
Best Moment: Kurt trying to join the Girl's team or
his facial expressions during the Boy's mash-up. This kid is hilarious.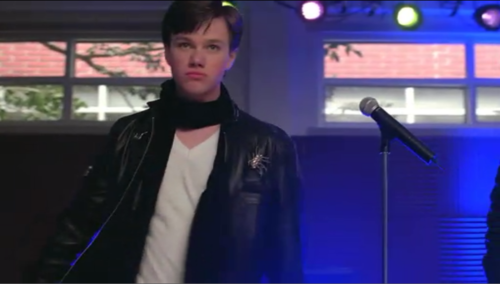 Worst Moment: Terri's disturbing flirting with Will in the staff-room.
Songs
It's My Life/Confessions Pt. II: The boys mash-up is freaking awesome, combining the songs together amazingly and giving us Artie's first real solo during a number. And he rocks it. Plus Mike gets to show his amazing dance moves. 9/10
Halo/Walking On Sunshine: I'm in the minority here, but this mash-up is just all kinds of amazing IMO. It is just so energetic and I just really want to get up and dance whenever I listen to it. The girls perform it very well & Rachel's high note at the end (more so in Studio Version) - Spellbinding. 9.8/10
Well that wraps up my review of 'Vitamin D', I hope you enjoyed it and please leave a comment below with your own thoughts of the episode! Thanks and I'll be back tomorrow with my review of 'Throwdown'!
Review Guide