Comments

2
Glee: From the Beginning - 1.11: Hairography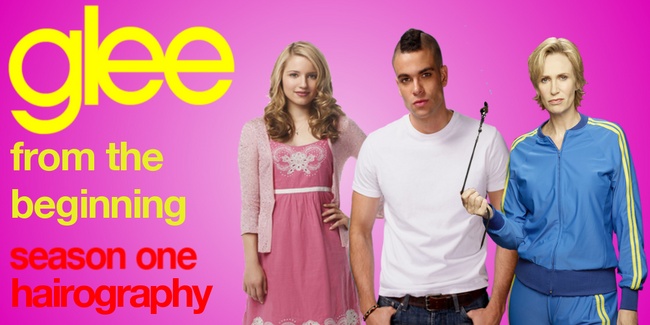 Hello everyone :) I'm here today with my next review, this time the 11th episode 'Hairography'. I hope you enjoy it and happy reading! If you need to catch up my any of my past reviews look at the 'Review Guide' at the bottom :)
1.11: Hairography: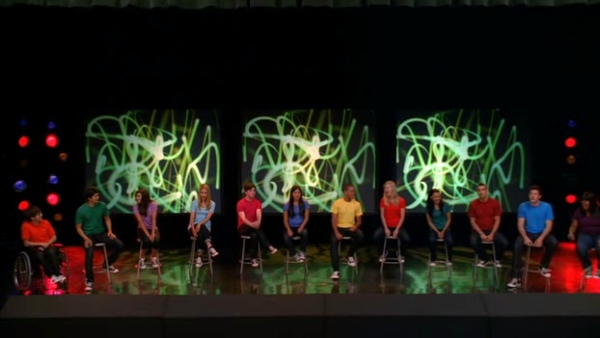 While Episode 11 is called 'Hairography', the main focus and drive behind the character's plots in the hour are distractions. Will (Matthew Morrison) is intimidated by their Sectionals competition, director Grace Hitchens (Special guest star Eve) and the Jane Addams Academy with their 'hairography' driving him to put it into their performances. Quinn (Dianna Agron) reconsiders having her baby adopted and letting Puck (Mark Salling) become a part of her life while Terri (Jessalyn Gilsig) uses a car as a distraction to Will, as her secret is being quickly unravelled.
The episode opens as Sue (Jane Lynch) demands the Sectionals setlist from Will, but he is suspicious that she is leaking information to their competition. Emma (Jayma Mays) recommends he visits Jane Addams to check if Sue has been doing anything. The director bluntly denies that they have been cheating, and Will offers to let them perform in their auditorium since they don't have one. They launch into a raunchy but impressive rendition of Bootylicious using extentsive 'Hairography', intimidating Will. Rachel attempts to reassure him, but he isn't convinced. He announces their new song for Sectionals, involving wigs for the boys and the title song from Hair.
Quinn has been left unsure over giving away for baby, after she considers raising the baby with an increasingly compassionate Puck. She realises she has to distract Finn so she can take Puck for 'a test drive', so she goes to Kurt (Chris Colfer) to convince him to give her a makeover so Finn would gain attention to her. By this point, Will somehow still hasn't suspected Terri isn't really pregnant, as she realises she too needs to find a distraction for Will to keep up the charade. We go into an instrumental of Mercedes' solo Don't Make Me Over as Kurt gives Rachel a makeover (First hints of Hummelberry :P) and new look to help Finn notice her more.
Terri buys Will an old car to fix up so he can be distracted, but it all seems for nothing when Quinn drops a bombshell to Kendra & Terri - She's keeping the baby. Dalton Rumba (Guest star and Season 3 writer Michael Hitchcock) complains to Will about him holding a 'scrimage' for Jane Addams, and not his glee club at the Haverbrook School for the Deaf (Their other Sectionals competition) so Will tells him that they can perform at McKinley too. Normally, Glee gets it humour right without being too offensive, but the jokes here a little unfunny at points even though I love the character of Mr. Rumba. Anyway, Terri & Kendra scheme to get Quinn to give up her baby again, planning on having her babysit Kendra's 'devil' children.
Rachel arrives at school the next day in a compromising outfit, catching Finn's attention and they organise a 'date' on Friday night to rehearse for their Hair number. He asks Quinn's permission, which she gladly accepts, so she asks Puck if he wants to babysit Kendra's kids with her, which he also says yes to. In glee club, Brittany (Heather Morris) gives a lesson on 'Hairography' to the other members in a hilarious short scene, but Will catches Sue watching and confronts her. Sue admits shes been watching him, but only because she isn't impressed with him using 'Hairography' to distract the members talent and threatens to return as co-director if she doesn't get a setlist without Hairography.
We skip to a kind of embarrasing scene, where Rachel puts on a ridiculous Grease cat suit to impress Finn at their date, but he isn't happy branding her new look as 'a sad clown hooker'. Rachel realises Kurt sabotaged her, after Finn recalls to Kurt asking him what type of girl he likes. Finn says he likes her the way he is and she is left sad again. At Kendra's house, the triplets cause all hell to break out and Quinn & Puck attempt to control them by singing an great acoustic of Papa Don't Preach. The kids are impressed and finally settle down, going to sleep all together, washed to Kendra & Terri's horror ("What are you an exorcist?"). Will realises he shouldn't be focusing on the car and more his coming 'daughter' and Quick bond over the successful babysitting.
Rachel confronts Kurt and realises that he also likes Finn. The two bicker for a while before Kurt says that he loves Quinn and they are nothing but distractions for him. Quinn's new bond with Puck is short-lived when Santana (Naya Rivera) rips in her revealing Puck was actually 'sexting' her during the babysitting. The Haverbrook Deaf Choir arrive for their 'scrimage' with New Directions, and they experiment with 'Hairography' in their mash-up of Hair and Beyonce's Crazy In Love. The number is kind of ridiculous and even the Deaf Choir aren't impressed :P. They in turn perform a rendition of John Lennon's Imagine. Mercedes' continues her streak of strange behaviour, when she interrupts their performance singing the song, before the whole club join them on stage. Nevertheless, the scene is very touching and beautifully sung by her, Artie, Rachel & Finn.
Quinn confronts Puck over his sexting with Santana and changes her mind over the baby, and agrees with Terri to give it to her on the basis of Will being a better father to her than Puck. Will buys a family car after selling the car he'd been fixing up, and tells Terri he will not let anything else distract him. Finn admits to Quinn he met with Rachel on Friday Night, but she is okay with it and the two go back to their loving relationship. Will gives Sue the setlist and apologises over the 'Hairography' and replaces it with True Colors giving Tina her first solo. His suspisions are proven true though, as Sue leaks the official setlist to Grace & Dalton and the episode ends as the glee club members share glances with each other in True Colors.
'Hairography' is not another classic episode, and seems particularly thin on comedy, entertainment and memorable storylines, but overall the musical numbers of the episode were mostly strong and the plot was progressed well as we go into the final two episodes of the first half.
Rating: 6.8/10
Best Moment: Someone bring her back now! :P
Worst Moment: Rachel in the whole cat-suit thing. Not that funny and I thought you were better than that Rachel.
(Note: This is the final appearance of Kendra :( There goes half of Terri's appeal)
Songs
Bootylicious: The Jane Addams Girls impress in their version of the Destiny Child hit. No doubt Mercedes could of done it better, but nice choreography and some strong vocals make it an often underrated number. 7/10
Papa Don't Preach: Quinn does a fantastic job of the song acoustically, and her vocals seem to fit the track perfectly. However, the song is a little short (even the recorded version) and a full version would of been nice to appreciate Quinn even more. 7.5/10
Hair/Crazy In Love: When it first was released, I found this crazy mash-up ridiculously catchy, but I now recognise the number was kind of ridiculous, but hilarious at the same time and Mercedes/Artie don't do a bad job vocally. 6/10
Imagine: While them interrupting the performance was questionable, it is still one of those really touching Glee moments, as the members connected with the deaf students and Mercedes does an awesome job vocally, along with Artie, Rachel & Finn. 7.8/10
True Colors: Tina's first solo and I just love it. Her vocals are clean and just so lovely and the number is a really understated moment of the episode, as the New Directions realise they don't need gimmicks to pull off a magical performance. 9/10
Well that wraps up my review of 'Hairography', I really hope you enjoyed it and I'll hopefully be back tomorrow with my review of 'Mattress' (Admittedly less likely due to homework and what not), so bye for now! :)
Review Guide