Comment

1
Glee: From the Beginning - 1.14: Hell-O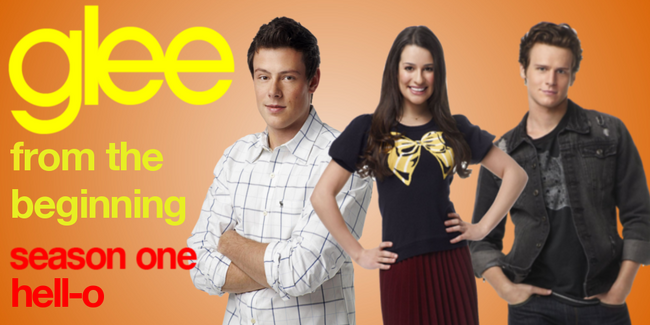 Hello everyone :) I'm back today with my next review, this time the 14th episode of Season 1, and first in 4 months in original airing, 'Hell-O'. I hope you enjoy it and happy reading! If you need to catch up my any of my past reviews look at the 'Review Guide' at the bottom :)
1.14: Hell-OEdit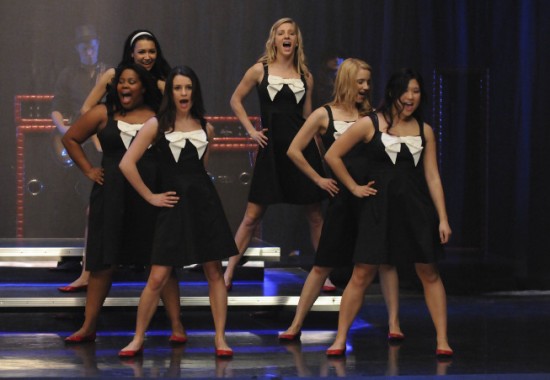 The first thirteen episodes of Glee sparked a phenomenon all over the world, and fans were dying to see what the crew did next. Thus 'Hell-O' was one of the most eagerly awaited television events of 2010, and the show needed to impress to prove it was not just hype. The episode marked a new start for the members of New Directions and new storylines, as two couples get together before breaking up in the space of a half hour and Rachel (Lea Michele) begins to crush on a new boy - Their fiercest rival, Jesse St. James (first appearance of Jonathan Groff) of Vocal Adrenaline.
The episode begins almost excitedly, as Don't Rain On My Parade plays and Rachel marches down the hallway with Mercedes (Amber Riley) & Kurt (Chris Colfer) confidently, only to be deflated by a series of slushies. Ah, the best way to begin! Will (Matthew Morrison) is disappointed to see that Sue (Jane Lynch) has been reinstated as the coach of the Cheerios (After some sly but hilarious blackmail on Figgins) and the glee club still have to place at Regionals to survive the year. Finn (Cory Monteith) tells us that the pressure of being with Rachel is making him 'depressed' and we learn Puck (Mark Salling) and Quinn (Dianna Agron) are a couple. It's such a shame we hardly had any 'Quick' in these 9 episodes, and never again until 'Goodbye'.
Anyways, Sue continues to be absolutely hilarious as she cuts off a guys ponytail ("I'm gonna donate this to the victims of Hurricane Katrina. So they can fill the plugholes in their trailers") and reveals to Will that he blackmailed Figgins (Iqbal Theba) to get back in her position. Will wants to 'bury the hatchet' but Sue is even more hellbent on getting Will fired and the glee club disbanded. He doesn't seem worried, as he tells the glee club they need to step it up for Regionals, by making an assignment for doing a 'fresh number' with 'hello' in the title. We cut to Will & Emma, and learn that they have begun dating and they have a cute little scene and organise a date together at Will's house.
Santana (Naya Rivera) and Brittany (Heather Morris) are told by Sue to go after Finn, as Rachel wants him so much and will eventually quit the glee club leaving them vulnerable at Regionals. Will tells Finn that he should find himself, launching him into his 'Hello' assignment. He doesn't do a bad job of the song (Kurt certainly looks aroused) and Brittana make a move on him ("You're a really good dancer" "My feet weren't moving" "That was the best part") arranging a date together at Breadstix, unbeknownst to Rachel who wants him to be honest with her. He tells her he doesn't want to be her boyfriend, which leaves her heartbroken. Rachel angry at Finn, performs a gutsy rendition of Gives You Hell, full of angst towards him. It is kind of awesome, but Will is not impressed who tells them they really need to buckle up, or glee club will be over.
Rachel at the library is met unexpectedly by Vocal Adrenaline lead Jesse St. James. She is intimidated but he manages to get her smitten in a matter of minutes after they sing a beautiful duet of Hello by Lionel Ritchie. We go to Finn, Santana & Britt's date at Breadstix, where Brittana engage in small-talk while Finn is awkwardly sat across silently, not being involved in any conversation ("Don't make fun of Rachel, she's kinda cool" "That's mean Finn") and we are provided with one of Glee's most famous quotes - "Did you know Dolphins are just gay sharks?". I died a little. Anyway, Will & Emma slow dance in his apartment romantically, and it's sweet and they begin to passionately kiss, but Emma reveals shes not comfortable and that she is still a virgin. Awwh.
Finn reveals he made a mistake by going on a date with Brittana to Rachel, and wants to be with her. She bluntly turns him down, stating she is now dating and is in love with Jesse. Sue is unimpressed with Brittana's efforts to seduce Finn, but is pleased to learn Rachel has fallen for Jesse. We go into our first Vocal Adrenaline performance including Jesse, Highway to Hell. It is pretty awesome, but their director, Shelby Corcoran (guest star Idina Menzel) isn't impressed. Will comes in to express his concerns about Rachel & Jesses' relationship, and he thinks they are spying on them. The two swiftly start to make out, where she admits she doesn't really care about coaching VA and is obsessed with work. She tells him he needs to take some time to find himself (Same as his advice to Finn :P) and ignore relationships.
The other original ND members threaten to kick Rachel out of the glee club ("We're not saying that dude is playing you" "He's playing you") if she doesn't break off her relationship with Jesse, as they are scared of him spying on them. Sue introduces her to the 'McKinley High Old Maids Club' in order to tell her to choose love over the team, after Lauren Zizes (Ashley Fink) tells her her story of losing a boyfriend (Hilarious!), in order to further get her to drop out of Glee, leaving her in a tough position. Terri (Jessalyn Gilsig) arrives at the apartment to see Emma setting the table for a romantic dinner and reveals that Hello (the song they danced to the night before) was their prom song. Uh oh! Anyway, Rachel visits Carmel High to see Jesse. After a brief scare ("I carry a Rape whistle!") he arrives, and he reassures her in a sweet scene and for a moment it looks like he really likes her. But as they kiss, Shelby watches them and he subtly nods. No Rachel! It's a trick! :O
Emma confronts Will over the whole Hello Prom song business, and thinks that he is still in love with Terri and that they should both take a break until Will has 'gotten to know himself' more. So within 1 episode, two fan-favourite couples got together and broke up. I bet the wiki (if it existed) went into meltdown ;). Rachel informs Finn that she has broken it off with Jesse (LIAR!) and Finn still wants to be her boyfriend. She again denies his offer, using the excuse of having 'no drama' at the moment and being a team player. The episode ends as the club perform Hello, Goodbye and Rachel walks out in tears. So much for 'no drama' Rachel :P
Hell-O is not a classic episode of Glee to be remembered as one of the strongest. But it kicks off a series of new storylines for the remainder of the series nicely and has some kick-ass musical numbers and comedy moment. While Wemma and Finchel briefely being together in this episode seemed a little unnesseccary, 'Hell-O' was satisfying for fans as they were delighted to have Glee back, and for viewers who rewatch it now.
Rating: 8.5/10
Best Moment: Lots of hilarious moments in this episode, but this one is a classic (especially the last one)...
Worst Moment: Rachel & Finn being together at the beginning of the episode. Seriously, how pointless? It would of been easier just to cut that and have that storyline less dominating, leaving time for the 8 regulars ignored in the episode ;)
Hello, I Love You: Finn doesn't do a bad job on the song, and it seems to fit his voice nicely. It's a bit of a dull number to kick off the second part of season one though, and not very memorable. 5.5/10
Gives You Hell: Rachel's solo is far more satisfying, putting a new spin of the All American Reject's hit, and with her powerhouse vocals it makes the song a superb number in the episode, helped by the awesome dancing and backup by the other members. 8.5/10
Hello: A touching and vocally flawless duet by Rachel & Jesse. I wish Jonathan Groff could sing more on the show, and its clearly him and Lea had chemistry in the scene. 8/10
Highway to Hell: A pretty short Vocal Adrenaline number, and the first with Jesse in the spotlight (Where was he in Rehab/Mercy? :L) but he manages to make it great, with some nice vocals and impressive choreography. Nothing beats the original though ;) 7/10
Hello, Goodbye: In my opinion, one of the strongest Season One New Directions numbers, with some great vocals from Rachel & Finn and pretty good choreography too. Also nice as Emma, Will, Rachel & Finn share glances and sad looks, leaving the next eight episodes open for everyone to speculate about. 9/10
Well that wraps up my review of 'Hell-O', I really hope you enjoyed it and I should hopefully be back tomorrow with our first tribute episode - 'The Power of Madonna'. Bye for now! :)
Review Guide
Edit