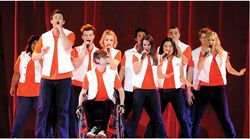 Now that Glee has officially wrapped up, Glee Live! In Concert! officially kicked off last week! We have a rundown of some of the songs, performances, and other exciting news via Hollywood Reporter!
At the Staples Center in Los Angeles, they opened with their classic Don't Stop Believin', moving on to Dog Days Are Over, and P.Y.T, with Artie's trademark smooth vocals. The two divas, Rachel and Kurt sang I Want to Hold Your Hand and Don't Rain on My Parade. Santana sang Valerie with her throaty voice while Miss Brittany S. Pierce danced her famous I'm a Slave 4 U.
Sounds amazing right?? They doubled their ticket sales from last year and packed the house full with nearly 70,000 people!! And they're going international this year, which is huge news for Glee. Of course, the Warblers made an appearance to sing some of their most popular songs, including Teenage Dream.
Let's celebrate the Glee tour's smashing success! If any Gleeks are lucky enough to see the tour, be sure to report back!
Kate.moon 21:40, May 31, 2011 (UTC)