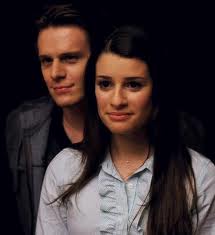 I can't believe the finale for Season 2 of Glee is next week! In honor of Nationals, we have a few juicy spoilers for you!
Big at Big Apple
With all these pictures from Nationals in New York, we know it's going to be BIG, which Brad Falchuk has already confirmed:
"It's Nationals, so it's actually a much bigger...it's teams from all over the country so it's a much bigger pool. These are these kids from a little place in Ohio, like the Bad News Bears. The whole idea is that no matter how big Regionals has been or Sectionals has been, this is a totally different world and the scope is much bigger and the pressure is much higher and are they prepared for it? Can they overcome their internal squabbles to come together and take this?"
Finn-Quinn-Rachel-Jesse
We know with the recent bout of Finchel there's just bound to be drama at Nationals. When Finn broke up with Quinn, she revealed that she had big plans for Finn...what could that mean? Could she leave New Directions to fend for themselves?
And what about St. Berry? Will they stay together or will Finn try to break them up? According to Lea Michele, "We get to go to a lovely dinner and we walk through Central Park together." That seems like a romantic evening out for Finchel, but with Glee, you can never tell!
Terri
Ding, dong, the witch is dead! Or at least gone...for now. Since Terri had a change of heart and gave our New Directions first class tickets to New York...we'll let her off the hook temporarily. We don't know yet if Terri will be in SEason 3 at all; she's on "extended leave," which leaves room for her to come back!
What do you think Gleeks? Excited for Nationals!? Tell us in the comments!
Source

Kate.moon 20:55, May 20, 2011 (UTC)