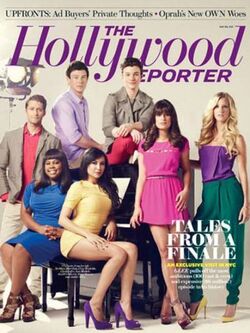 There's only one more episode before the season finale of Glee! With the cast shooting in New York, the episode promises to be epic. We have tons of new info for you Gleeks to sink your teeth into!
From Perez Hilton
I Love New York/New York, New York mashup CONFIRMED. Get stoked!
The song Chris Colfer and Lea Michele are singing in the Gershwin? For Good from Wicked! Lea explains: "We feel like we're Elphaba and Glinda. Chris likes to be called Guylinda, though"

Guylinda! Love it! Hopefully they'll reprise their amazing Defying Gravity duet! The stage also happens to be the same stage that Idina Menzel aka Rachel's birth mother on Glee and Kristin Chenoweth (April) performed on for Wicked! This only gets better!

In one scene, Heather Morris is holding a bunch of balloons and creator Ryan Murphy wants to have her let them free at the end of the scene. The scene is cut because of "littering fines."
Fans crowding the streets during shooting ranged from 10 to over 200, the latter being in during the Time Square.
Finn, Rachel, Puck and Lauren will all have a scene at Todd English's Ça Va Brasserie. Two of them will try to order Manhattans. Guess which two?
Ryan Murphy on securing Patti Lupone for the finale: "I wouldn't take no for an answer. Obviously, we talk about her very reverentially, and she agreed to do it because she loves the arts and the show. Patti LuPone is New York to me."
Patti actually improvised some of her own lines that may or may not make it into the final cut.
While shooting at Sardis, Lea Michele ALMOST had her portrait done. A waitress had conferred with a manager, but Lea left before anything could be done about it.
The episode cost $6 million!
Are you stoked yet Gleeks? Tell us what you think!
Gallery
Source

Kate.moon 18:33, May 12, 2011 (UTC)
Ad blocker interference detected!
Wikia is a free-to-use site that makes money from advertising. We have a modified experience for viewers using ad blockers

Wikia is not accessible if you've made further modifications. Remove the custom ad blocker rule(s) and the page will load as expected.