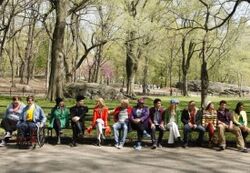 Tonight is gearing up to be an epic musical night! With Glee's finale at 9 PM and American Idol's Top 2 at 8, it's an exciting night for FOX.
Meanwhile, there are several other musical-themed shows that dare to take on these two giants: the new show, The Voice, and Dancing with the Stars. I wonder how this will affect ratings since Dancing with the Stars finale AND The Voice is playing at the same time as Glee!
Well, we know what show we'll be watching, right Gleeks? Let's help Glee smash the ratings record and finish the season strong!
Kate.moon 17:58, May 24, 2011 (UTC)