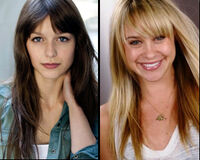 Glee is gearing up for Season Four and that means casting, casting, casting. Along with A-list celebrities like Kate Hudson joining the cast are newcomers Melissa Benoist (left) and Becca Tobin (right). They will have recurring roles as students at McKinley--Kitty and Marley, respectively.
We don't know much else about the characters of Kitty and Marley. How do you picture Becca and Melissa playing Glee characters? Will one be a moody Goth, the other a preppy cheerleader? Or perhaps one of them is a foreign exchange student? How would you cast these girls?
I think Melissa will play...
I think Becca will play...
Source: Tvline.com
---
---
Ad blocker interference detected!
Wikia is a free-to-use site that makes money from advertising. We have a modified experience for viewers using ad blockers

Wikia is not accessible if you've made further modifications. Remove the custom ad blocker rule(s) and the page will load as expected.