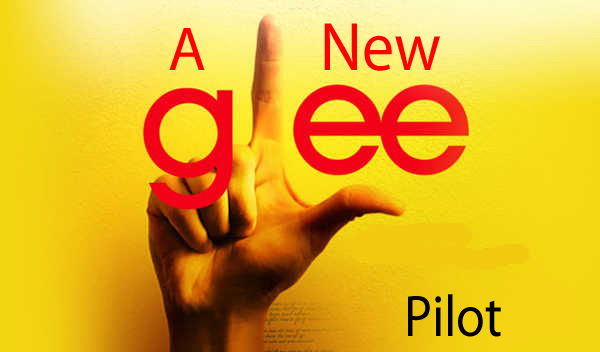 Next Episode: E1: For The Longest Time
Before you begin, you should know that this takes place 6 years after the 4th season of glee. Mr. Shue and Coach Sue are still in charge of the New Directions and Coach Roz is in charge of the Troubletones.
Pilot
In the parking lot
We see a blue Mini Cooper pull up to the side of the school and a conversation going on inside between mother and daughter.
Mrs. Beck: Camille, are you excited for your first day of school?
Camille (sarcastic): Yeah mom, of course, isn't everybody.
Mrs. Beck: Now Camille, don't use sarcasm around me, you know better than that.
Camille: Fine. No, I'm scared, I'm nervous, I don't know anyone. Why did we have to move anyways?
Mrs. Beck: For the hundredth time, I got a promotion and they needed me in Lima, now stop asking me! Trust me, you'll love it here and you are going to meet so many nice people.
Camille: I want to go back home.
Mrs. Beck (insensitively): I know, but we're staying here.
Camille: Ugh.
Cars honk behind her.
Mrs. Beck: Ok, well I got to get to work, it's my first day too. I'll pick you up around 5 and we will get dinner.
Camille: Ok mom; see you later. (Kisses her mom on her cheek)
Mrs. Beck: Bye, baby, have a great day. DON'T FORGET TO SIGN UP FOR CLUBS!
Camille (embarrassed): Mom, keep your voice down, I go to school here.
Mrs. Beck: Love you, baby! Hahaha oh how I love embarrassing her.
Walking into School
After seeing her mom drive off, Camille turns around to face the new challenge that is right in front of her; being the new girl at High School is never easy. Walking down the hallway, Camille looks around trying to figure out where she even is, the zoo? School? The back alley? A bunch of jocks rush by her throwing a football knocking her over. Just then, a tall good-looking boy with brown hair, white skin, and wearing a letterman jacket comes up to her to help her up.
Camille: Hey, watch where you're throwing that thing.
Boy: Hey, sorry about that.
Camille: Well you should really—(looks up at the guy; smitten) It's no big deal. I'm fine.
Boy: No but really, I'm surprised I didn't see you; you are definitely someone that I would've seen.
Camille: Oh really, and why is that?
Boy: Common, an attractive girl such as yourself, with long, golden, wavy hair and a beautiful smile. I mean honestly, how could I have missed you.
Camille: I don't know guess something else distracted you.
Boy: Well, I'm sorry
Camille (flirty): Hello, Sorry, I'm Camille.
Boy (smiling): Hi Camille, my name is Luke but you can call me Sorry if you want.
Camille (still flirting): Sorry it is.
Luke (still smiling): If you ever need help or anything make sure to call me.
Camille: Can I call on you now?
Luke: Yeah, of course.
Camille: I'm new here, obviously, and I don't know where my locker is or where any of my classes are. So what do you say about giving a little girl a hand?
Luke: Do you know one?
Luke laughs while Camille lightly punches his arm.
Camille: I meant me, could you give me a hand.
Luke (claps his hands): How is that? (laughs) Sure thing. Let's go.
Camille: You're such a dork.
As they are walking, Luke is showing Camille where some of her classes are, Camille smiles thinking that she now has a friend, and maybe even a high school crush.
Camille: So you seem to know what's good in the school, can you show me the ropes, like where to go, who to talk to, who to avoid? You know that kind of stuff.
Luke: Sure thing. Well for starters, as long as you're with me your fine. (Camille giggles.) The only thing I would avoid both the clubs and the people would be those in the Mock UN, Debate team, Rhythmic Gymnastics, Synchronized Swimming, and Glee Club.
Camille (taken aback): Glee Club? Why, you guys have won Nationals the past six years, but it was split to both groups you guys have: the New Directions and the Troubletones both won three times respectively.
Luke gives her a questionable look.
Camille: What? I did my research before I came here?
Luke (laughs): True, true. But it's still not as popular as the jocks. They definitely have become more popular but they still get the occasional slushy to the face and I don't want you to worry about that.
Mark Peary, a tall, muscular, very good looking senior walks by and gets slushied by the football team.
Camille: Wow, (to the jocks) Hey watch it. (to Luke) Thanks for looking out. Well here is my locker, (slowly) right next to the sign up sheets for the clubs, (sarcastically) great.
Luke: Ha, well at least now you wont forget.
Camille: Awesome…well thanks for showing me around.
Luke: Anytime, well I gotta run. I gotta go see the guidance counselor about scheduling my SATs.
Camille (shocked): You're a junior?
Luke: Yeah I am.
Camille (quickly): Ok, well see you around.
Luke: Later.
Camille (messing with her locker): A junior? Luke is a junior? Great, just great. The first guy I meet that I actually like is a junior, ugh this changes everything. He probably has a girlfriend and they're gonna get married and worst of all, if I even join Glee Club I'll risk getting slushied like that one guy. What to do, what to do? (closes her locker) Camille walks up to the sign up sheet and just as she turns to leave, Luke comes over.
Luke: Cheerleading.
Camille: Ahhh, You scared me.
Luke: Hahaha, I can see you as a Cheerio.
Camille: Thanks. And it wasn't funny.
Luke: It is a little bit.
Camille: Whatever. What are you doing here, I thought you left.
Luke: I did but then I realized I didn't give you my number.
Camille: Oh, ok thanks. Here is mine.
Natalie Appears
Just then a beautiful girl who is shorter than Camille with dark red hair and green eyes wearing a revealing blue dress comes out of nowhere.
Girl: I'll take that. (snatching the piece of paper) What do you think you are doing?
Camille (confused): Uh, are you talking to me?
Girl: No, I'm talking to the locker. Yes, you!
Camille: Um, giving my number –
Girl (a tad jealous): Lucas, why is this girl giving you her number?
Luke: Well-
Camille (peeved): What's your deal?
Luke: Camille, you see she-
Girl: The name is Natalie aka Luke's girlfriend!
Luke stands there awkwardly not really sure what to do.
Camille: Oh, I didn't know. [Of course I did, I just didn't want to believe it.]
Natalie (mockingly): Oh "I didn't know." Ha, like I haven't heard that before.
Camille: I'm new here and Luke was showing me around cuz he knocked me over.
Natalie: Oh really is that so.
Luke: Natalie, come over here. (whispering) It is true, I was showing her around and I gave her my number just in case she needed any help.
Natalie: Oh ok. I believe you, I understand (walks back over to Camille and whispers to Camille in her face) Now look here Goldie Locks, I maybe a sophomore but me and mah Troubletones sisters run this school. And let me give you a piece of advice, stay away from my man. (louder) Well if you need anything ask me. See you around, Toodles.
Luke: I gotta go, but I'll see you at lunch.
Camille: Wont Natalie be jealous?
Luke: Well she's busy today so I don't see a problem; do you?
Camille: No, lunch it is then.
Up against the locker Camille tries to process what happened.

Luke, a junior, hot, taken, and his girlfriend is a complete psychopath. (smiling) Maybe I could use that to my advantage. Camille crosses back to the bulletin board and puts her name on the New Directions sign up sheet.
In the Teacher's Lounge
Will, Emma, Coach Roz, and Sue are all talking about the new year.
Mr. Shue: Sorry Roz, you may have beaten us at National's last year, but this is the year for New Directions.
Coach Roz: Oh hell no, Mr. Shue. The Troubletones will be bringing it again and again and again until only my group stays standing and New Directions will go plummeting down Marianas Trench.
Mr. Shue: Your group only has females in it, and the last time a boy auditione he ended up needing therapy. New Directions will definitely be the winner because we have a variety.
Coach Roz: That's because he was weak. The Troubletones are three things Mr. Shue: Fierce, Femme, and Phenomenal. If we beat you guys this year then maybe I'll think about letting males in my group but until then, only girls allowed.
Sue (walks in with coffee for everyone): I still cant believe you guys are still going on and on about that. It's Glee Club it's not anything important.
Mr. Shue: Well Sue, you are still signed up as Co-Director so-
Sue: So has got nothing to do with it Will. And don't remind me that I'm still your partner. These past six years I've still yet to remove that awful taste from my mouth, I even tried using acidic products-
Flashbacks of Sue trying these products
and all that did was give me some minor mouth bleeding. But my Cheerios are still my main priority.
Mr. Shue: And I couldn't be more proud of you still sticking around.
Emma: Well I think it's a great thing that there are two glee clubs at the school.
Coach Roz: And why is that deer eyes.
Emma: Well, for starters they allowed it so you guys don't compete against each other till Nationals if you guys both get there and you will. Plus, competition has been able to keep your kids in check and focused on destroying the competitors.
Sue: I still can't believe you got tenure.
Bell rings
Mr. Shue: Well good luck at your auditions. It's time for the first day of school to start.
They leave.
Over the PA system
Principal Figgins:
Good Morning McKinley, I hope you all had a great summer and are looking forward to yet another great year. Don't forget next week is our Welcome Back Pep Assembly. If you haven't done so already, the sign up sheets are located in the West Wing outside of the science lab for those of you who wish to partake in this year's festivities. Also, whoever thought of tagging the East Wall with profane picture of our janitor dancing the Macarena you are in big trouble when I find out who did that. Show the wall and two students giving each other a high five in success.

Anyways, have a good day. Mr. Shue (to class): Hello, class I'm Will Shuester and welcome to History. Hope you are ready for another year at McKinley. (sound of crickets) Once again I would like to send an open invite for you guys to audition for New Directions, the sign up sheet is on my door and the back wall. (still silence) Ok, well let's get started then.
Bell rings everyone leaves except one person. Ray, a senior who is an African American male with a muscular build to him, walks over to Mr. Shue to talk to him about Glee Club.
Ray: Mr. Shue.
Mr. Shue: Ray, what can I do for you?
Ray: I know, I'm a senior and I haven't really been the best student but I would like to audition for New Directions.
Mr. Shue: Ray, that's great but auditions aren't until lunchtime.
Ray: I was wondering if I could audition now, I'm kind of nervous singing in front of others.
Mr. Shue: And you want to join New Directions hoping to over come it.
Ray: Actually I need an extra curricular on my resume for college aps.
Mr. Shue: I would love to say that you could audition but I would want you in it if it's what you are passionate about not just to fill a requirement.
Ray takes a deep breath and opens up his mouth to do an A Capella version of A Song For You by Ray Charles
A Song For You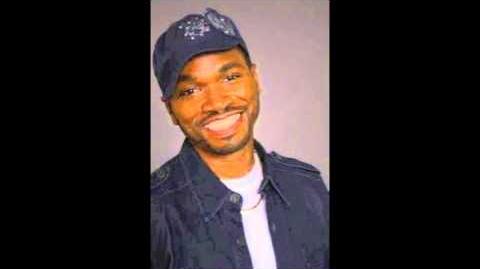 I've been so many places in my life and time
I've sung a lot of songs, I've made some bad Rhymes
I've acted out my life in stages
With ten thousand people watching
But we were alone and I was singin'this song to you, yes
We were alone and I was singin' Yeah, this song, to you.
Oh yeah,
Singin' this song for you
Mr. Shue: Wow, you're really talented. That was one of the best version's of that song I have ever heard
Ray: Thank you, so what do you say?
Mr. Shue: Let me think about it and I'll let you know by tomorrow.
Ray: Ok, thanks Mr. Shue.
Mr. Shue (to himself): Wow, that guy was incredible.
Sue: Who's incredible?
Mr. Shue: Ray, he's a senior.
Sue: I know who he is. He dated half of my squad which caused so many problems I thought I was coaching those kids from Jersey.
A scene from Jersey Shore plays.
Mr. Shue: Sue-
Sue: I don't want him in New Directions. You told him no, right?
Mr. Shue: But Sue, he's got one of the best voices I've ever heard.
Sue (again): You told him no, right?
Mr. Shue: Not, exactly. I said he will find out tomorrow like the rest of the kids.
Sue: Common Will you got to lay down the law. Do you want to have even more drama than there already is?
Mr. Shue: There's drama every year.
Sue: Either you tell him no or I will.
Mr. Shue: Sue that is not your call.
Sue (walking out): Well it is now!
Mr. Shue (sarcastically): Well we're off to a great year already.
In the cafeteria Camille and Luke are eating lunch together. Camille is eating nervously.
Luke: So are you nervous for your Cheerios tryout?
Camille: No, I'm not nervous for that-
Luke: Well then why aren't you eating?
Camille: I'm nervous for my audition.
Luke: Audition? For the Trouble Tones?
Camille: No, not for the Trouble Tones, the New Directions.
Luke: You are seriously going to go through with that?
Camille: Yeah I am and I want you to be there for support.
Luke: I don't know, Natalie was pretty steamed. She kept texting me about how much she wants to kill you.
Camille: Well, you kind of have to go.
Luke: Why is that?
Camille: Because I signed you up as well.
Luke: Camille!
Camille: What? I've heard around that you have a nice voice.
Luke: Yeah, but I don't sing in front of people.
Camille: Look you owe me one for this morning. You made me embarrassed so now its time for your punishment.
Luke: Fine, when is the audition.
Camille: Now, let's go.
Jumps out of her seat.
Luke: WHAT?!

Chases after her.
Camille: Common, we're late.
Cuts to the Auditorium, a young girl, with long, black hair and white skin dressed in jeans with a sparkly blue top with cowboy boots on walks into the room.
Auditions
Shirley (southern accent): Hi, my name is Shirley and I will be singing Flat On The Floor by Carrie Underwood.
Flat On The Floor

Mr. Shue: Awesome.
Sue (eye rolls at Will's statement): Country sucks.
I'm flat on the floor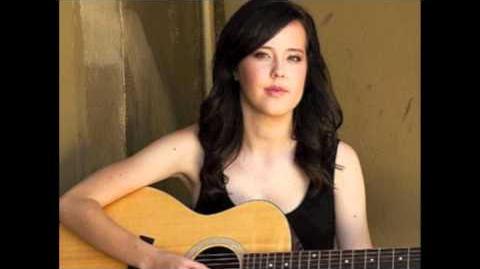 With my head down low
Where the sky can't rain on me anymore
Don't knock on my door cause I won't come
I'm hiding from the storm 'til the damage gets done
''Baby, baby, baby, baby tell me how
You think you gonna live without my love now
I don't know why you gotta keep coming around
Creeping up my street
Oh boy, you can't bother me
I'm flat on the floor with my head down low
Where the sky can't rain on me anymore
Don't knock on my door cause I won't come
I'm hiding from the storm 'til the damage gets done
Mr. Shue: Incredible Shirley. I've wanted a country singer in here for the longest time.
Sue: Country is boring, NEXT! (As Shirley leaves Sue turns to Will) I'm trying to build you a winning team; country will run you into the ground.
Shirley (walks off stage a little sad): She's such a bitch.
At the Trouble Tones auditions, in walks a very perky young African American girl with a big smile on her face and a red Taylor guitar that's about as big as she is.
Melanie: Hi, I'm so excited to be here! I'm Melanie and I will be singing White Horses by Taylor Swift.
White Horses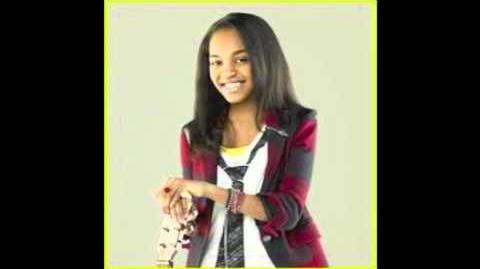 Say you're sorry
That face of an angel
Comes out just when you need it to
As I paced back and forth all this time
Cause I honestly believed in you
Holding on
The days drag on
Stupid girl,
I should have known, I should have known
''Cause I'm not your princess, this ain't a fairytale,
I'm gonna find someone someday who might actually treat me well
This is a big world, that was a small town
And there in my rear view mirror disappearing now
Now it's too late for you and your white horse to catch me now
Coach Roz: Such a great voice from someone so small and young. Perfect. Way to represent our people Melanie.
Melanie stands there smiling unsure of whether to stay or leave waits for instructions.
Natalie: Are you gonna stay up there the whole day, we still have more people to see?
Melanie: Oh, right. Thank You.
Meanwhile back at the New Directions auditions
Sue: She's a brat.
Mr. Shue: Sue!
Ty: I'm Tyrell Jeezy, but you can call me Ty-
Sue (whispers to Will): I'd rather tie him up.
Ty: a junior, and I'll be singing St-st-st
Sue: Out With IT!
Ty: Stuttering by Jasmine Sullivan
Stuttering

I ain't usually lost for words
This has got to be a first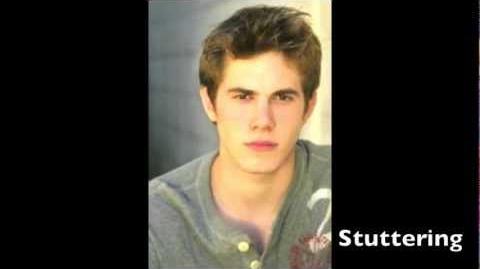 And I'm tryna find the reason why I'm
Stu- stu- stu- stuttering
''Something funny's happening
I'm at a place I've never been
And there's got to be a reason why I'm
Stu- stu- stu- stuttering
I try to breathe but I'm suffocating
I could me but it's complicated
I wanna tell you who I am, where I'm from
Where I go when I wanna be alone
I want you to know me better
Once I get my thoughts together
It should be so easy to tell you how I'm feeling
But I can't stop
Stu- doo doo doo doo doo
Stuttering
Sue: I honestly couldn't tell if you have a stutter or that's just how the song goes.
Mr. Shue: Interesting song choice. Good Job.
Crosses over at the Trouble Tones
Natalie (impatient): Next, NEXT!! COMMON, WE'RE NOT GONNA BE HERE ALL DAY!
In walks a very shy, semi attractive girl with medium blonde hair walking very uncomfortably to the microphone looking like she might throw up or pass out or both.
Girl: Hi, I'm Phoebe and I will be-
Coach Roz: Gurl you best not be gonna throw up.
Phoebe: No, I'm good.
Coach Roz: Ok, but if you do your cleaning that up.
Phoebe: Ok, anyways I'll be singing Funny Girl from Funny Girl.
Natalie: Ugh, Broadway is for New Directions not the Trouble Tones. NEXT!
Coach Roz: Silence Natalie. Continue Feebs.
Phoebe: Oh-oh-oh-ok.
Funny Girl

Funny
Did you hear that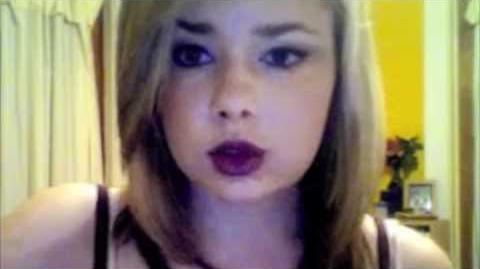 Funny
Yeah, the guy said honey
You're a funny girl
And though I may be all wrong for the guy (Natalie (whispers): You got that right.)
I'm good for a laugh (Coach Roz laughs)
I guess it's not funny
Live is far from sunny
When the love is over
And the jokes are you
A girl ought to have a sense of humor
That's one thing you really need for sure
When you're a funny girl
Funny, how it ain't so funny
Funny girl
Coach Roz: Ok vanilla, not really what we're used to but-
Natalie: Oh please, Coach Roz. NEXT!
Back at the New Direction.
As Ty walks out Adam walks in and slips on his untied shoelace. Sue busts out laughing.
Sue (to Will): Great someone who is even less coordinated than Ireland and Frankenteen.
Mr. Shue (looking for a name): Are you ok…?
Adam: Adam, my name is Adam and yeah I'm fine.
Mr. Shue: Well, whenever you're ready.
Adam: My name is Adam and I will be singing Adele's--
Sue (interjects): No more Adele, NEXT!
Mr. Shue: Sue, that's enough! Adam continue please.
Adam (Very taken aback stumbles on saying): Adele's Hometown Glory.
Hometown Glory
I've been walking in the same way as I did (Mr. Shue looks very impressed)
Missing out the cracks in the pavement
And turning my heel and strutting my feet
(
Mr. Shue
to Sue: This guy is good)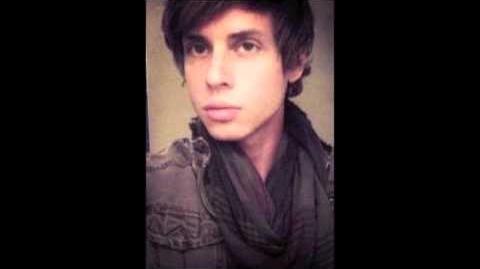 You get the people and the government
Everybody taking different sides
Round my hometown (Sue: oh please.)
Memories are fresh
Round my hometown
Ooh the people I've met
Are the wonders these my world
Are the wonders of my world.
Yeah
Mr. Shue (claps his hands): Fantastic, very unique voice. I enjoyed the whole thing.
Sue: It was ok.
Adam walks out very confused. An excited Camille walks up to the microphone.
Camille: Hi, I'm Camille and this is Free.
Sue (to Shue): That's a ridiculous title.
Free'

It's not like I'm invisible.
You still wear me under your skin.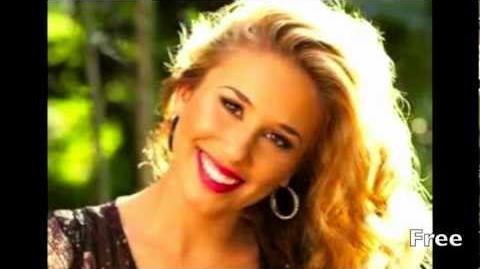 When we talk we don't talk at all.
To weak to leave, too stubborn to give in.
Who is gonna be the first to say a truce?
It's not enough that we should part can't stop fighting too.
We don't let go
We can't get close
I still need you and you still need me
This tug of war
Can't go on anymore
Nobody wins from this misery
Free
Well oh can't you see
I wanna be
I want you to be free.
Let it be. Let it be
Just a beautiful memory
Everything that starts will have an ending
Let it go. Let it go
Yeah cuz we both know
This will only be over when we're free
Free
I wanna be
I want you to be
Ok baby, free.
Mr. Shue: Beautiful, amazing, loved it.
Sue: I can't tell if that is your hair or if you are part lion, NEXT!
Camille (whispers to Luke): Good luck.
As Camille leaves unsure of what just happened, Lucas walks in with his guitar and stares at the microphone for a few minutes.
Luke: My name is Lucas and I will be singing Hey There Delilah by the Plain White T's.
Hey There Delilah
Hey there Delilah
What's it like in New York City?
I'm a thousand miles away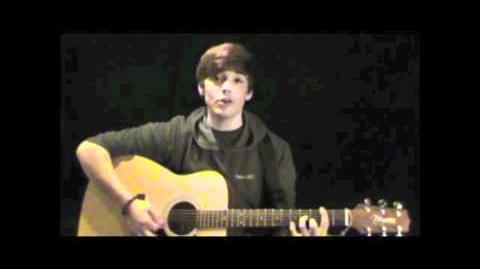 But girl, tonight you look so pretty
Yes you do
Times Square can't shine as bright as you
I swear it's true
Hey there Delilah
Don't you worry about the distance
I'm right there if you get lonely
Give this song another listen
Close your eyes
Listen to my voice, it's my disguise
I'm by your side
A thousand miles seems pretty far
But they've got planes and trains and cars
I'd walk to you if I had no other way
Our friends would all make fun of us
And we'll just laugh along because we know
That none of them have felt this way
Delilah I can promise you
That by the time we get through
The world will never ever be the same
And you're to blame
Hey there Delilah here's to you
This one's for you
Oh it's what you do to me
Oh it's what you do to me
What you do to me
Oh, oh, oh.
Mr. Shue: Sue wake up.
Sue: What it's over?
Luke (believing that was a good thing): You really liked it?
Sue: Oh, God no! You were putting me to sleep; I didn't want to wake up.
Luke (disappointed): Oh.
Mr. Shue: Don't worry you were great.
Luke (quietly, disappointed): Thank you.
Lucas walks off stage and goes over to Camille.
Luke: I cannot believe I let you talk me into doing that. Natalie is going to be pissed.
Camille: Whatever, she's in the Trouble Tones it might not even matter after awhile.
Luke: What?
Camille: Oh shit, (trying to cover up) No, I didn't say that, no uh um.
Luke: Are you trying to break us up?
Camille: No, I wanted to get under her skin but-
Luke: So you dragged me into this. Great. (Luke walks off angrily).
Camille: UGH, why can't I keep my mouth shut?
At Breadstix with Camille and her mom.
Mrs. Beck: So Camille; how was school?
Camille: It was fine.
Mrs. Beck: Make any friends?
Camille: Kind of.
Mrs. Beck: What do you mean?
Camille: Well I got knocked over by some football jocks and a really cute guy name Luke came over and helped me up then he showed me around and his psycho girlfriend showed up and she pretty much hates my guts, then she threatened me, then I signed both me and Luke up for glee club and that was a disaster, the co-director is terrible and yelled at everyone and I pretty much told Luke I wrote his name on the list so his girlfriend would break up with him. So now I have lost the only friend I made and possibly created two enemies.
Mrs. Beck gives her a blank stare
Camille: Mom, I don't know what to do, apologize? Let it be-
Mrs. Beck: That's up to you, if you like him than apologize.
Camille: But mom, that's degrading.
Mrs. Beck: Well what you did to him sounds nothing like who you really are.
Camille: I know. I guess I'm just annoyed at the fact that even though all freshmen are new; I'm the one that seems to not know anybody or know how things work.
Mrs. Beck: I know it's hard but it'll get better.
Camille (half-heartdely): I hope.
Mrs. Beck: Now how was your cheer tryout?
Camille rolls her eyes thinking about her tryout. Camille walks up to audition and was shocked to find out who the coach was.
Camille and Sue: Oh no, not you.
Camille: You're the coach! Is this school designed to make me not join anything?
Sue: Well I'm not happy your here either.
Camille: So what do you want me to do?
Sue: Show me what you got.
Camille (takes a deep breath puts on a big smile): Ready, Ok!
Hey all you Titan fans let me hear you clap your hands (Claps 12 times)
Now that you've got the beat let me hear you stomp your feet (Stomps 12 times)
Now that you know the groove let me see your body move. (Turns around in a circle chanting awoos, ah, ah)
1, 2, 3, 4, 5 McKinley, don't take no drive
6, 7, 8, 9, 10 McKinley, back it up and do it again
10, 9, 8, 7, 6 Titans, don't give no shit
5, 4, 3, 2, 1 Titans, are number 1
As they are leaving Breadstix
Camille: Interesting.
Mrs. Beck: So you didn't make it.
Camille: No, I did. I am a Cheerio.
Mrs. Beck: And what about New Directions?
Camille: I find that out tomorrow.
Bell Rings
Shirley: I'm so nervous, y'all. My audition went terrible.
Adam: You're kidding, you were great. Mine was terrible.
Ty: I think we all just believe they were terrible because of the Sue Sylvester.
All think about their auditions and what Sue was saying. Shirley looks at Camille and notices her new clothes.
Shirley: Looks like someone's a suck up.
Camille: What do you mean?
Adam: I think she is referring to the Cheerio uniform you're wearing.
Camille: Oh no, I tried out for the Cheerios after school, after my New Directions audition.
Ty: Still, you're song wasn't even all that good.
Mr. Shue walks over and puts the list up on the bulletin board.
Mr. Shue: Hey, guys. Are you excited to see you if you've made it.
Shirley (sheepishly): Yeah, of course Mr. Shue.
Mr. Shue: Glad to hear. And remember, no hard feelings.
Adam, Shirley, and Ty all swallow and simultaneously look at the callback list.
New Directions


Current


Jeffery Moore


Mark Peary


New Members


Camille Beck


Lucas Hernandez


Tyrell "Ty" Jeezy


Ray Jackson


Shirley Madison


Adam Michaels

All three cheer in excitement that they have made it.
Ty: Well congrats Goldie Locks, your now apart of New Directions as well, and go tell your lover boy he made it too.
Camille: He's not my lover boy.
Shirley: Yeah, whatever.
Natalie (who is putting up the Trouble Tones list over heard the whole thing): Now, were enemies in both school and glee clubs. Now, who's your lover boy?
Camille: Why don't you take a closer look at the New Directions list?
Natalie: Don't mind if I do. (scrolling through the list she stops on one name, flustered) Lucas is on New Directions!
Melanie and Phoebe walk over to the Troubletones list
Troubletones


Current


Natalie Sheets


Jasmine Solstice


Stacy Lopez


Stephanie Johnson


Amanda Lennon

America Moore 


Rebekkah Styles


New Members 


Melanie Brown


Phoebe Freedman

Melanie: Oh my, gosh I made it into the Troubletones!
Phoebe: Yay, me too!
They both give Natalie a hug.
Natalie: Get off of me!
Melanie: Ok Trouble sis, (giggle) see you at rehearsals.
Natalie: You are going to pay Blondie.
Camille: Can't wait to finish you off at Nationals. Oh, btw, you might want to close your mouth there are a bunch of flies around and they love your minty stank breath.
Natalie storms off in search for Luke. When she finds him she grabs him by the arm and throws him against his locker.
Natalie (furious): You joined the New Directions, and didn't tell me!
Luke: I just auditioned.
Natalie: Well congrats cuz you made it.
Luke (surprised): Are you serious?
Natalie: Yeah! I'm dead serious. Why are you trying to ruin own relationship?
Luke: I'm doing nothing of the sort.
Natalie: Did Blondie put you up to it?
Luke: Leave her out of it. And so what it was fun, and it wasn't like I was actually going to accept it.
Natalie (a little calmer): Good, cuz we cannot be on opposite sides and rivals if we're together.
Luke's friends make whipping noises in the background, which bothers Luke.
Luke: On second thought, maybe I will accept it, just to show that you don't own me.
Natalie: WHAT?! I don't own you!
Luke: Really? Cuz it sure looks that way. You practically tell me how to live my life.
Natalie: Fine! Accept the offer; go be apart of No Directions. We'll kick your ass even with you on the team.
Luke: See you on the ice then.
Natalie: Fine!
Luke: Fine!
Natalie: Good!
Luke: Good!
Luke turns to leave.
Natalie: ARE WE STILL ON FOR OUR DATE TONIGHT!
Luke: NO, I'M MAD AT YOU!
Auditorium
In the Auditorium Coach Roz and Natalie are walking back and forth talking to the Troubletones.
Melanie: I am so excited to be here this is going to be so much fun.
Natalie (still pissed from what just happened with Luke): Shut up Melanie! The Trouble Tones don't have a weakness. As stated by our beloved sister Troubletones, "The Troubletones are three F's: Fierce, Femme, and Phenomenal!" Any sign of weakness, you are kicked of the team.
Coach Roz: Congrats young ladies for making it into the Troubletones. Now for the rest of the year, you will work your asses to the bone, many of you will cry and many of you will want out, (sidetracked) but if there is anything I learned from winning my bronze medal for Individualized Synchronized Swimming at Beijing China, it's this: I am an Olympian and I am a winner!
Phoebe: Um, Coach Roz, that's great and all but do you know anything about coaching a glee club? I mean yeah you've won Nationals three times but do you even know what you are doing?
Coach Roz (flabbergasted): Excuse me, missy. What do I know about winning? I just told you, you have an Olympian as your coach and you will not fail me. Now can I get an Amen!
Trouble Tone girls: AMEN!
Coach Roz: Amen!
Trouble Tone girls: AMEN!
Coach Roz: Now get your asses up its time to go to work.
In the choir room
Camille (whispering to Luke): Hey is everything ok?
Luke: Yeah, why do you care?
Camille: I just want to say I'm sorry for tricking you and getting you into a fight with Natalie.
Luke: Whatever, it doesn't matter.
Camille: Are we ok? You're the only friend I made and I don't want to ruin that.
Luke: We shall see. Ask me next week.
Will is silently talking to a very familiar woman in her mid 20's and tells her to wait outside. Will walks in to the choir room and is accompanied by a tall black girl wearing an orange jumpsuit.
Will (to class): Everyone, I would like to start off by saying congrats on making the cut in New Directions—
Sue: I wanted to cut half of you in here.
Mr. Shue: This is going to be a great year. I can feel it.
Shirley (points to the girl in orange): Um, what is she doing here; I thought she was arrested for shoplifting or was it assault again.
Mr. Shue: I was just about to get to that. Everyone this is Bon'Quisha-
Adam: We know who she is, but why is she here?
Mr. Shue: Let's have Ms. Lopez talk to you guys. (Goes outside the door) Ms. Lopez come on in.
Santana Lopez walks in with a pantsuit and a taco on a plate.
Ms. Lopez: Here's your taco Sue. So this is the new, New Directions. (Everyone stares at her because they all know who Santana Lopez is.) Let me just start by saying that I've been in those seats and honestly for some or most of you, all you will be doing is swaying in the background while only two people will be singing the whole time. I however, sung more when I left New Directions and joined the amazingly talented Trouble Tones and after our unrealistic lost at Sectionals ended up joining New Directions again, only this time I was featured a lot more which is why we won the last few competitions of my senior year.
Ty: Damn, Ms. Lopez, you is fiiiine.
Ms. Lopez: Thank you, but I'm already taken by the amazingly, talented, famous choreographer: Brittany S. Pierce.
Ray: I'm ok with that. I love me some threesomes, especially with two girls.
Luke: Seriously Ms. Lopez, I would do anything to have you in my bed.
Mr. Shue: Enough!
Ms. Lopez: It's fine Mr. Shue, I am the hottest thing that has ever roamed these hallways, I know that, you know that, and now they know it. Plus I always hear it wherever I am. Anyways today isn't about me its about Bon'Quisha. Bon'Quisha is on parole and as her parole officer I saw to it that she join an arts program instead of her usual antics which is why she is here and will remain here unless she wants to go back to Juvie.
Shirley: Mr. Shue no one wants her here, she's tortured all of us.
Bon'Quisha: Bitch, you best not be on my bad side or I will cut you.
Ms. Lopez: Bon'Quisha!
Bon'Quisha: Sorry. I mean, next time you cross me, I will (catches Ms. Lopez's stank eye) do nothing.
Mr. Shue: Thank you Bon'Quisha and Santana so great to see you again.
Mr. Shue: Same as always Mr. Shue. Bye everyone.
Mr. Shue: Ok, Bon'Quisha take a seat anywhere you like. (She sits next to Shirley and gives her a big ole smile.) Ok, now I know most you do not like Bon'Quisha but she is in New Directions now. She auditioned this morning and it was incredible.
Flashback, Bon'Quisha performing Etta James' At Last for Mr. Shue meanwhile Samantha, a tall brown haired girl, is auditioning for the Trouble Tones with the same song.
At Last
Samantha: My name is Samantha and I know I missed the auditions but I really want to join.
Coach Roz: Ok, show me what you got.
Samantha:
At last
My love has come along
My lonely days are over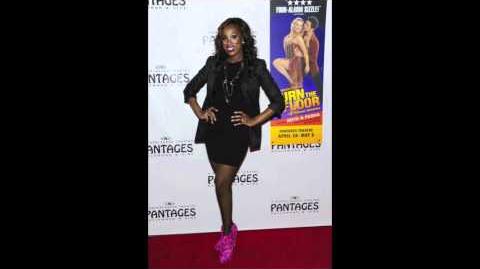 And life is like a song Both:
Oh yeah yeah
At last
The skies above are blue
My heart was wrapped up in clover
The night I looked at you
Bon'Quisha:
I found a dream, that I could speak to
A dream that I can call my own
I found a thrill to press my cheek to
A thrill that I have never known
Both:
Oh yeah,
Samantha:
Oh yeah yeah
You smiled, you smiled
Oh and then the spell was cast
And here we are in heaven
For you are mine...
Both:
At Last
Bon'Quisha:
Oh you are mine At Last (Samantha At Last)
Oh yes you are
You are mine At Last
the end
Cast
Songs