Previous: E4: Spring Awakening
Next: E6: Face Off
Episode 5: InvitationalsHere's what you missed on glee
Edit
So McKinley just got done with their school musical and everyone loved it, well maybe except for Mark who died in a car crash, and Rachel even got a shout out in Lima's Newspaper. Also, Camille had a miscarriage but met James Montgomery, who stepped in at the last minute to play Moritz Stiefel, but she's not the only one who has eyes for him. Anyways, so a month ago the Troubletones won the first Pep Assembly and will lead the New Directions in two songs at Invitationals, which they have been working on while rehearsing for the musical.
And that's what you missed on glee.
Choir Room

Edit
(The bell rings and Mr. Schue is busy writing on the whiteboard while his students are walking into the choir room. The board says Invitationals.)
Schue (with his back still to the class): All right everyone Invitationals is in a few days and we're still trying to narrow down the set list—
Shirley: Um Mr. Schue, where are the Troubletones?
Schue: What are you talking (turns around) about . . . All right, where are they.
Shirley: Well if we knew that I wouldn't have asked.
Schue: Ugh, all you guys stay here I'll go track down Coach Roz.
(As Mr. Schue is walking towards Coach Roz's office Principal Figgins goes on the PA system asking Mr. Schue to visit him.)
===In Figgins' office. === Schue: Um, you wanted to see me?
Figgins: William, please take a seat. As you know I am retiring-
Schue: I thought you were getting fired.
Figgins: Whatever William, as I am leaving I am still trying to find someone who could be principal of this hellhole of school, and that's where you come in.
Schue: Uh I'm flattered but I'm just a glee club director and history teacher.
Figgins: I wasn't talking about you.
Schue: Oh, well then what are you talking about.
(Sue enters.)
Sue: I'm ready to take over. Will what are you doing here?
Schue: Um-
Figgins (butting in): I called you both in so you could help screen potential principals.
Schue: Uh
Sue: That is ridiculous.
Schue: Not to side with Sue on this, but I still do not understand why you want us.
Figgins: Because William you and Sue are our most successful teachers here so if anyone can tell who would make a great principal it would be the two of you.
Schue: Well I'll get back to you, right now I need to track down Roz and Sue, you and I have Invitationals this week.
(Will gets up to leave when a woman bumps into him.)
Woman: Hey, watch where you're going butt chin.
Schue: Um, sorry?
Woman: Well, you should be.
Figgins: Ah, Miss McCoy, so great to see you.
McCoy: Some of your staff needs to be retaught manners.
Sue: Well I like your attitude Miss McCoy.
McCoy: And who are you?
Sue: I'm Sue Sylvester, head cheer coach and co-glee club director with Will Schuster, the guy who walked into you.
McCoy: Wait a second that was the Will Schuster.
Sue: Yes, but he doesn't need the word "the" before his name.
McCoy: Well I have some beef with him. Sue, leave us I need to talk to Figgins.
GLEE
In the Auditorium

Edit
(Coach Roz is giving her girls a pep talk.)
Roz: All right girls, Invitationals is in a few days and we need to beast up our performance level to out shine Will's kids.
Phoebe: I don't get it; I thought we were ok with them.
Natalie: Oh will someone please tell Broadway that was just temporary.
Melanie: I don't know about that, some of us got pretty chummy with them.
Natalie: Well of course you think that you're always happy.
Roz: Natalie, will you please. Anyways, I've got our two songs ready all I need are our stars to sing them.
Stacy (whispers to Jasmine): I so hope I actually get to sing at Invitationals this time.
Jasmine (whispers back): Doubt it, just kidding.
Samantha: How are you going to do that?
Roz: The same way I always do. Whoever can sing the songs best will get a solo.
Melanie (stands up with swag): Well it's a good thing, I'm an awesome singer, I don't mean to uh buh-rag.
Natalie (stands up to tear Melanie down): Oh, please I can sing circles around you.
(Will walks in.)
Will: Roz, what are you doing? We are supposed to be in the choir room practicing.
Roz: I just needed a few minutes to talk to my girls. And by the way we are practicing for our first number.
Will: Ok, but we are now together so you need to at least let me know. And I need your two songs on my desk by the end of tomorrow.
Roz: Will do. (Will leaves.) Ok time to work on our songs.
Commercial
Edit
In the Choir Room

Edit
(All the kids are jumping around and playing games.)
Camille (staring at a picture of James in her notebook with loving eyes): I wish James joined glee club; he has such a dreamy voice.
Victoria: You are so right.
Camille: Did you see him score that touchdown at the game last Friday; such a great running back.
(Flashback of the game,)
(Reality)
Luke (to Ray and Ty): Ugh, what is up with those two?
Ray: They're in love with James. That's what's up.
Ty: Ha, freshman.
Luke: I remember when Camille was like that over me.
Ray: Sounds like someone is jealous.
Luke: Me, jealous? No.
Ty: Yeah, why are you jealous; you're dating one of the hottest girls at this school. I mean yeah Camille is cute but Natalie has that fierceness in her that just, I don't know, excites me.
Luke: I know, but Camille is different. She's down to earth.
Ty: Whatever you say man.
Joy: So I had a really great time at Breadstix after opening night two weeks ago.
Shirley: I know me too. But I enjoyed our night out together even more.
Joy: That was fun too. I can't wait till this weekend.
Shirley: What's happening this weekend?
Joy: My parents won't be home and I want you to come over and spend the night and maybe do something a little more fun.
Shirley (Mouth wide open. Closes it and whispers): I would love that.
(Will walks in.)
Schue: Ok so I found them.
Adam: Where were they?
Schue: The auditorium. They're working on their songs and we need to do that too.
Jeff: Oh please Mr. Schue; we got this in the bag. We've practiced it so many times-
Adam: We can do it blindfold.
Schue: That may be, but this will be the first time all 16 of us will perform together, and we still need to work out the kinks.
Camille (still looking at the note James gave her): Maybe if we had more guys . . .
Schue: I have a plan for that but right now we just need to focus on Wednesday. Plus I am inviting our rivals, Vocal Adrenaline to watch us.
Bon'Quisha: And why are you doing that?
Schue: Because, I want them to be scared. They might have gone a little downhill the past nine years . . .
Ty: No kidding, they use to be the team to beat.
Ray: What was it again, 5 time National Champs, ha.
Adam: And we finally beat them.
Bon'Quisha: So why are we trying to scare them.
Schue: Because their new director . . .
Shirley: Ugh, they have another director. I swear they get a new one every year.
Schue: True, but this guy is tough and I have seen him perform, he is everything that Vocal Adrenaline was nine years ago when I first started directing the club.
Jeff: Well it's a good thing he's not competing.
Schue: True, but he is the new coach and I saw a video of them performing for the Mayor and they were incredible, I've never seen any of those moves or heard anything like that before.
Joy: Ok, we got it. We need to practice.
Schue: Correct. Now I know we wanted to do Eye of the Tiger but I've settled on a different song that I think will make us stand alone from the Troubletones but still define our group. So come up here and grab you're sheet music so we can rehearse.
Victoria: Um, Mr. Schue, you do know, in total we are 16 but there's only eleven New Directions.
(Everyone rolls their eyes cuz they know she's wrong.)
In Figgins' Office

Edit
McCoy: So, when do I start?
Figgins: If you get the job, you will start after winter break.
McCoy: And what would I have to do in order to fully get the job?
Figgins: Pass an interview with two of our esteemed teachers you already met Sue and Schue.
McCoy: They sound like a comedy duo.
Figgins: I can see that happening. But I would like to extend an invitation to our Invitationals tonight.
McCoy: Will they be there?
Figgins: Well yes, they run the club along with our Olympiad Synchronized Swimming Coach.
McCoy: Well, I guess I found out what I'm doing tonight.
Figgins: See you there.
Commercial

Edit
In the Auditorium

Edit
(Coach Roz's kids are exhausted from working and are lashing out at each other)
Stacy: Uh, can we take a break; we've been dancing for seven hours.
Natalie: It's only been two!
Jasmine: Hey don't yell at her.
Natalie: Fine, then I'll just yell at you!
Jasmine: Why me? I haven't done anything to you!
Natalie: Because I just want to yell!
Jasmine: Well you still hate Camille, yell at her!
Natalie: Well she's not here, so I guess you're going to have to do!
Roz: Girls! Stop fighting. And the next time I hear anyone of you complain you are out of the club!
Melanie (to Samantha): Oh, I'm so excited for tonight I can't wait!
Samantha (to Melanie): I know, me too. I've been up all night learning my part.
Phoebe (to both of them): At least you guys shine. I'm still back here swaying.
Melanie (to Phoebe): You'll get a solo soon, I promise.
Jasmine: Oh will you girls shut up; I'm losing my patience.
Roz: From the top, we'll start with the duet. NOW!
I

n The Choir Room

Edit
Adam: Oh I just love the song we're doing.
Jeff: I know, you have everyone of their albums.
Adam: What they're a great band.
Ray: Hey lover boys, get up here, we're rehearsing.
Adam: Coming.
Schue: Ok, this will work. Camille, you're just a tad bit off with the some of the moves, Shirley show her how it's done.
Shirley (whispers to Joy): Shoot me, haha.
Camille: What was that?
Shirley (with attitude): Oh nothing. Just that you need a lot of help with your moves.
Camille: And what's your problem?
Shirley: I don't want to be your backup anymore.
Camille: What backup? You went on with me and had your own solo time in Spring Awakening plus you are singing our group number not me and I'm barely singing in the last song, a song that none of us even know what it is. And I'm not even the lead in the group; Mr. Schue hasn't assigned it yet.
Shirley: Oh really, cuz looking in my perspective you are the leader of New Directions. We all know this.
Camille: Oh just give me a break will you. And if you want to be the leader then why don't you work harder and bring it instead of just talking about it. Huh? Do something about it.
Schue (who was completely out of it while things were going on): Ok girls, that's enough.!
Sue: I'm actually enjoying this.
Schue: Sue, don't encourage them. Right now no one is the leader of the group, we'll figure that out soon enough. Now, Bon'Quisha you're a little sharp on the refrain but other than that you're great.
Bon'Quisha: Like you would know.
Ray: Ha.
Sue: Oh William they are fine. From the top everyone and if I see one person doing something wrong you will all do sprints around the football field.
Joy: Uh, are you even allowed to do that?
Sue: Don't talk back to me Joy. Cue music and –
Figgins: I hope I didn't come at a bad time but Miss McCoy would like to start her interviews now.
Schue: Sue, do you want to go first?
Sue: Gladly.
Figgins: Ok Sue, follow me; everyone else, keep doing what you are doing.
Schue: I guess you guys wont have to worry about sprints now. (He chuckles.)
In Sue's Office

Edit
(Miss McCoy walks in wearing a very professional dress with her hair done up in a bun wearing black spectacles, and holding her briefcase looking nothing like how she did when we first met her.)
McCoy: Ok Sue, let's get this over with so I can run this school.
Sue: I just want to say that I love your confidence and your self-entitlement is above par.
McCoy: I get that a lot.
Sue: Now I just have a few questions so Figgins can see that I actually did this. So, what would you do as principal?
McCoy: Well, for starters, I would fire Will Schuster and personally destroy his glee club one member at a time.
Sue: I remember my days when I wanted to destroy his life, and I did very well but for some strange reason all those tricks I played backfired and made his club even stronger.
McCoy: Well that's because you are only Sue Sylvester and I am Henrietta Anne McCoy.
Sue: And what does that have to do with anything?
McCoy: Well of course it means nothing to you but to Will it means the end of his career. You see, Will did not actually pass his Teacher Certification Test to become a teacher, but I made a deal with him. I told him that I would give him just enough points to pass as long as he doesn't get involved with the arts at the school he teaches at. Luckily for him I was currently out of the country since I passed him but now that I am back, I must make sure that our deal will be honored.
Sue: Wow. Now that is some dirt on Schuster I wish I had awhile back. But one thing you should know is that he no longer teaches Spanish, but in fact History.
McCoy: Interesting. But on another note, I don't intend to get rid of the arts here, as my child is fascinated with it, I just plan on getting him removed from glee and hopefully or should I say finally, get this place out of debt. (In a serious tone.) And you cannot tell anyone about Will and me.
Sue: Well, it's about time. And that's all I really wanted to know. Now all you have left to do is get interviewed with Schue.
(McCoy has a bitch smirk on her face.)
Back in the choir room

Edit
Schue: Um, well that was interesting, but not what we need.
Camille: Mr. Schue we've been practicing forever, maybe we just need a break.
Schue: Sorry, no breaks. Invitationals is tonight you guys and we need to get our only song down. And then when Roz gets here we will practice their second song.
Ray: Why, it's not like we are actually singing it.
Schue: You guys, just calm down. Secondly, you guys will still shine; we both picked the group song so you guys will have a moment. Mind you it is small, but it's a moment nonetheless.
(In walks Sue and McCoy)
Schue: Sue, glad you could make it and I'm sorry, I don't think we were properly introduced. I'm Will Schuster.
(They shake hands)
McCoy: And I'm Henrietta McCoy.
(Schue looks a little confused like he's trying to remember where he's seen her before.)
Schue: I'm sorry, have we met before.
McCoy: Well you did bump me in the principal's room.
Schue: Are you sure? You look a little familiar.
McCoy: I get that a lot.
Sue: William stop these unnecessary questions, now get in your office and interview her with necessary questions.
Schue: Can't that wait?
Sue: No, she's busy and I'll take over this practice, now leave and leave the sloppy babies with me.
Schue: Sue, don't you remember what we talked about about calling people sloppy babies?
Sue: No, I don't recall anything.
McCoy: Ok, well then let's just get this interview on, I have a meeting in 30 minutes with the Super Intendant.
Will's Office

Edit
(Schue and McCoy walk into his office while Sue tries to get the New Directions in winning shape.)
Schue: Ok, Miss Henrietta McCoy, why don't you –
McCoy (butting in): If you don't mind William I'll do the talking.
Schue: Um, but this is your interview.
McCoy: I'm well aware but there are just some things I need to discuss with you first.
Schue (snaps his fingers): Columbus!
McCoy: Excuse me?
Schue: Ohio State University's teaching program, you were the teacher I had that administered the testing, what are you doing here?
McCoy: Well, I'm glad you remember that, which is part of the answer for your second question as to why I am here but I need a job and principal is right up my road.
Schue: So what's the second half?
McCoy (clears her throat while pulling a manila folder out of her briefcase): I was actually hoping this wouldn't come around but then I heard you were in glee and I'm here because of this. (She hands Will a typed up contract.)
Schue (taking it while looking confused): What is this?
McCoy: Do I really have to remind you about our deal the day you took your Credentials Test?
Schue: I remember you helped me out but this, this I do not remember.
McCoy: I don't normally help those who fail, but I saw something in you, something that reminded me as to why I became a teacher, but that darn music program is the reason you failed. And so in order to pass you I made you swear that you would never get involved in the arts at the high school you teach at.
Schue: Well then you're quite a few years late as I've been coaching for about 10 years.
McCoy: I know. In order for this to never be found I took some time and took my family to Europe in order to make sure no one would find out about you and me. And I just got back during the summer and I noticed you were coaching a glee club, strictly violating our agreement so I tricked the Super Intendant to get Figgins fired so I could become principal. And before you say anything, I'm not going to fire you.
Schue: Well then what are you going to do?
McCoy: You can still have your teaching job, but I'm going to disband your precious New Directions. But this won't take affect till I get the job so you can have enough time to say goodbye to them.
(She stands up to leave.)
Schue: You can't do this.
McCoy: If I don't get the job, everyone will find out about you failing, and because I'm very high up, in the world of teachers and I'm a girl, I can manipulate it to either me having no part in the grading of the tests or by having you threatening me to pass you. Take your pick. Now I think you should call me Principal McCoy from now on.
(She walks out of the office while Schue slouches down on his chair looking bewilder as to what happened. Slowly, he grabs the papers and begins to look read them. He looks up to find Sue's birth smirk smiling at him through the glass. The bell rings.)
Commerical

Edit
In the hallway
Edit
(Camille, Jeff, Adam, and Victoria are talking)
Victoria: Does anyone else hate Sue?
Camille: She can be harsh but she's a proven champion.
Jeff: Are you saying that to say that or are you saying that because she wants you to say that?
Camille: What?
Adam: He means do you really mean that or are you biased cuz you're a Cheerio.
Camille: I don't know, a little of both I guess. But at Cheer practice she's a lot more in your face about everything, so hearing her slam us during glee its alright. She's just a lot harsher cuz we have our first Cheer competition coming up soon and she wants to make sure we don't look like idiots.
Victoria: Well that makes sense but still I just can't stand her.
Jeff: Do any of you think Mr. Schue was acting weird when that Coy girl was in the choir room?
Victoria: It's McCoy, but yeah he looked frightened like something's wrong and he doesn't want us to know.
Adam: I think its just some jitters, I mean this performance tonight is going to be weird, and we haven't even practiced with the Troubletones yet. I mean I haven't seen Melanie, The Crew, Samantha, or Broadway this whole week.
Camille: Well something's probably up.
Victoria: Why do you say that?
Camille: I don't know, cuz I don't trust them as far as I can throw Natalie.
Jeff: Well you hate her, so that's why.
Camille: Whatever, let's just go get everyone and go to the Auditorium and see what's up. ===In Figgins' office === Schue: We can't let McCoy be principal, she's the reason you are getting fired.
Figgins: Relax William, I know perfectly well what's going on and I will say is that I'm looking forward to not have to see any of these underprivileged children or deal with this debt ever again.
Schue: So you're not going to do anything about this or her getting rid of New Directions?
Figgins: I can't do anything after winter break, that's when she becomes principal.
Schue: I thought you wanted to wait until after Sue and I interviewed her.
Figgins: Yes, but that would have ben the case if she was not the only applying. Now leave as I plan my retirement party.
In the Auditorium

Edit
(Melanie and Stacy finish their duet on a high note and all of ND who are in the audience as well as Mr. Schue and Sue who are just walking in are clapping for them.)
Roz (completely oblivious to who's out in the audience): You girls are nailing this song, I'm so excited for tonight, no one will know what'll hit them!
Schue: Wow, Roz, that was incredible.
Roz: Oh, Will, you know better then sneaking up on a black girl.
Schue: Look we really need to practice; we only have three hours until curtain.
Roz: Ok, ok. Natalie hand the New Directions the song sheets and you New Directioners get up on the stage, we ain't got time for you sitting on your buttocks.
Joy (whispering to Shirley): Can she say that any nicer?
Shirley (whispers back): I know, Black Sue much.
(They both snicker while Natalie hands out the sheet of music and tells them where to stand.)
Roz: Ok, since you guys don't know the choreo—
Camille: Um, that's not our fault.
(Dead Silence)
Roz: What was that Miss Locks?
Camille: Oh nothing.
Roz: Well if you said it, it must be something.
Camille: I just said that it is not our fault that we don't know the choreography.
Roz (face to face with Camille): And whose fault is that?
Camille (nervous since she doesn't want to offend her): Um, (quietly) yours.
Roz: Who do you think you are, coming into my auditorium and telling me up like this?
(Camille just looks around as everyone's faces our face forward. Mr. Schue finally gets up on the stage.)
Schue: Roz, lay off, none of them the moves since you have been very secretive these past two days.
Roz (to Camille): You know you may have the talent, but you don't have the attitude to back it up.
(Camille gulps, and looks over at Natalie who is secretly giggling. Roz calls the Crew to the front to teach everyone the moves. Things are not going well since this is the first time they have really ever rehearsed together. Roz, Schue, and Sue close their eyes and look down in disappointment.)
Bell ring

Edit
(That night everyone is crowding into the auditorium to get ready to watch the Invitationals. Meanwhile backstage, Sue, Schue, and Roz are having a conversation while the New Directions and the Troubletones are getting ready.)
Sue: This isn't working.
Schue: Well they're nervous; this is the first time they will perform together.
Roz: Well I still don't think we should let them go out there tonight.
Schue: We have to. If they don't everyone will laugh at them.
Sue: They'll laugh at them if they do perform.
Roz: Why don't the Troubletones just do the last number themselves, that will make things easier.
Schue: Um, no. I think I have a better idea. Come with me. ===In the girl's dressing room === Joy: I'm so nervous I couldn't keep anything down.
Natalie: Well that's good cuz you can stand to lose a few pounds.
Jasmine: Natalie.
Joy (trying to fight her tears): It's ok Jasmine I'm fine.
Jasmine (walking over to her): Are you sure? She just gets a little feisty before competitions; it's best just to ignore what she says. And you look great. Let me fix you're make up.
Joy: Thank you.
Phoebe: If you think that's bad, try being in the same group as her.
Natalie: Broadway, Shush!
(The ND girls have a confused look on their face while the TT's are trying not to give anything away. Shirley walks out of the bathroom and sees that Joy had been crying and goes up to Natalie.)
Shirley: What's you're problem, huh?
Natalie: Um please don't say you're talking to me.
Shirley: What nerve do you have that allows you to make fun of someone's weight?
Natalie: Ooh lookie here, we got ourselves a couple of Lesbos.
(Shirley and Joy share a brief look at each other while their faces blush as red as a tomato.)
Natalie (giggling): Just kidding.
Jasmine: Just ignore her.
In the boy's dressing room
Edit
Ray: Wow, I never thought I would say this, but we need more guys in here.
Ty: Oh snap you guys, Ray's coming out,
Ray: Shut the hell up man. I mean there are 16 of us in total, and out of the only five guys, two of them are gay. (To Adam and Jeff) No offense you two.
Jeff: Were cool.
Adam: But you know, you would definitely be a catch
Together: If you were gay.
Ray (weakly): Um, thank you?
Luke: Ok, new subject, how do we get more guys to join? I feel like it's easier for guys to join the Synchronized Swim Team or Cheer then it is to even consider to join Glee Club.
Ty: Ain't that the truth. I still hear people call us names in the hallways, if only they know what we do and what we sing they would join.
Ray (sarcastic): Yeah, and I am so looking forward to hearing what Mr. Schue's plan is to get more guys in glee.
Adam: Knowing him, he'll probably rap.
(They all laugh until Mr. Schue opens the door to call them out to go backstage.)
Schue: Ok, so the whole group practice was a complete bust, but we came up with a plan that we think will work.
Phoebe: And what is that?
Roz: Since both groups sing in the final number, whichever group sings at the moment will be in the front while the other group dances in the back. It ain't rocket science.
Phoebe: Ok, so, what?
Sue: She means when the Troubletones are singing the New Directions are in the back, when the New Directions are singing you Troubletones are in the back, like the prestigious Black version of me said, it ain't rocket science people.
Schue: Now, any questions before we do a last minute rehearsal.
Melanie: Yeah, are Vocal Adrenaline here, I heard Chris Mann is coaching them.
(Both the ND and TT look like they all lost hope.)
Schue: Yes, Melanie, they are here, right in the middle. Now I don't want you to get distracted, which is why I didn't tell you who was coaching. Now quickly we have ten minutes, practice.
Commerical

Edit
(10 minutes later, Mr. Schue and Roz Washing walk out onto the stage getting ready to start the show.) Schue: Thank you all for coming out tonight to support us and to see how we look this year.
(The audience has no reaction. He continues while McCoy and Figgins find their seats.)
Um, also we are no longer allowed to have the Troubletones (the crowd goes wild) or the New Directions (the crowd slowly stops cheering) to compete separately, so once again, we combined both groups and we will compete this way, once again.
(People are still on their phones and talking to each other, everyone backstage is really nervous as no one is making any kind of reaction. Coach Roz tries to warm up the crowd)
Roz: Schue why don't you get off stage and let me try things out. (The crowd starts clapping. Dramatically and Inspirational) I had a dream, that one day I would compete at the Olympics, and I did so in both Beijing, China and London, England, in Individual Synchronized Swimming, now I know a lot of you white folks didn't know that was such a thing, but it is. I was laughed at by people who didn't know Blacks could swim, I went through a lot and I won bronze in Beijing, then I came back and I took home the gold. Now if you were to ask me, "Roz would you ever coach a high school glee club?" I would have said, "You sir are cray cray." (The audience is eating this up and Thick and VA are very confused as to what is going on. While ND and TT are bewilder and moved by her words) But I did it. And I took over for the Troubletones after Miss Corcoran left (VA cheers) and made sure we could compete separately against the New Directions, and at first it was a little tricky but then we won, we won three times and now we have to merge with our competition and let me just tell you that this is cray cray. Now after a long time of practicing, let me bring out my National Champion Glee Club Winners, the Troubletones to kick things off tonight!
(The audience is on their feet cheering and hollering at Roz and whispering that she's an inspiration. The lights go out and a spot light shines on both Melanie and Stacy who are dressed in purple and black dress with matching accesories accessories.)
Stacy: What up McKinley let me hear you!
(The audience cheers.)
Melanie: Hey everyone, let's get this party started!
(More cheers.)
River Deep, Mountain High

Edit
Melanie:
When I was a little girl
I had a rag doll,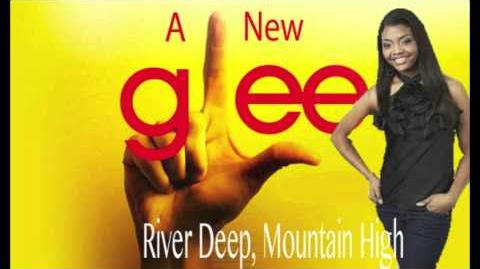 Only doll I've ever owned.
Stacy:
Now I love you just the way
I loved that rag doll.
But only now my love has grown.
Melanie:
And it gets stronger, in every way.
And it gets higher,
Both:
Day by day.
Do I love you my, oh my.
(The curtain opens revealing the rest of the Troubletones who are also wearing purple and black dresses dancing and mimicking Tina Turner.)
TT:
River deep, mountain high, yeah, yeah, yeah!
If I lost you would I cry?
Oh, how I love you baby, baby, baby, baby.
(VA is slightly impressed.)
Stacy:
I love you baby like a flower loves the spring
Melanie (pointing to Chris Mann):
And I love you baby like Chris loves to sing
(He smiles, and the people around him are going crazy.)
Stacy:
And I love you baby like a schoolboy loves his bag
Both:
And I love you baby, river deep, mountain high
Melanie:
Oh baby
Stacy:
Oh baby!
Melanie:
Oh woah baby!
Stacy:
Ooh Ooh Ooh! Ooh Ooh Ooh!
Yeah!
Melanie:
YEAH!
(By now, everyone is on their feet, besides VA and their coach.)
TT:
Do I love you my oh my?
River deep, mountain high, yeah, yeah, yeah
If I lost you would I cry?
Oh, how I love you baby, baby, baby, baby.
(Everyone is going crazy while the New Directions are getting set up.)
Shirley: Ladies and Gentlemen give it up for the Troubletones (the audience cheers). I'm Shirley and this is the New Directions!
(The lights go off and on with the rhythm of the song revealing the ND girls wearing the same dress and the boys are wearing purple shirts with loose black ties and jeans.)
Edge of SeventeenEdit
Shirley: Just like the white winged dove
Sings a song, sounds like she's singing
ND:
Ooo, ooo, ooo
Luke: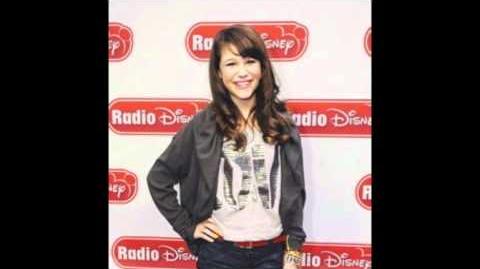 Just like the white winged dove
Sings a song, sounds like she's singing
ND:
Ooo, baby, ooo
Said "Ooo"
Adam:
And the days go by like a strand in the wind
In the web that is my own I begin again
Said to my friend baby
Adam and Victoria:
Nothin' else mattered
Victoria:
He was no more (Shirley: He was no more)
Than a baby then
Well, he seemed broken hearted,
Victoria and Shirley:
Something within him
But the moment that I first laid eyes on him all alone
Victoria and Adam with Bon'Quisha:
On the edge of seventeen
Shirley with ND:
Just like the white winged dove
Sings a song, sounds like she's singing
Bon'Quisha:
I said "Ooo, baby, ooo"
Said "Ooo"
Luke with ND:
Just like the white winged dove
Sings a song, sounds like she's singing
Bon'Quisha:
I said "Ooo, baby, ooo"
Said "Ooo"
(Some audience members are getting up clapping along to the rhythm while the moms and dads are lip-synching to a Fleetwood Mac, Stevie Nicks classic)
Victoria:
Well, then suddenly
There was no one left standing in the hall, yeah, yeah
In a flood of tears
That no one really ever heard
Victoria and Adam:
Fall at all
Adam:
Well, I went searchin' for an answer
Up the stairs and down the hall
And not to find an answer
Just to hear the call
Of a nightbird singing
Together:
"Come away"
Shirley with ND
Just like the white winged dove
Sings a song, sounds like she's singing
Bon'Quisha:
Ooo, baby, ooo
I said "Ooo, baby, ooo"
Said "Ooo"
Luke with ND:
Just like the white winged dove
Sings a song, sounds like she's singing
I said "Ooo, baby, ooo"
Said "Ooo"
(The audience gives them a standing ovation for doing a great take on Nick's song. Chris Mann looks intrigued, as does VA. The ND and TT get things ready for their final number, the number that they have never gone through the whole song without messing up. The coaches all look at each other hoping for a Show Choir miracle while McCoy has a devilish grin on her face. Finally the curtain rises, and we see the 17 Glee Club members all standing on the stage performing for the first time. The music begins and the coaches cross their fingers.)
Brighter Than the SunEdit
Natalie:
Stop me on the corner
Don't you blink you might miss it
Jasmine and Natalie:
I've never seen it, I found this love, I'm gonna feed it
Samantha:
Boy we go together like peanuts and paydays and Marley and reggae
Jasmine and Samantha:
And everybody needs to get a chance to say
TT with ND:
Oh, this is how it starts, lightning strikes the heart
It goes off like a gun, brighter than the sun
Oh, we could be the stars, falling from the sky
Shining how we want, brighter than the sun
(James walks in and smiles at Camille who sees and sings to him. The audience slowly starts clapping along and enjoys the performance.)
Camille and Ray:
Everything is like a white out, cause we shika-shika a shine down
Even when the, when the light's out but I can see you glow
Phoebe and Victoria (give it all they got cuz they are finally singing):
Got my head up in the rafters, got me happy ever after
Never felt this way before, ain't felt this way before
Samantha and Ray:
I swear you hit me like a vision
I, I, I wasn't expecting
But who am I to tell fate where it's supposed to go?
ND with TT:
Oh, this is how it starts, (Jasmine: This is how it starts)
Lightning strikes the heart (Jasmine: Lightning strikes the heart)
It goes off like a gun, brighter than the sun
Oh, we could be the stars, falling from the sky
Shining how we want, (Jasmine: Shining how we want)
Brighter than the sun,)
Camille:
Brighter than the sun.
Jeff:
Brighter than the sun.
Jasmine:
Oho, yeah, oho
Samantha and Natalie with ND:
Oh, this is how it starts, lightning strikes the heart
It goes off like a gun, brighter than the sun
Camille and Jeff with TT:
Oh, this is how it starts, lightning strikes the heart
It goes off like a gun, brighter than the sun
Phoebe
Oh, this is how it starts,
Victoria:
Lightning strikes the heart
Ray:
It goes off like a gun,
Jasmine:
Brighter than the sun
TT and ND:
Oh, this is how it starts, lightning strikes the heart
It goes off like a gun, brighter than the sun
(Everyone stands up and claps, even VA and Chris Mann. Sue, Roz, and Shue look amazed and cheer the loudest as they had their doubts. McCoy is a little vexed and Figgins is too caught up in the moment and doesn't even notice what is going on.)
Backstage.
Edit
Schue: You guys that was incredible, I'm so proud of all of you.
Sue: That wasn't half bad. Could be better but it didn't suck.
Roz: I agree. You guys managed to pull that off, I'm impressed but it was still a little sloppy.
Schue: Now, before you disperse I just have on thing to say—
(Chris Mann walks up to the group and buts in.)
Mann: Good evening everyone, I just want to properly introduce myself, I am Chris Mann and I am the coach of Vocal Adrenaline. (ND and TT are in shock.) I just want to say that you guys did great and I cannot wait until we compete against you guys. Interesting song selections though, I do have to say, but your guys are still no match for us.
Roz: Who do you think you are telling us that we are no match for you? Have you not been aware, you're group hasn't won a Nationals Championship in quite some time and not to mention you guys didn't even compete the past two years.
Mann: I've been recruiting, despite us not winning in awhile people are still more interested in us then they are of you. Well, I'd love to stay and chat, but I don't want to so, I'll see guys on the ice. Adrenaline, let's bounce.
(The ND and TT are still stunned and it takes a few minutes before they even come to.)
Schue: Um, don't be scared, Nationals is still at the end of the year. They're just trying to psych us out, but don't worry we will get better and we will beat them again. Now as I was saying, you all did great, so we pretty much are done with everything for this week, but I should stress that next week is our fall Pep Assembly, which means the Troubletones and the New Directions won't rehearse together, starting Tuesday. On Monday, we will give you guys a lesson and for the week and whoever performs it the best gets showcased at Sectionals, just like how it was tonight. So goodnight, and I will see you guys all tomorrow.
(As they leave, Camille sees James talking Jasmine.)
James: Uh, hey there. You were great; I didn't know you could sing like that.
Jasmine (flirtatiously): Thank you; most people don't realize what I can do.
James: Well, you are definitely a star.
Jasmine: You are too, I heard you doing the play, and you were incredible, why didn't you audition?
James: I don't officially go to school here, I mean I do cuz I am on the football team, but it's a long story.
Jasmine: Well I'm done for the day and I was going to grab some coffee, you can tell me there.
James: Sure, I just have to say hi to someone.
(Jasmine looks back to see who he is staring at.)
Jasmine: You don't want to see Camille, she's not interested, and she's still not over her last crush.
James (still staring at Camille, sadly): Oh really?
Jasmine: Really. It's best just to leave her alone she has to many problems.
James (still not looking at Jasmine): I guess, well then are you ready?
Jasmine: Yes, I'm all set, let's go.
(As they are walking out Camille is heart broken then as she turns around she sees McCoy talking with Schue, so she hides behind a curtain.)
McCoy (clapping): Well, well, well. You didn't do as bad of job as I thought.
Schue: I'm glad you enjoyed it, because I certainly as hell did not.
McCoy: And why is that?
Schue: Because, no matter how hard I will work with them these next few weeks, it won't be worth it, seeing them succeed on the sidelines.
McCoy: Well, if you were to just have passed that first test, we wouldn't be here.
Schue: I've been thinking a lot about that actually, I remembering reading in the contract, that it only applied for the credentials of the class I was going to be teaching, which was Spanish, and I am not a Spanish teacher anymore.
McCoy: I know, Sue told me, but if you looked between the lines, you would have read that it doesn't matter what you currently teach, it just applies to the fact that you sir, didn't truthfully pass your test to be a teacher, in any subject. Which means if it gets out, you can't teach anywhere.
Schue: That may be, but I can still retake it and the New Directions, won't be dismantled.
McCoy: Maybe, but anything you are in charge of will get disqualified once I'm principal.
Schue: Unless, I'm not the one in charge. You see Sue and Roz are also coaches of their respective glee clubs, and if I go, there will still be a glee club run by two coaches.
McCoy: Are you trying to trick me son, because if you do, I can fire your ass, but that's not what I'm doing, if I wanted to, I wouldn't need this job. I'm just trying to make sure you are a man of your words.
Schue (see the curtain move and sees Camille's hair come out of it. Says this next part directly to her): If that's your wish, then I will do anything I can to make sure there is still a glee club in this school, even if I am not the one coaching it.
McCoy: And here I thought we could be friends and you would just so kindly step down, but I guess that you want this done the hard way. All right, come January consider yourself banned from glee.
(As McCoy leaves, Camille slowly starts to get out of the curtain only to bump into Mr. Schue who just puts his finger to his mouth to shush her from saying anything.)
River Deep, Mountain High Edit
By Tina Turner sung by Melanie Brown and Stacy Lopez with The Troubletones
Edge of Seventeen Edit
By Stevie Nicks sung by Shirley Madison, Luke Hernandez, Adam Michaels, Victoria Gutierrez, and Bon'Quisha Da'Quonde with New Directions
Brighter Than the Sun Edit
By Colbie Calliat sung by Natalie Sheets, Jasmine Solstice, Samantha Stevens, Camille Beck, Ray Jackson, Jeff Moore, Phoebe Freedman, and Victoria Gutierrez with New Directions and The Troubletones