Hey, it's Sasha here. I'm glad to announce there are a few new features added to the wiki! 4 new minor features have been added, all adding ease to your experience here on the Glee Wiki.
---
Firstly, there has been an auto-refresh feature added to

Wiki Activity. Simply tick the checkbox and Wiki Activity will automatically refresh for you so you can stay completely up to date with everything happening on the wiki.
---
Secondly, after scrolling down pages you will

notice a "Back To Top" button in the bottom right corner. Clicking this will bring you right back up to the top of the page, avoiding the need to scroll up a long way.
---

Next, you now have the ability for many page actions from anywhere on a page. This has edit, purge, history etc. links so you can easily access page functions, plus protect and delete functions for admins.


---
Lastly, this is only a very small tweak,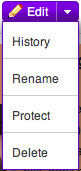 but it saves you a mouse click. Rather than having to click on the arrow on the edit button at the top of pages to see history, rename etc. you can now simply hover your cursor over it for the options to appear.
---
I hope you find these changes helpful, and that they make your experience on the Glee Wiki easier and more efficient. Feel free to leave your thoughts about these new features below.