Vitamin D is the sixth episode of Glee's first season and the sixth episode overall. It premiered on October 7, 2009.
Will challenges the kids to a healthy dose of competition with boys against girls in a mashup showdown. Meanwhile, Terri takes a job as the school nurse to keep an eye on Will, despite having no medical experience, and hands out Vitamin D to the New Directions, which causes a serious boost of energy, but comes with a consequence.
This episode is the first of four "mash-up contest" episodes the second being Never Been Kissed, the third being Mash Off, and the fourth being Girls (and Boys) on Film.
The episode was directed by Elodie Keene and written by Ryan Murphy.
Plot
Two weeks before
Sectionals
, Will is worried the
Glee Club
is being too cocky. He tells Emma it started when they received a particularly easy sectional draw.
Sue
overhears Will's concern and thinks he needs to kick-start their competitive spirit. Will decides to have the boys face the girls in a mash-up competition. The winner gets to choose the number for sectionals. Will tells them there will be a surprise celebrity judge.
Finn
catches Will's attention, as he obviously looks so drowsy, he then explains that he's worn-out. We get a voice-over of Sue writing in her
journal
. She mentions a recent "disaster" in which
Quinn's
knee slightly buckled during a pyramid. That kind of screw-up could cost the Cheerios their national title, Sue thinks. When she asks Quinn what's wrong, Quinn blames it on tiredness trough Glee practice.. Sue decides she must bring down Will.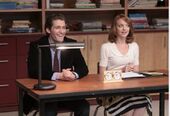 Sue has a conversation with
Terri
about Will's relationship with Emma. She implies that Terri must intervene to prevent an affair. This leads Terri to try and get a job at the school.
Will tells Emma he wants her to judge the Glee-off. While he's talking to her about the competition, Terri walks in and tells them she is the new school nurse.
In a voiceover, Finn says he having trouble staying awake at football and glee practice. He also can't seem to get Rachel out of his mind. He says, "Quinn's hot, popular, and she's carrying my baby and all, but I can't get Rachel out of my head. She kind of freaks me out in a Swim Fan kind of way, but she can really sing, and her body is smoking. If you're not into boobs." He falls asleep, and when he wakes up, drooling, Puck suggest him to visit the Nurse. 
The girls are super-confident they will beat the boys and aren't interested in Rachel's suggestion they practice.
Finn tells Terri he's tired but can't seem to get any sleep. When he expresses ambivalence about girls, and asking 'Can you like two girls at the same time?' Terri tries to turn him towards Quinn, by saying 'No. And remember, flirting is cheating.' She gives him
pseudoephedrine
to stay awake. A wired Finn shows up to practice and gives the 'vitamins' to the rest of the guys.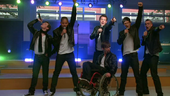 The guys perform a combination of It's My Life and Confessions Part II. Will thinks they did a great job and will be tough for the girls to beat.
Rachel confronts Quinn next to the lockers, why she is ditching Glee pratice. Quinn snaps and says she doesn't need Glee. Rachel, feeling pity for the girl, says soon her baby bump is going to be visible and Quinn needs friends, who support her. Quinn is surprised by the girl's concern and admits she would make Rachel's life miserably if the roles were reversed. 
Terri has Howard buy lots more decongestant. Ken comes in to her office and complains Emma and Will may be in love with each other. Terri confesses she's only there to keep an eye on Will and wants a way out of the job. Ken is in love with Emma but admits she isn't interested in him physically. She tells Ken he should propose and gives him pseudoephedrine to boost his courage.
With the guys performing well, Rachel is still trying to get the girls to work harder. Kurt walks in the room and tells them the guys took pills.
Rachel confronts Finn in the hallway about his chemical enhancement. Finn tells her he needs help given how much he has on his plate and talks trash that the guys are going to win.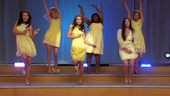 Terri passes out pseudoephedrine to the Glee girls. Will tells Terri that she is smothering him at school. Ken proposes to Emma in the teachers lounge. He promises to keep her "clean of sadness and loneliness."
After Rachel frantically introduces the girls' performance, they do a strong mash-up of Halo and Walking on Sunshine. Will takes Emma into the hallway and asks about Ken's proposal. She asks Will if he thinks she has any other options. Terri goes to Emma's office and tells her she has no chance with Will. Emma says Will deserves better than Terri. Terri advises her to marry Ken.
Quinn tells Terri she doesn't think she is ready to be a mother. Quinn is okay with giving Terri the baby, but doesn't want Will to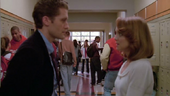 find out. Terri turns Quinn down when Quinn asks for financial support during the pregnancy.
Emma asks Ken what it would mean if they got married. She doesn't want to change her name, move in with him, have a ceremony or tell anybody. Ken reluctantly asks: "Is that a yes?"
Rachel and Finn both feel guilty about taking the pills. They agree they should both disqualify their teams.
Will is furious to learn Terri gave his kids pills.
Figgins
forces Terri to resign and makes Will take on Sue as a co-director.
Emma finds Will in the hallway and tells him about her answer to Ken's proposal: "Yes." She then walks away from him, he does the same, and they both look at each other, realizing that they lost the chance for them to be together.
It is not revealed who wins, because Will tells them that they used pills so the competition is over.
Songs
Background Songs
Break My Stride by Matthew Wilder. Rachel's alarm clock music as she wakes up and the song on her iPod/alarm clock and hits the elliptical.
Guest Cast
Guest Stars
Trivia
This is the first epsiode in which each song performed was released.
This is the only episode, to date, where all the songs are performed in the choir room.
This is the first and, so far, only episode that contains only mash ups.
This episode was watched by 7.30 million viewers.
This episode has had the second least amount of songs in the series, falling second to the only song in Preggers (the episode also only had two songs but only one was released).
This is the first episode where no solos are sung.
The song Rachel exercises to is Break My Stride by Matthew Wilder.
This episode began the tradition of having a "mash up" contest in the sixth episode of every season. However, this tradition was broken in Season Four when the sixth episode contained the school musical, Grease. The "mash up" competition was held in the fifteenth episode, Girls (and Boys) on Film.
When Sue is scheming to get Will to leave (and scuttle the Glee Club's chances of success), she tells Terri that she should become the school nurse and see for herself that there is romantic tension between Will and Emma. When Terri says she can't do that because she's not a nurse, Sue replies, "I'm not an American citizen. I was born in the Panama Canal zone. But I managed to get a passport. And run for office twice." This is a reference to Arizona Senator John McCain, who was born in the Panama Canal Zone and who ran for the presidency of the United States in 2000 and 2008.
Errors
Terri tells Emma that Ken Tanaka's "melting pot of ethnicities" would leave any child they had open to a multitude of genetic diseases. A diverse ethnic background makes a person less likely to be affected by genetic disorders, seeing as faulty genes cancel each other out. (It's possible that Terri knew this and was just saying it to be offensive.)
Terri says that the Pseudoephedrine products are "simple over the counter" items that you can get in the store with no problem. Actually, the US regulates the sale of pseudoephedrine products, limiting a person to how much they can buy in the store. Most stores scan the license in store and it would prevent Terri from getting as many boxes as she did, unless she bought some herself as well.
When all of the New Directions girls are lined up to get pills from Terri, there are two girls at the end of the line that are supposed to be Brittany and Santana, but they are not. This becomes increasingly obvious when, at the other end of the line, standing next to Rachel, is the real Santana (At 25:46). The whole line of girls can be seen - seven total, with fake Brittany, fake Santana, Mercedes, Tina, Quinn, Rachel, and real Santana.
When Rachel is confronting Finn about the pseudoephedrine, there's a take of Finn facing the opposite direction to Rachel. Then in the next take he has turned face her. He could not have done a 180-degree turn in under a second.
When Rachel walks up to Quinn by her locker, she tells Quinn about the girls versus boys competition, although Quinn was actually present when Will told the Glee Club about the competition.
Finn is seen playing Halo Multiplayer during his voiceover. He says "All I know is that I got vaporized on level two. Level two! And I didn't even have the energy to care." This is wrong because Halo doesn't have any levels. 
Quotes
"

People who can't hear what they're singing and criminals who don't care. This is going to be a cake walk!

"
"

Will: Hey, hope you guys are up for this competition. Girls look pretty pumped.

Artie: We're planning on smacking them down like the hand of God.

"
"

Emma: So, what would, um... what would getting married mean, exactly? Because I would want to keep my last name and I'd want to continue living in different parts of town, and, um, I think it would be best if we didn't see each other after school.

Ken: Sure.

Emma: And I wouldn't want a big ceremony, you know, like in a church... with people. We wouldn't have to invite anybody, you know, or tell anybody, actually. It could be more like a secret, you know, like a secret marriage.

Ken: That's actually a better deal than I expected.

"
"

Rachel: Thank you so much, it really is a pleasure. While the boys chose a selection of songs that casts an eye inward on the irresponsible life choices and sexual hunger of today's modern teens, we have chosen a selection of songs that speaks of the nation as a whole during these troubling times filled with economic uncertainty and unbridled social woes, because if there's two things America needs right now, that is sunshine and optimism! Also angels.

"
Gallery
Videos