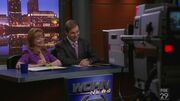 WOHN-TV
 is a local news television network located in
Lima, Ohio
. It makes appearances in numerous episodes.
Segments
News Reports
Weather Forecast
Burt's Corner
Employees
Trivia
WOHN-TV often covers stories that take place at the zoo. For example, in Preggers, Emma mentions a report on a zoo massacre on before Sue's Corner. In The Rocky Horror Glee Show, there is a story on a chimpanzee wedding, and in The Purple Piano Project, they have a story on the first zoo massacre in six years, calling it panda-monium.
Burt is given a slot because he is running for congress, and the WOHN-TV had to give him equal time to Sue, due to campaign laws.
Andrea quits in Naked, but returns prior to The End of Twerk.
Gallery