"

To anyone that ever watches this, never stop being yourself.

"

—Unique Adams, Shooting Star
Unique Adams is a major character on Glee, who makes her debut appearance in Saturday Night Glee-ver, the sixteenth episode of Season Three. Unique is shown to be a bit shy, but confident when she is allowed to present in the way she feels most comfortable, she is the first openly transgender character on the show.
Unique was the lead vocalist of Vocal Adrenaline in Season Three, where she is afraid to perform in front of a crowd, but finds a way to do so, by presenting femininely. She transfers to William McKinley High School in the first episode of Season Four, The New Rachel. She joined the New Directions, but is now a former member due to the Glee Club being disbanded in New Directions. She prefers that people refer to her as "she" and "Unique," her true self. Unique is best friends with Marley Rose and good friends with Kitty Wilde. She has a crush on Ryder Lynn, but is too afraid to demonstrate it, so she creates a fake online profile, Katie, in order to get close to him. Ever since she transfered to McKinley, she appears to be more confident about who she is, although she is still struggling at times.
In Homecoming, it is revealed that Sue transferred her to another school after the disbandment of the glee club.
She was a recurring character in Season Three and Four and was promoted to regular cast during Season Five before being demoted to recurring again in Season Six. She is portrayed by The Glee Project co-runner-up, Alex Newell.
Biography
Relationships
Main article: Ryder-Unique Relationship (Rydique/Rynique)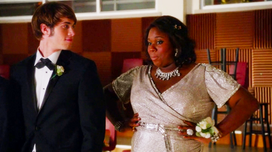 Unique confronts Ryder in Feud over him kissing her best friend Marley, who is in a relationship with Jake at that time. This turns into its own feud when Ryder, not understanding Unique's transsexuality, refers to her as a boy. Ryder struggles throughout the episode to understand Unique, but with the encouragement of his new online acquaintance "Katie" he ultimatively gathers the greatness, and apologizes.
Unbeknownst to Ryder, "Katie" is nobody else but Unique herself. Ryder ultimatively learns that his online acquaintance hadn't been who she claimed to be the whole time, and is furious. He learns, however, that "Katie" is in glee-club with him once he rings her number and hears a phone ringing in the choir room. Over a period of time, Ryder continues talking to "Katie," despite knowing she lied to him, but ultimatively reaches his limit in All or Nothing. Overwhelmed by her bad guilt, Unique tells him that she is "Katie." She had formed a crush on him, but thought it would be unlikely that Ryder would like her the way she was, and had thus created a catfish account. Ryder is extremely furious at her for this, but the bad feelings seem to vanish after their victory at Regionals.
They appear to be friends again in Season Five. However, their storyline is never resolved, and Ryder begins showing romantic interest in Marley once more.
Main article: Marley-Unique Relationship (Marlique)
Marley and Unique are both initiated into the glee club during The New Rachel, and are officially classified as "besties" by Unique during Britney 2.0, when she tries to warn her off starting a relationship with Jake, the McKinley bad boy.
They soon sing together when they decide to audition for different roles in Grease, and Mercedes says that their performance was the most energetic that she had seen all day, and this strengthens their friendship. Kitty later has a slumber party at her house and invites Marley who responds that she will not attend unless Unique is invited.
Unique is there to defend and care for Marley after she collapses at Sectionals, and tells the rest of New Directions to give her some space. When Tina later calls Unique out about her Diva status, Marley jumps to her defense, and they all perform a number together. When Ryder kisses Marley, Unique stands up for her friend and tells Ryder to stop messing with her and Jake's relationship. At the end of the fourth season, Marley shows Unique how much she means to her when she discovers that she has been the one catfishing Ryder and covers for her.
Marley and Unique are seen sitting together and laughing during the Drive My Car performance, and perform with Jake and Ryder at prom. When Unique realizes that Bree is trying to steal Jake away, she jumps to her friend's defense and tells her she needs to watch her back and up her game to keep Jake as her boyfriend.
In the twentieth episode of season four, Lights Out, they share a friendly kiss during the performance of Longest Time.
Songs
Solos
Duets
Solos (In a Group Number)
Season Four

Song

Episode

Solos with
Call Me Maybe
The New Rachel
Blaine, Brittany and Tina
Womanizer
Britney 2.0
Marley and Tina
There Are Worse Things I Could Do
Glease
Cassandra and Santana
This Is the New Year
Naked
Artie, Blaine, Brittany, Jake, Marley, Ryder, Sam and Tina
Diva
Diva
Blaine, Brittany and Tina
Wannabe
Guilty Pleasures
Brittany, Marley, Kitty and Tina
Mamma Mia
Blaine, Marley, Kitty, Kurt, Rachel and Santana
You Have More Friends Than You Know
Sweet Dreams
Blaine, Marley and Sam
Outcast
Jake, Kitty, Marley and Ryder
I Love It
Brittany, Kitty and Tina
Back-up singing
Solos
Solos (In a Group Number)
Season Five

Song

Episode

Solos with
Sgt. Pepper's Lonely Hearts Club Band
Tina in the Sky with Diamonds
Jake, Marley and Ryder
Wide Awake
A Katy or A Gaga
Jake, Kitty and Tina
Roar
Dani, Elliott, Kitty, Rachel, Sam, Santana, and Tina
On Our Way
The End of Twerk
Artie, Blaine, Jake, Kitty, Marley, Ryder, Sam and Tina
Mary's Little Boy Child
Previously Unaired Christmas
Marley and Tina
America
City of Angels
Artie, Kitty and Sam
Trivia
Unique is the first transgender character in the show.
Like fellow The Glee Project runner-up Lindsay Pearce's character Harmony, Unique was also the lead vocalist of a rival show choir.
The character shares her last name with Azimio Adams.
Gallery
Quotes
Main article: Unique's Quotations