When I Get You Alone by Robin Thicke is featured in Silly Love Songs, the twelfth episode of Season Two. It is sung by Blaine with the Warblers at a GAP store.
With this song, Blaine professes his love for Jeremiah - a closeted gay GAP junior manager. During the performance, a jealous Kurt watches as he leans on a mannequin and walks with the Warblers, watching Blaine serenade Jeremiah. However, Jeremiah doesn't accept Blaine's feelings and Blaine is shot down.
Lyrics
The Warblers:
Vum Vum Vum Vum
Vum Vum Vum Vum

Blaine (The Warblers):
Oooooooh (Vara Varam)

Baby girl, where you at?
Got no strings, got men attached (Vara Varam)
Can't stop that feelin' for long, no.
Mmmm (Vara Varam) you makin' dogs wanna beg
Breaking them off your fancy legs (Vara Varam)
But they make you feel right at home, now

See, all these illusions just take us too long
And I want it bad
Because you walk pretty
Because you talk pretty
'Cause you make me sick
And I'm not leavin'
Till you're leavin'

Oh, I swear, there's something when she's pumpin' asking for a raise
Well, does she want me to carry her home, now?
So, does she want me to buy her things?

On my house, on my job
On my loot, shoes, my shirt
My crew, my mind, my father's last name?

Blaine with The Warblers:
When I get you alone
When I get you, you'll know, baby
When I get you alone
When I get you alone (The Warblers: Vara Varam)

Blaine (The Warblers):
(Ooohh ohhh) Come on (Ooohh ohhh)
Oh yeah-yeah (Vara Varam)
Baby girl, you the shhh
That makes you my equivalent (Vara Varam)
Well, you can keep your toys in the drawer tonight
Alright (Vara Varam)

All my dawgs talkin' fast-
Aint you got some photographs? (Vara Varam)
'Cause you shook that room like a star, now
Yes you did
Yes you did

All these intrusions just take us too long
And I want you so bad
Because you walk steady
Because you talk steady
'Cause you make me sick
And I'm not leavin', till you're leavin'

So, I pray to something she ain't bluffin'
Rubbin' up on me.
Well, does she want me to make a vow?
Check it
Well, does she want me to make it now?

On my house, on my job
On my loot, shoes, my voice
My crew, my mind, my father's last name?

Blaine with (The Warblers):
When I get you alone
When I get you, you'll know baby
I get you alone
When I get you alone (Vara Varam)
(Vara Varam Vara Varam Vam Vam Vam Vam Vam) Whoah oh
When I get you alone (Yeeaaahhh; Vara Varam)
Trivia
The background vocals were arranged and performed by The Beelzebubs, an all-male a cappella group from Tufts University.
At one point, Blaine can be seen wearing pink sunglasses. Pink sunglasses are Darren Criss' signature accessory.
All the actors in the performance got huge discounts at the GAP and they were all shopping like crazy after the filming.
During the performance shoot of the song, there were huge lines of fans outside of the GAP.
The original version of this song sampled the track A Fifth of Beethoven which is also used in the Pilot and Saturday Night Glee-ver.
Gallery
Videos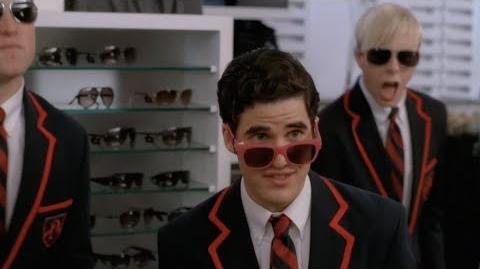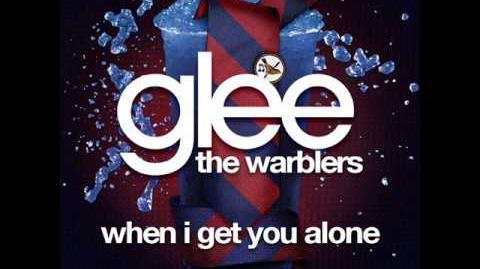 v - e - d
Season Two Songs
Audition
Empire State of Mind • Telephone • Billionaire • Listen • What I Did for Love
Britney/Brittany
I'm a Slave 4 U • Me Against the Music • Baby One More Time • Stronger • Toxic • The Only Exception
Grilled Cheesus
Only the Good Die Young • I Look to You • Papa Can You Hear Me? • I Want to Hold Your Hand
Losing My Religion • Bridge Over Troubled Water • One of Us
Duets
Don't Go Breaking My Heart • River Deep, Mountain High • Le Jazz Hot • Sing!
With You I'm Born Again • Lucky • Happy Days Are Here Again/Get Happy
The Rocky Horror Glee Show
Science Fiction Double Feature • Planet, Schmanet, Janet • Damn It, Janet
Whatever Happened to Saturday Night? • Sweet Transvestite • Touch a Touch a Touch a Touch Me
There's a Light (Over at the Frankenstein Place) • Time Warp
Never Been Kissed
One Love (People Get Ready) • Teenage Dream
Start Me Up/Livin' on a Prayer • Stop! In the Name of Love/Free Your Mind
The Substitute
Forget You • Make 'Em Laugh • Nowadays/Hot Honey Rag • Singing in the Rain/Umbrella
Furt
Ohio • Marry You • Sway • Just the Way You Are
Special Education
Don't Cry for Me Argentina • The Living Years • Hey, Soul Sister • (I've Had) The Time of My Life
Valerie • Dog Days Are Over
A Very Glee Christmas
The Most Wonderful Day of the Year • We Need a Little Christmas • Merry Christmas Darling • Baby, It's Cold Outside
You're a Mean One, Mr. Grinch • Last Christmas • Welcome Christmas
The Sue Sylvester Shuffle
Thriller/Heads Will Roll • She's Not There • Need You Now • Bills, Bills, Bills
Silly Love Songs
P.Y.T (Pretty Young Thing) • Firework • When I Get You Alone • Silly Love Songs • Fat Bottomed Girls
Comeback
Baby • Somebody to Love • Take Me or Leave Me • I Know What Boys Like • This Little Light of Mine • Sing
Blame It on the Alcohol
My Headband • Don't You Want Me • Blame It (On the Alcohol) • One Bourbon, One Scotch, One Beer • Tik Tok
Sexy
Do You Wanna Touch Me (Oh Yeah) • Animal • Kiss • Landslide • Afternoon Delight • Do Ya Think I'm Sexy?
Original Song
Misery • Only Child • Blackbird • Trouty Mouth • Big Ass Heart • Hell to the No
Candles • Raise Your Glass • Get It Right • Loser Like Me
A Night of Neglect
All by Myself • I Follow Rivers • Turning Tables • Ain't No Way
Born This Way
I Feel Pretty/Unpretty • I've Gotta Be Me • Somewhere Only We Know
As If We Never Said Goodbye • Born This Way
Rumours
Dreams • Never Going Back Again • Songbird • I Don't Want to Know • Nice to Meet You, Have I Slept with You?
Go Your Own Way • Don't Stop • It's 10 am and I'm Drunk
Prom Queen
Rolling in the Deep • Isn't She Lovely • Friday • Jar of Hearts
I'm Not Gonna Teach Your Boyfriend How to Dance with You • Dancing Queen
Funeral
Back to Black • Some People • Try a Little Tenderness • My Man • Pure Imagination
New York
My Cup • I Love New York/New York, New York • Still Got Tonight • Bella Notte • For Good
Yeah! • As Long as You're There • Pretending • Light up the World
Ad blocker interference detected!
Wikia is a free-to-use site that makes money from advertising. We have a modified experience for viewers using ad blockers

Wikia is not accessible if you've made further modifications. Remove the custom ad blocker rule(s) and the page will load as expected.