This article is about the teacher, Will Schuester. You may be looking for his father, Mr. Schuester.
Will Schuester
General Information
Gender:
Male
Age:
37-38
Hair Color:
Dark Blonde
Eye Color:
Green
Birthday:
1976
Height:
6'
Address:
20 Apple Blossom Lane Lima, Ohio 45802 (Former)
Occupation(s):
Spanish Teacher (former)
Evening Janitor (former)
Glee Club Director (former)
History Teacher (current)
Blue Ribbon Panel for Arts Education Committee Member
Aliases:
General Schuester
(himself)
Schue
(Principal Figgins)
Mr. Schue, Mr. Schuester
(Glee Kids, Students)
Man-Whore
(Quinn, Sue)
Slut
(Emma, Sue)
Buttchin, SpongeHair SquareChin, Weepy The Vest Clown, Nancy, Mister, Annie Sullivan, Dr. Laura, Tiger, The Alcoholic Teen Vomit Fetishist, Macaroni Hair, Wavy Gravy, Man with Curly Hair, Strange Weepy Man-Child, Bustin Timberfake
(Sue)
Sunshine, Sleepyhead
(Emma)
Honey
(Emma, Terri)
Count Boozy Von Drunk-a-Ton, An Amazing Teacher (Santana)
The White Guy with the Jheri Curl
(Grace)
Mr. DeMille
(Sandy)


Mr. S
(Finn)
All kinds of awesome
(Rachel while drunk)
Cowboy
(Owner of Rosalita's Roadhouse, Holly)
Hot Stuff
(Holly, April)
Whatever Your Name Is
(Roz)
Shyster
(Jake)

Family & Friends
Family:
Emma Schuester (wife)
Daniel Schuester (son)
Mrs. Schuester (mother)
Mr. Schuester (father)
Rusty Pillsbury (father-in-law)
Rose Pillsbury (mother-in-law)
Unnamed Brother-in-law
Betty Pillsbury (niece)
Unnamed Sister-in-law
Relationships:
Emma Schuester (wife, in love with, sexual, mother of child)
Terri Del Monico (ex-wife, sexual)
Suzy Pepper (former crusher, one sided)
Rachel Berry (former crusher, one sided)
Shelby Corcoran (makeout session)
April Rhodes (flirted with, former crush, slept with)
Sue Sylvester (seduced)
Shannon Beiste (kissed)
Holly Holliday (ex-girlfriend)
Lauren Zizes (former crusher during the Toxic riot, ended)
Friends:
Emma Pillsbury
Howard Bamboo
Henri St. Pierre
Shannon Beiste
Finn Hudson
April Rhodes
Holly Holliday
Terri Del Monico
Shelby Corcoran
Burt Hummel
Carole Hudson-Hummel
New Directions
David Martinez
Brad
Sue Sylvester
Employer:
Principal Figgins (former)
Sue Sylvester (current)
Enemies:
Sue Sylvester
Sandy Ryerson
Ken Tanaka
Bryan Ryan
Carl Howell
Dustin Goolsby

Other Information
Interests:
Glee Club, Teaching, Singing, Dancing
Clique:
Glee Club (former), Acafellas (briefly), McKinley High Faculty
Education:
William McKinley High School
Talent:
Singing
Vulnerabilities:
Feelings for Emma (former), Broadway opportunities
Strengths:
Singing, Dancing, Teaching Glee Club
Weaknesses:
Teaching Spanish
Awards:
1st place - 1992, 2009-2011 (Sectionals)
1st Place - 1993, 2011-2013 (Regionals)
1st Place - 1993, 2012 (Nationals)

Teacher of the Year 2008, 2012

Series Information
First appearance:
Pilot
Portrayer:
Matthew Morrison
"

Life really has only one beginning and one end. The rest is just a whole lot of middle.

"

—Will Schuester, Journey
William Michael "Will" Schuester is a main character on Glee. He was in charge of the William McKinley High School Glee Club, New Directions. Will is the school's Spanish teacher until Season Three episode The Spanish Teacher, where he takes a job as a history teacher. He is married to Terri Del Monico in Season One, but they divorce after Will finds that Terri has lied to him about being pregnant. He is currently married to and living with McKinley High's guidance counselor, Emma Pillsbury. In Trio, it is revealed that Will and Emma are expecting a child. Their son, Daniel Schuester, is born in Opening Night.
He is portrayed by actor and musician, Matthew Morrison.
Biography

Will was married to Terri, who he had been with since high school. They divorce after Will finds out she was faking her pregnancy. Will was close friends with the football coach Ken Tanaka, and has a complicated "frenemy" relationship with Sue Sylvester, the school's cheer leading coach who despises the Glee Club. He works as a Spanish teacher at William McKinley High School, but later gives away the job to David Martinez and takes a new job as a history teacher. Will is now married to the school counselor, Emma.
Will becomes the new director of the Glee Club after the firing of Sandy, and posts a public audition sheet where only 'five kids' sign up: Rachel Berry, Kurt Hummel, Mercedes Jones, Tina Cohen-Chang, and Artie Abrams. Although the kids are each revealed to have musical talent, the first rehearsal goes terribly leaving Will disheartened. Will is also forced to make the agreement that his group will show at Regionals, or risk being shut down. Unfortunately, they lack enough members to even compete at sectionals, which they must win before competing in Regionals. Will ends up discovering a powerful new talent in Finn Hudson whilst hearing him sing in the locker room shower. Unfortunately, as no members of the football team would be willing to risk the social scorn that would accompany an audition for the Glee Club, Will resorts to a shocking bit of manipulation and blackmail by planting marijuana on Finn (courtesy of Sandy, who is now selling it after the fallout of losing his job).
At the same time, Will's home life is shaken when his wife, who has been longing for children, announces that she is pregnant. Although overjoyed by the announcement, Will realizes that he can't afford to raise a child on his teacher's salary and intends to quit, much to the surprise of the Glee kids and the pain of Emma Pillsbury who has a deep-seated crush on Will. She gives him some honest advice before he leaves. This advice, along with hearing the Glee kids perform Don't Stop Believin' on their own, convinces him to stay.
In an attempt to gain twelve members to New Directions, Will decides to perform at an assembly. He later sings in Gold Digger with Mercedes and Artie. He is angered with them when they perform Push It, instead of Le Freak, since none of the students wanted to do disco. He is surprised when Quinn Fabray, Santana Lopez and Brittany Pierce audition and accept them into the Glee Club.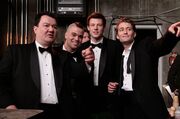 The episode opens with Will telling his parents at dinner that Terri is pregnant. They are tickled, but Terri is understandably shocked. Will confides in his father that he is scared. Will's father tells him parenthood is all about guts, and he regrets not following through with his dream of being a lawyer.
Later on voicing the concerns of the Cheerios members, Rachel tells Will at practice that their choreography needs work. They want to hire Dakota Stanley, a professional choreographer with a Broadway background.
After a particularly strong rendition of For He's a Jolly Good Fellow, Will decides to form an a cappella group named Acafellas with Ken, Henri, and Howard. Will begins to miss Glee Club rehearsals for Acafellas. The club hires Dakota behind Will's back.
The group perform Poison at a sports bar. After the show, Figgins asks Will if they will perform at the next PTA meeting. After Howard and Henri quit, Finn and Puck end up joining. They perform I Wanna Sex You Up and they eventually end the group in the last scene of the episode. It is shown Will has returned to Glee Club and McKinley.
Finn asks Will to help the Football team at dancing, believing it will help them win. Will gives a solo to Tina, instead of Rachel, prompting Rachel to quit Glee. At the end of the episode, Noah Puckerman, Mike Chang and Matt Rutherford join Glee, increasing the numbers to eleven, one away from the required number.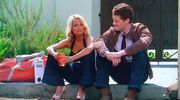 While at dinner with Terri, Will meets a former student who is still in Vocal Adrenaline. Will has Emma look up the file of April Rhodes, a classmate of his who was the biggest star of the McKinley High Glee Club and Will's first crush. He sees on her transcripts that she came three credits shy of graduating.
Will finds April online, and she has him meet her at a luxury home. After pretending the mansion in hers, April is outed by a real estate agent as a squatter. Outside, April tells Will she went to New York with her high school sweetheart and never ended up making it big. She agrees to come back to McKinley, take a few courses to graduate, and join Glee again.
At the bowling alley, Will expresses his concern that April is a poor influence, and she tells him she will go back on the wagon. He then confesses his dream was for them to perform together. They do a quick duet of Heart's Alone.
April shows up drunk for the Invitational performance. Emma thinks Will shouldn't let her go on, but he decides yanking her would only be punishing the other kids. New Directions go on, with April doing a rousing rendition of Carrie Underwood's Last Name.
After the first number, Will tells April he can't let her go back on stage. April agrees, telling Will the kids are lucky, and that they have him to prevent their lives from turning out the way hers did. Needing a new lead, Rachel steps in - sucking up her pride to be the "understudy" and helps the group knock Somebody to Love out of the park in the second act.
With weeks before Sectionals, Will is worried the Glee Club is being a bit too overconfident. He tells Emma it started when they received a particularly easy sectional draw. Will decides to have the boys face the girls in a mash-up competition. The winner gets to chose the number for sectionals. Will tells them there will be a surprise celebrity judge. Will tells Emma he wants her to judge the Glee-off. While he's talking to her about the competition, Terri walks in and tells them she is the new school nurse.
Will later learns of Emma and Ken's engagement.
After an argument with Sue, Sue takes many of the members, leaving Will with only five, splitting the club into two groups. Will tells Terri he's tired of not having any involvement in their unborn son. He demands to be taken to the next OB appointment. Quinn and Sue force Brittany and Puck to leave Will's group, and go into Sue's.
When Sue starts to walk out, and tells her group to walk out on them too, Will and Sue have the "throwdown" shown at the show's opening. The result is that all of the kids walk out of the room. At the fake ultrasound, Dr. Wu pretends Will and Terri are actually having a girl because Terri has learned that Quinn's baby is a girl through Will. Will gets emotional seeing images of his child.
Ken and Emma ask Will to help them with the first dance song at their wedding. Emma wants I Could Have Danced All Night and Ken wants Thong Song. They ask Will to make a mash-up up of the songs and teach Emma how to dance.
Will wants the Glee kids to work on a mash-up using Bust a Move. None of the men are interested in singing it as a solo, so Will fires off a version himself. Will does a solo version of "Thong Song" with Emma while she is wearing her wedding dress. He ends up slipping on her train and pulling her on top of him
Will tells Emma he simply can't get the two songs together for her wedding mash-up. They agree it is because the songs just don't go together. She thanks him for the lessons and he walks out.
Non-Cheerio Quinn thinks she will start everyday with a slushie facial, but Will assures her the Glee kids will be there to clean her off. He then admits that he can't imagine getting hit in the face by one, resulting in a mass slushie facial given to him by the kids. Will takes it in good humor as the students cheer.
Will is informed that the club's budget doesn't cover a handicapable bus to Sectionals, meaning Artie can't travel with them. Will encourages the other club members to support Artie, not only by holding a bake sale to raise funds for a handicap bus, but also by spending time in wheelchairs to experience what life is like for him.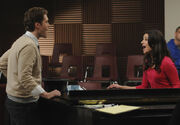 Will tells the Glee Club they must perform at least one ballad at this year's sectional competition. Will gets paired with Rachel, who wants to sing Endless Love. During the duet, Rachel begins falling for Will. Rachel brings Will a gift, which sets off further alarm bells that she may have a crush on him.
Will tells Emma the tale of Suzy Pepper, a student from two years earlier who fell hard for Will. She also gave him a novelty gift and ended up calling his home in the middle of the night. When Will finally was honest with Suzy she ended up eating a super-hot chili pepper and having to be taken to the hospital. Emma suggest Will let Rachel down easy with a song.
Will sings Don't Stand So Close To Me/Young Girl but instead of listening to the lyrics, Rachel stares star-struck at Will, as does Emma. After going to his house, Will finally has to tell Rachel nothing can happen.
Will suspects that Sue has been colluding with rival Glee Clubs, and visits the Jane Addams Academy for girls recently released from juvenile detention. When their club director Grace Hitchens reveals the extent of the school's under-funding, Will invites her club to perform in the McKinley High auditorium, where the girls perform Bootylicious. Will is intimidated by their opposition.
Will purchases wigs for New Directions and has them utilize hairography themselves, performing Hair/Crazy in Love. Dalton Rumba, the Glee Club director at Haverbrook School for the Deaf, feels slighted by the invitation Will extended to the Jane Addams Academy, and arranges for his own club to also perform at McKinley High. His club duets with New Directions on John Lennon's Imagine, and Will realizes that the new mash-up and hairography routine is not working.
He removes it from the club's set-list, replacing it with a performance of True Colors. Unbeknownst to Will, Sue reveals two songs from New Directions' line-up for sectionals to Grace and Dalton, suggesting they have their own clubs perform them to gain an edge in the competition.
Will sits with Emma and Ken in the teacher's lounge. They tell him that their wedding will be the following Saturday, on the same day as sectionals. Sue walks in with a pair of black eyes, the result of having some work done prior to yearbook pictures. Sue tells Will she convinced Figgins not to allow Glee Club to have a yearbook picture this year. When Will complains to Figgins, the principal tells him his only option is to buy a quarter-page ad for Glee for $325.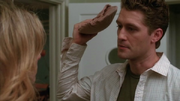 While looking for his pocket square, Will finds one of Terri's old fake pregnancy bellies. Furious, he goes to the kitchen and demands she show him her belly. The discovery leads to a huge fight, with Terri explaining the origins of the lie and telling him about adopting Quinn's baby. "I loved you Terri," he says. "I really loved you." Will storms out of the apartment.
At school Will finds a stack of new mattresses given to Glee from the store owner. He opens one and puts it in his office, in order to spend the night there. As they appeared in a commercial and accepted payment their amateur status has been revoked, meaning they can't compete.
Will tells the Glee kids that he has fixed it so that they can still compete at Sectionals. Since he slept on the mattress, he is the one who accepted payment. As a result, only he is disqualified, but now cannot join them at competition.
Later during Sectionals, Will returns home, and inadvertently runs into Terri. Terri informs him that she is seeing a therapist of sorts for her issues, and Will tells her that while he hopes the best for her, after her betrayal, he just cannot feel the same way about her as he once did. As sectionals comes closer, Will is surprised when Emma decides to take the glee kids to sectionals on her wedding date (she decided to push the wedding back a few hours, allowing her to do both). During the competition, Will receives news that the other schools had the Glee Club's set list, and immediately realizes that he was right about Sue's intentions from before. After confronting Sue, he convinces Finn to return to the Glee Club as they need a leader. He listens to part of the club's performance through Emma's cell phone, smiling proudly with tears of joy in his eyes. After Sue's actions against the Glee Club come to light, Will is pleased to hear that Sue will be suspended for five months and he is reinstated as the coach of the club. Sue however is undeterred, swearing eternal vengeance against Will and the Glee Club. Meanwhile, Will discovers that Emma's fiancé Ken Tanaka left Emma at the altar, feeling that she had chosen Will over him yet again. Emma, feeling heartbroken because of Will and embarrassed because she took advantage of Ken as a runner-up boyfriend, decides to resign from the school. However, as she leaves the school, Will stops her and they share their first kiss.
It is revealed that Will and Emma have finally begun a relationship together. Later, while the two begin to kiss, Emma has to stop and becomes upset she tells Will she feels that he might leave her due to her severe phobias and OCD. Will assures her that is not the case and sings, Hello Again to her. When Will finds out that Vocal Adrenaline member Jesse St. James is flirting with Rachel, he confronts the coach of Vocal Adrenaline, Shelby Corcoran, and they quickly go back to his place and make out. Will then tells Shelby about his relationship problems to which Shelby replies that he has been in a relationship for so long, he doesn't know who he is on his own and needs to take some time to figure that out before he'll be ready for one again. When Emma finds out that "Hello Again" was the song that Will and his ex-wife, Terri danced to at prom, she realizes that he isn't really over her.
When Will overhears the girls of
New Directions
talking, he realizes they lack empowerment. In response, he makes the assignment of the week to do a Madonna song in hopes to instill some female empowerment within the girls as well as help the boys come to have more respect for women. When Sue tells Emma she doesn't have the confidence to take control of her body, she approaches Will and tells him that in order to take control of her body "just like Madonna," she will go to his place and "do the nasty"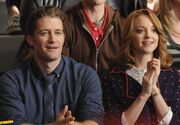 with him, an offer Will gladly accepts. The two engage in foreplay while singing,
Like a Virgin
but it turns out Emma decided not to go through with losing her virginity to him. Will then realizes that it was wrong to agree to have her over his place when she was clearly not truly ready. He says they should wait to date again at least until his divorce with Terri is legally finalized.
Sue books the auditorium for cheer practice so Will has to find a new space for New Directions to practice. He visits a roller rink where he finds the owner is April, who is now a mistress to a rich tycoon. She immediately offers the rink, Rinky Dinks, for the Glee Club to practice. He then tells her that he's looking to lease his apartment and April jumps at the opportunity and says she will be over to look at the place. At first, Will insists she sleep on the couch, but while they sing One Less Bell to Answer/A House Is Not a Home, April makes her way to the bed and Will doesn't object. After this, Will decides he can't allow April to stay over again and tells her he thinks she's worth more than just being a mistress. Later, April returns and purchases the school auditorium for the Glee Club with $2 million in hush money she'd just received as a deal to keep her affair with the tycoon a secret.
Someone posts a "
Glist
" around the school which ranks the Glee Club members on sexual promiscuity and Figgins tells Will to find the creator or else he'll disband the club. He questions the members of the Glee Club, but no one comes clean, so for their assignment, they have to choose songs with bad reputations and uses Vanilla Ice's song
Ice Ice Baby
as an example. During the episode, Sue tells Emma of Will making
out with Shelby Corcoran and sleeping with April Rhodes and convinces her to confront Will and embarrass him in front of the staff. He apologizes to her, but she tells him that she can't continue a romantic relationship with him. While leaving her office, he notices a depressed Quinn and suspects that she's behind the Glitz and after questioning her, she confesses. However, Will lies to Figgins and said he found no culprit and that the Glists have stopped and drops the matter.
Rachel tells Will that she's pulling the team's weight and doing all the work. So he has them do solos that best represent their feelings.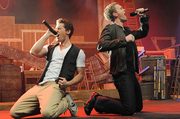 Will's high school rival Bryan Ryan arrives as an auditor to the school and threatens to cut Glee Club. He convinces Bryan to pursue his old dreams and that it's not too late. They both audition for a play singing the same song for the same part. Will wins the lead role and Bryan decides to cut the club. Will gives Bryan the part to save glee.
Will has the boys do a KISS assignment and the girls and Kurt do a Lady Gaga assignment. He finds out that Rachel found her birth mother and that it's Shelby Corcoran. He talks to her, concerned that she isn't into the relationship as Rachel is. Shelby confesses that she can't have more children and Rachel doesn't need her.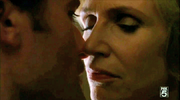 In Funk, Will and Terri finalize their divorce and he becomes distraught. He gives the members of the Glee Club an assignment to perform funk numbers. Tired of Sue's incessant bullying, he tries to seduce her and sings Tell Me Something Good. He asks her on a date, stands her up and humiliates her. When Sue withdraws from the cheerleading competition, Will realizes that many of the cheerleaders might lose scholarships and apologizes to Sue. Towards the end, he has the Glee Club perform Give up the Funk in front of Vocal Adrenaline when they find that they can't do a funk number.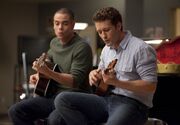 Sue is the third judge at Regionals and this worries the members of the Glee Club. Will leads them to Regionals having them perform and pay tribute to Journey. Although getting a standing ovation, the Glee Club comes in last and Vocal Adrenaline takes first place. Figgins disbands the club and the members perform To Sir, With Love in appreciation for all that Will's done for them. Sue is touched by their performance and has Figgins give the Glee Club another year. She explains to Will that she may not like him, but respects him as a teacher. Will tells the club of the extension and performs Over the Rainbow with Puck in celebration.
After summer break, Will's certain that kids will be lining up to join Glee Club. This is quickly found out to not be the case. Sue tells Will that in order to make people want to join, he has to make it a more exclusive club. Will stands by his decision that anyone who wants to join Glee Club can join. Principal Figgins calls him into his office to tell him that he and Sue will both be losing ten percent of their budget to the new football coach. Will protests that they're barely getting by on the budget that they have, but Figgins remains adamant. Will then thinks that students only think that New Directions is only about show tunes and has the kids show the cooler side of Glee Club by staging a performance of Empire State of Mind during lunch, which also fails to boost their reputation. Will, who is still on relatively good terms with Sue, talks to her about students defacing the New Directions sign-up sheet. Sue says she defaced it as a wake up call to will, saying that if Beiste isn't stopped, they will continue to lose more of their budget and Will would eventually be forced to cut kids from his club. She proposes they team up to rid the school of Beiste once and for all, to which Will agrees. They begin hazing Beiste, hoping that she won't be able to bear it and quit her job. However, when Sue has Brittany make up a story that Coach Beiste had inappropriately touched her, Will realizes that things have gone too far and convinces Brittany to admit it was a lie. He then apologizes to Beiste and they shake hands, becoming friends in the process.
When Will attempts to set New Directions an easy-listening assignment, Kurt informs them there is a Facebook group petitioning the club to perform a Britney Spears number at the McKinley High homecoming assembly. Will refuses, stating that Spears is a bad role model and that it wouldn't do anything special for the club anyhow. He is encouraged by Brittany, who reveals that her full name is Brittany Susan Pierce and she has always felt over-shadowed by the famous Spears. Will discusses his thoughts with his close friend Emma. While in her office, he finally meets her new boyfriend. His name is Carl and he is a dentist, and offers to talk to the Glee Club about dental hygiene. Will agrees, and the Glee kids begin to get their teeth checked up on by Carl. However, when they go under anesthesia, they begin to have strange hallucinations of them performing Britney Spears songs. Advised by Emma to relax more, Will learns that Carl recently purchased a new Chevrolet Corvette and buys one himself, in a hope to show his change—not only for himself, but for Emma. He is forcefully attacked by his ex-wife Terri, who insists that he return it and stop wasting their savings immediately, as it was doing neither of them any good. Seeing the positive effect Spears had on the Glee Club students, Will relents and allows them to perform Toxic at the homecoming assembly. He later joins them on the stage in a hope to show his 'relaxed' side to Emma, however, everything goes downhill when the audience get sexually aroused (mostly Lauren and Jacob) and Sue sets the fire alarm off. Emma tells Will to stop trying to be someone he is not. He returns his new car, and tells the club they will not be performing any more Spears numbers as they were far too arousing and inappropriate for the McKinley Glee Club.
In Grilled Cheesus, Will encourages everyone to learn about religion. When Kurt's father has a heart attack, he and Emma take Kurt to the hospital. Sue Sylvester tries to stop him from doing songs about God, but when New Directions is singing One of Us, she does not object.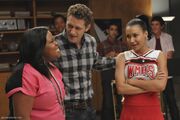 In Duets, Will doesn't have a major role. He assigns the class to do a duet, making it a competition, with the winners getting a dinner for two at Breadstix. He then announces the winners to be Sam and Quinn.
The Rocky Horror Glee Show
,
Carl
interrupts the rehearsal of
The Rocky Horror Show,
accusing Will of stealing his girlfriend, Emma. This episode continues in flashback format, with Will recalling the events leading up to Carl's accusation. When Will learns that Emma and Carl attended a midnight screening of
The Rocky Horror Picture Show
which has helped to lessen some of her obsessive–compulsive behaviors, he decides to direct a school production of the musical, with members of New Directions as the cast members.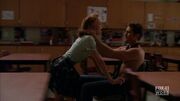 As his students rehearse Damn It, Janet, Sue convinces Will to involve her in the production. Sue wants it because she is approached by news station managers Tim Stanwick and Barry Jeffries about producing an undercover exposé of the play. Carl also joins, playing Eddie's part and Will becomes jealous because of this. So he decides to play Rocky instead of Sam, and asks Emma to rehearse the provocative Touch a Touch a Touch a Touch Me with him. Will is later called into Principal Figgins' office, where he learns that Finn has been suspended for walking through the hallway in his underwear, attempting to become comfortable with his costume. He is able to convince Figgins to reduce Finn's punishment, and the episode returns to the present moment as Carl confronts Will over his private rehearsal with Emma.
Becky alerts Will to the fact that Sue is planning an exposé of the show. He confronts Sue, but concedes that his motivations in putting on the production were questionable. He cancels the show and tells Emma that he will cease interfering with her relationship. Will tells New Directions that they will still perform the musical, but for themselves rather than for an audience. The episode ends with Will watching the club performing The Time Warp.
In Never Been Kissed, Coach Beiste, confused, eventually goes to Will Schuester, who reveals the "cool down" method that he had recently talked the club out of. This ultimately leads to Coach feeling horrible and depressed. It leads to her actually wanting to quit. We find this out through Sue, who calls Will into the auditorium and reveals that Beiste quit, firing her confetti cannons. Will catches Beiste cleaning out her office and tries to convince her to stay, telling that the New Direction kids will apologize and make it up to her. Beiste refuses and starts to leave before Will demands that she stay and talk. They have a heart-to-heart, in which Beiste reveals that she's never been kissed at the age of forty, and that she feels lonely and ugly. Will states that she's beautiful, inside and out, and gives her an innocent kiss. He also invites her to come over to the Glee Club tomorrow at four.
In
The Substitute
, Will comes down with a case of the flu, at one point seeing the glee kids as child versions of themselves, and has to stay home. While Will is sick, Kurt asks the Spanish sub,
Holly Holliday
to fill in for Mr. Schuester, but Will isn't informed about this. Meanwhile, Terri comes over to take care of Will while he's sick. She tells him about how she is on medication and how she is seeing a shrink for her controlling problems. When Terri offers to put vapor rub on Will, she gets intimate with him. It is seen that Rachel is clearly jealous of Ms. Holliday and goes over to Will's apartment to tell him how much the kids love Holly and that if he doesn't come back soon, Holly might take his spot. He is also seen saying no to both Puck and Rachel's idea for song selections to perform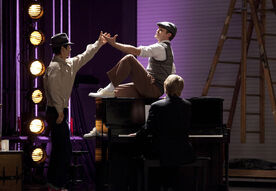 Will has a dream when he was sleeping, and he performs the comedy song 
Make 'Em Laugh
with
Mike Chang
 (who doesn't sing with him). When Will comes back, Sue stops him in the hallway and tells him that she is the new principal and that he is fired and Holly Holliday will take his job. Angered by this, Will confronts Holly, asking her to resign, but Holly refuses, saying that this is a great opportunity for her. Holly later then comes over to Will's house, talking about a big mistake she made that got her fired, and why she was so cool with the kids. Will then gets his job back, and invites Holly to sing
Singin' In the Rain/Umbrella
with the Glee Club.
Will helps the Glee Club with a number for Burt and Carole's wedding. He is seen in the audience at the wedding ceremony and sings Sway at the wedding reception, and is shown to be moved during Just the Way You Are. Karofsky's bullying of Kurt also comes to Will's attention after Karofsky scared Kurt. Will sees this and takes him to the then-principal Sue. She expels Karofsky, but after the wedding it is revealed that the school board has let him come back to school due to there being no witnesses of Karofsky actually physically hitting Kurt.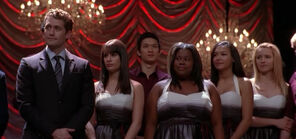 It is once again competition time. Will invites Emma to accompany him and the club to Sectionals. Emma accepts and Will begins to tell her about their setlist. Emma interrupts and guesses the set-list correctly. Will is shocked by this and Emma gently tells him that they do the same thing every year and that he should try to highlight the other talent in the club. Will, following Emma's advice, gives Rachel and Finn's solos to Quinn and Sam. Rachel is furious at this and arrives at Glee Club the next day with tape covering her mouth, claiming that it represents her silenced voice. Will shouts at her, demanding she take off the tape. He lectures the Glee Club, saying that there is a lot of 'me' talk going around, which isn't what Glee Club is about. Before that, Will gives to Puck the work of found the twelfth member and he brings
Lauren Zizes
. On the day of the competition, everyone is feeling morose, thinking that they will not win. Emma arrives and tells Will that she can't go with him to Sectionals. She and Carl had argued the night before and he wasn't happy with her going. At the competition, Rachel is refusing to go on and perform because of Finn's lies and
Tina
and
Artie
won't go on because they think that Mike and Brittany are cheating on them respectively. Will is annoyed with them and tells them that last year they had no set-list and no hope in winning - but they did. He tells them he doesn't care if they hate each other; he just wants them to go on and perform and for those few minutes remind themselves that they're not alone. New Directions tie with The
Warblers
, meaning they can proceed to Regionals. Will walks into Emma's office and shows her the trophy. She tells him to sit down and she tells him that while he was at Sectionals, she and Carl had gone to Las Vegas and gotten married. Will is shocked and hurt by this and leaves. Will congratulates his Glee Club on their victory and offers Rachel a solo. She declines, stating she is too upset by her break-up with Finn. She instead defers it to Tina and
Mercedes
and they sing
Dog Days Are Over
.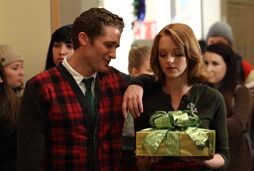 In
A Very Glee Christmas
, Will announces to the Glee Club that they will be raising money for the homeless. They go around the school caroling, but they only succeed in being booed and getting a shoe thrown at them. Will buys them a Christmas tree, in an attempt to get them into the holiday spirit. For the faculty 'Secret Santa' Will gets Sue, which he is not pleased about. He visits his former pupil, Kurt, to ask him for advice on a gift. Will soon discovers that Sue had rigged the Secret Santa so she would get all the presents. Will has his Glee Club perform
Welcome Christmas
for the faculty, which Sue sees. Later, when Will arrives home, he finds Sue and his Glee Club decorating a Christmas tree. Rachel tells him that 'No one should be alone on Christmas.'
In The Sue Sylvester Shuffle, Will arranges with Coach Beiste for the football players to join the Glee Club for one week so they could understand what it was like and to also try and dispel the rivalry between them. Sue makes her Cheerios choose between her and Glee Club. The Cheerios choose to stay with Sue, meaning that the football team have lost their half-time show. Will announces that the Glee Club, including the football players, will be performing in Thriller/Heads Will Roll at the half-time show. Though reluctant at first, the football players seem to enjoy performing with the Glee Club. That is until they get slushied by the hockey players. This causes them to quit Glee Club and get kicked off the football team. The remaining glee girls-Rachel, Tina, Mercedes and Lauren-offer to become football players. Coach Beiste accepts this offer. At half-time the football players and the three Cheerios come back and perform. The Glee Club is also awarded Sue's budget, seeing as she had to forfeit Nationals and therefore has no squad to train.
In Silly Love Songs Will gives the Glee Club a love song assignment.
In Comeback, Will and Emma find a note from Sue, implying that she is committing suicide. They rush to her house to find that she tried to kill herself with gummy bear vitamins. Emma suggests that Sue joins the Glee Club, to help with her depression. Will is horrified at the idea but agrees to it. Will has given the Glee Club anthems as their assignment. Will later takes Sue to the hospital and brings her to the pediatric cancer ward to show her that she is lucky to have her health and that she has a lot to live for. They sing This Little Light of Mine with the kids. Sue tells Will that his Glee Club have no idea what an anthem is and offers her own, Sing. Sue later tells Will that she is the new coach of Aural Intensity.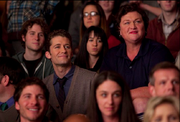 In Blame It on the Alcohol, Will tells the Glee Club to find songs that sends an anti-alcohol message. They tell him that there is no song with that message because alcohol isn't bad. Will decides to put this theory to the test and goes out to a honky-tonk bar with Shannon Beiste. He gets quite drunk and sings One Bourbon, One Scotch, One Beer. He also drunk-dials Sue thinking it was Emma. Sue then plays his drunken message over the school intercom to display Will's drinking "problem." The Glee Club perform Tik Tok after drinking Rachel's alcoholic concoction. Brittany and Santana throw up during this performance but, lucky for them, when Principal Figgins calls them into his office he praises them on their acting abilities. Will hands out a pledge form to each of his glee kids asking them to refrain from drinking until after Nationals, which he himself also agrees to sign. He also gives them his number and tells them to call him if they need him, no matter what time it is or where they are. He does promise, however, to provide the sparkling cider when they win nationals.
Holly Holliday is back as the Sex-Ed teacher. She informs Will that his glee kids know nothing about sex and aren't prepared at all. He invites her to teach them through song and she sings Do You Wanna Touch Me (Oh Yeah) Emma is annoyed about Holly's teaching methods and asks Will if her Celibacy Club can perform too. He agrees and they perform Afternoon Delight. Holly is confused at their song choice asking Emma if she was supposed to be promoting celibacy. Emma does not know the real meaning of the song and her husband, Carl asks her for help.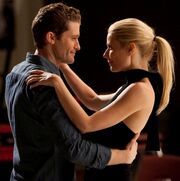 Will asks Holly to help him with the song Kiss. They kiss at the end of the song and Will tells her he wants to be with her. She rejects him stating that she will hurt him. She later performs Landslide with Brittany and Santana and takes courage from the song and approaches Will. She wants to be with him too but she doesn't know anything about romance. Will tells her he happens to be an excellent educator and kisses her.
In Original Song, it's time for Regionals. He gets a letter (which was actually a forgery from Sue) stating that they couldn't perform Sing at Regionals. The group then decide to write original songs. While Quinn and Rachel are writing their own song, Will helps the rest of the Glee Club write a song. After a few failed attempts from Santana (Trouty Mouth), Puck (Big Ass Heart) and Mercedes (Hell to the No) the group write a song called Loser Like Me which sums up the bullying they get from their classmates and Sue. At Regionals Rachel performs her original song Get It Right followed by Loser Like Me with the rest of New Directions. New Directions win Regionals which means they get to go to Nationals. At the end of the episode Will announces that by a unanimous vote, Rachel has been awarded MVP for all her hard work. Rachel is touched by this and gives a heartfelt speech which ends in a group hug.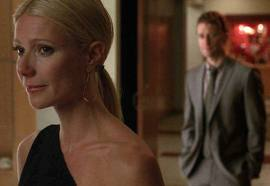 Will wants the Glee Club to sell salt water taffy to make money for them to go to
Nationals
, since Sue has hidden the Cheerios funds in off-shore accounts where Will can't access them. The Glee kids shoot down his idea, complaining they can't possibly sell enough candy since, despite winning Regionals, they are still at the bottom of the social status at McKinley.
Disheartened by the whiny attitude of the Glee Club members, Mike reveals that he, Tina, Artie and Brittany are in the finals for the Academic Decathlon TV show "Smarty Pants,," but their club (the Brainiacs) can't afford to go, so Mr. Schue formulates a plan to raise money for them as well.
Holly and Will discuss the Glee Club and Brainiacs fundraising troubles while on a date, but Holly doesn't like Will's idea. She blames Terri for crushing Will's dreams and thinks they should hold a benefit concert, titling it 'A Night of Neglect'. Will loves the idea, and stipulates that they will only do songs by neglected artists. The Glee kids take this to mean artists that are underappreciated in the music industry as a whole, and artists that are neglected by the Glee Club.
Will finds Emma trying to clean up; her OCD has gotten worse since Carl left her. Will offers to be there for Emma as a friend, to help her get better. Holly oversees the moment, and is jealous.
Holly has another of her infamous lessons in History class (this time about supposed hermaphrodite and Nazi sympathizer Wallis Simpson). Dustin stops by and attempts to flirt with Holly, but Will overhears and it almost turns into a fistfight before Holly breaks it up. Will and Holly argue, but agree not to have a silly fight over jealousy. Holly is still upset, however, and says she doesn't want to practice their duet for the benefit.
On the day of the benefit concert Tina performs first with I Follow Rivers with just six people in the audience, but was cut short when she ran off the stage after being heckled off by the Heckling Club and cries for over an hour. Artie suggests canceling the benefit, but Will encourages them to keep going because it's a good practice for nationals. They decide to give the hecklers the salt water taffy (specifically Quinn, using it as a minor bribe to vote for her for Prom Queen). Mike's dance performance to Jack Johnson's Bubble Toes is a hit, as the taffy keeps the Heckling Club quiet.
As New Directions wonders what to do next with the Heckling Club, Will suggests they will simply have to leave them in awe of their terrific performances, so there will be nothing to heckle about. He looks for Mercedes, but she had left the benefit after how she has been treated. The Glee Club is sent to find her, while Holly decides that she will handle the hecklers. She pulls them into the library and tells them how bad heckling makes people feel, and offers them the chance to do something good. They all decide to leave the benefit instead.
After that Holly performs Adele's emotional hit "Turning Tables" as Will watches.
After the show ends with Mercedes singing Ain't No Way, Holly comes out of a janitor's closet (her office) and reveals to Will she got a four month job teaching French in Cleveland. When Will points out that this will be the end of their relationship, Holly reminds him of her commitment issues, and tells Will about Emma. Holly has been counselling Emma, and Emma does love Will. But just before Holly leaves, she agrees that one day she will be back.
When Will gets back to the choir room, New Directions is joined by Sandy who has decided to use his drug money to fund the trip to Nationals and the Brainiacs' trip.
Aiming to help New Directions achieve self-acceptance, he urges them to embrace their perceived flaws after hearing Santana using Rachel's broken nose as a launching point to highlight the other group members' flaws, by printing them on T-shirts to be worn during a group performance of Lady Gaga's Born This Way. He also encourages Emma to confront her OCD.
In this number, they all wore the T-shirts reflecting the traits they have learned to accept namely, he printed "Butt Chin" in his, and pulls Emma onto the stage with him to sing with the kids.
He reunited once more with
April Rhodes
and invited him to join her Broadway show, to leave the New Directions because it was the kid's dream and not his. Emma was supportive of this because she knows that Will is really talented and capable of reaching success. Will later declines the offer, as his true passion is teaching. Will and April are seen sitting in the
auditorium
watching the
New Directions
,
Stevie
, and
Stacey
perform
Don't Stop
.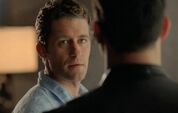 Will accepts Mr. Figgins offer for New Directions to perform at 2011 Junior Prom, despite Sue's objections.
Will is shown being very sympathetic to Sue after the recent death of her sister. Will also reads Sue's speech for her at Jean's funeral after she breaks down in tears, and watches the New Directions perform Pure Imagination. Will is later shocked to find out Sue intends to run for congress due to the fact that Jean's health care costs skyrocketed.
He accompanied the New Directions for their Nationals competition in New York City. He had a moment on the Broadway stage singing Still Got Tonight, the security guard at the theater telling him that in the twenty-five years he had been working there, he had seen a lot of talent - but he believes Will has what it takes to be a huge star. He thought of leaving the club for Broadway until Dustin Goolsby revealed his plans to the ND (in which Dustin thought would shake the Glee Club's confidence to perform). He decided to stay and settle their unfinished business. Although they only placed 12th at the Nationals, he was still happy, reigniting his relationship with Emma as well.
He is seen waking up in the same bed as Emma and with them both packing lunch together, indicating that they are now living together and in a serious relationship.
At the school he lays out the past trophies
New Directions
has earned and tells them to see the difference of 12th place and 1st. Afterwards he says they will be starting a project and he rolls in three purple pianos, donated by
Al Motta
. He is present when
Sugar Motta
tries out for Glee stating afterwards "oh Sh-ugar." He is also in a scene with Coach Beiste eating lunch, in a scene with Emma in bed watching the news and also waking up with Emma. He tells Sugar that she can not be a member of New Directions. Then he kicks Santana out of Glee Club.
Will is first seen, welcoming Shelby Corcoran back to McKinley, and also happy with the idea of there being two Glee Clubs within the school, as he has since the season opener, advocated for arts education. When Quinn Fabray storms into his office, putting all her past troubles down to both to the arts and the New Directions, Will, after a very heated argument, tells her to "grow up." As Quinn finally comes to her senses, abandoning her delinquent behavior and her questionable clothing, Will, along with the members of the Booty Camp welcomes her back with open arms.
Will is first seen at Booty Camp with a re-sworn Santana. Mercedes comes in late, causing Will to yell at her. With Mercedes response saying she's doing her best, but Will wanting more than her best. We next see Will speaking with Emma after finding her box of bridal magazines and discussing their future together. Will requests to meet Em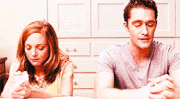 ma's parents. Emma tries to talk Will out of it, but Will wins the argument. He is later briefly seen discussing Mercedes's progress with Emma, Shannon, and Artie. Will is next seen walking into Shelby and Shannon's conversation on the show choirs, saying no one has signed up for Shelby's. Shelby leaves and Will begins to discuss Emma with Shannon. Shannon soon tells Will that despite everything, Emma loves him. Carl may have had the money, but him and Emma have love. Later Will is seen during Booty Camp, Santana and Brittany have both joined and the group's assignment is "The Widowmaker." All successfully complete the assignment other than Mercedes. Mercedes claims her ankle hurts, but Will won't hear it and points her to the door. Mercedes says she is done with Glee Club and Will gives her one last choice. Leave and she's out of New Directions. A fantasy sequence then begins with Booty Camp and Mercedes singing
It's All Over
. Will is again seen at his and Emma's home surprising her by inviting her parents
Rusty
and
Rose
over for dinner. Emma pulls Will to the side and tell him she is ashamed of her parents due to them being ginger supremacists. After a brief conversation Emma's parents make several rude remarks about Emma's OCD causing Will to ge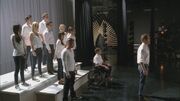 t upset and yell at them, calling them racist and saying they should be supportive of Emma. We last see Will with Emma in their bedroom with her kneeling at her bed, praying in front of Will and begins to cry. Will wants to help her, but he doesn't know how. He wants to learn to pray so that God will help her. Will then begins to sing
Fix You
with New Directions as his prayer for Emma.
Will is first seen in Figgins's office discussing with him about Sue's smear campaign. Her campaign has affected the school forcing Figgins to cut funding to the arts and cancel the musical. Will claims he can get the money himself and leaves the office. Will is next seen in the choir room. The Glee Club is discussing the musical and members departing. Finn attempts a pep talk only to be interrupted by Blaine. After which Will suggests they sell ads to raise money for the musical. Will is again seen in the choir room announcing that the musical is back on. Will is next seen in Burt's garage, asking him to run against Sue. Burt is already planning on doing so due to arts saving Kurt's life. Later Will is seen observing Burt's corner with Sue. Will is later seen watching the Troubletones performance of Candyman, intimidating both him and Finn.
Will is seen speaking with Emma during the performance of America.
Will is first seen with Shelby agreeing to have their Glee Clubs pe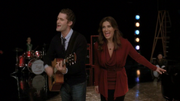 rform a "Mash Off" competition. Will is later seen with Shelby performing
You and I/You and I
before announcing the competition. He is later seen with Burt and Sue confronting Santana about a smear campaign against Sue involving her. Will is last seen watching the New Directions and the Troubletones performances.
Will is first seen in Figgins office along with Shelby, Santana, and Finn. Discussing Santana's punishment for slapping Finn. Figgins wants to suspend Santana and Will and Shelby agree she should be punished. Santana is about to be punished when Finn claims it was just a 'stage slap'. Will is later seen chatting with Emma and Shannon during lunch. Later, he is briefly seen in the choir room. He is also seen in a flashback in Constant Craving celebrating Burt's election win.
Will is seen with the New Directions meeting with the Troubletones before sectionals. When the Troubletones offer to let any New Directions members join them when they lose sectionals, Will declines before wishing them luck. He is seen watching the New Directions perform. He is last seen walking in on the New Directions and Troubletones performing We Are Young and is happy about the girls return.
Will is seen announcing the New Directions will be filming a Christmas Special for the local PBS station.
Will is first seen in the lunch room after Emma sings
Wedding Bell Blues
asking her if she just asked him to marry her. To which she replies no then walks away. Will is next seen in the Choir room telling the New Directions he is planning to propose to Emma and needs help finding a way to make it 'perfect'. Will is next seen in the April Rhodes Civic Pavilion dancing to
Moves Like Jagger/Jumpin' Jack Flash
with Mike while Artie provides lead vocals with Puck, Finn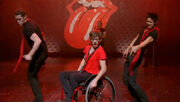 , and Blaine as back vocals. Will enjoys it, but points out that the dancing will result in sweating which will trigger Emma's OCD. Will is later seen with Finn ring shopping. Will then asks Finn to be his best man, after convincing him, Will discusses Finn's plans for the future with him. Finn tells him he wants to join the army like his father. Will is later seen with Santana, Rachel, Tina, and Mercedes. They ask him what he thought the first time he saw Emma's face. He thinks about it and they proceed to sing
The First Time I Ever Saw Your Face
each reflecting on their own lives. Will is later seen at his home with Emma's parents asking them if he can marry their daughter. To which they reply no. Saying that Emma will not be able to handle a child with her OCD. Will is next seen with Emma, Burt, and Carole having a meeting with Finn to discuss his plans for the future. Will later is seen coming home to see Emma attempting to take down the Christmas tree, but due to her OCD she has barely made a change. Will tells Emma about his doubts about marriage, and him thinking her OCD would make her unable to handle a child. Emma tells him that she's been taking her medicine everyday. Some days are good and some are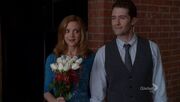 bad. But she still gets all her love, and he needs to be honest with her and himself. Will is later seen in the choir room after Rachel's performance of
Without You
. Artie soon pressures him to choose a song to which he replies he needs more time. Will is watching Emma obsessively clean a coffee pot when Sam approaches him with his idea. Will goes and gets Emma and leads her down the hallway as various students, Shannon, and Sue hand her white roses. Will leads her to the pool as the New Directions perform
We Found Love
set to an elaborate synchronized swimming performance. Towards the end Will appears in a white tuxedo and proceeds to Emma asking her to marry him. After a short stunned silence Emma says yes.
Will is first seen in the hallway, telling Mercedes, Santana, Brittany, Blaine, and Kurt that they may do Michael for Regionals. He is next seen in the choir room writing WWMJD on the board (What Would Michael Jackson Do?). He is next seen in the choir, asking how a slushie could do that kind of damage. (Blaine's deeply scratched cornea). Saying he and Figgins have talked to Dalton's Head Master and that an investigation is going on and to stay out of it. Artie interjects with his own idea which Will shoots down. Will is next seen again in the choir room congratulating Quinn on her admission to Yale. He is last seen in his Spanish classroom telling Kurt his father is here.
Will starts to take Spanish classes after school. Trying to get the tenure and make kid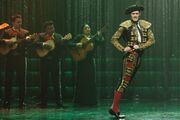 s enjoy Spanish, he has
David Martinez
, his Spanish teacher come to the Glee Club. In the end of the episode he wins an award in his class for most improved. He gives his job as a Spanish teacher to David Martinez and becomes a History teacher.
Will first appears writing the week's assignment on the board. He later appears in the choir room when Finn and Rachel announce their engagement.
Will attempts to calm down Finn who is upset about Sebastian's blackmail. Will says he will contact Dalton's headmaster much to the chagrin of the class. He explains to the class that they will have to deal with this sort of thing more frequently as they become more successful.
In the faculty meeting to discuss how to handle the news of Karofsky's suicide attempt, Will points out that with today's social media, the pressure on kids reputation is so much worse than what they experienced. Will brings the New Directions together to start a dialogue. He begins by having Rory taste peanut butter for the first time, as a way of pointing out that there are so many amazing experiences ahead of them. When Mercedes suggests that she doesn't believe any of them would consider taking their life, Will admits that he considered it in his junior year after he was caught cheating. He tells them that everyone has something that could lead them to those thoughts. He encourages them all to share something big they are looking forward to.
Will accepts Sue's congratulations regarding their Regionals win and then congratulates her on her pregnancy.
Will questions the reasons for Sue's intentions of taking over Booty Camp. Eventually, he is left unimpressed by Sue's teaching by pressuring them like she does with cheerleading. He disagrees saying that they should be inspired through dance. After Sue reveals that she'll be going to the doctor's checkup herself, he along with Emma agree to accompany her.
Will encourages the
New Directions
to a little disco to which they initially disagree with. But after with a little convincing from Sue, they eventually went along with it and enjoyed it after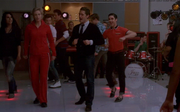 making it a competition to see who would wear the "prestigious" white suit, which was decided between Finn, Mercedes. Along with Emma, Will gives Finn advice on his future plans to which Finn thanks, but later disregards them and Will follows him take that action. He convinces him to watch Saturday Night Fever to think about his re-evaluation on his career path. He then unveils the winner of the "white suit" to which they all won.
Will realizes that the kids are having a difficult time dealing with the death of Whitney Houston, and after a few suggestions from Emma, he assigns the New Directions with singing her songs in order to come to terms with their fast approaching departure from high school. Will also begins to worry that having his wedding to Emma around Christmas time, which was the original plan, is not a good idea. He goes to Emma and suggests that they move up the wedding to May, which is only a month away, and that they seek help from a wedding planner by the name of Mr. Lavender. Emma is at first hesitant, but then agrees to try to move the date up and meet with the wedding planner. When the wedding planner informs both Will and Emma that finding a venue that reaches their requirements for the wedding in such a short period of time is impossible, Will becomes quite emotional and asks Mr. Lavender to leave, insisting that the couple can do it on their own. Towards the end of the episode, after Will suggests that the couple marries on a camp ground which Emma rejects, Emma reassures Will that he does not need to worry about moving up the wedding date just to insure that the New Direction kids attend, and that even if they were to get married in ten years, they would still be at the wedding.
Will's first scene is when he and Shannon sit down with Sue and Roz, who are discussing the New Directions Girls gossiping about Beiste's blue eye. Will says that he can't believe his girls would do that, but they both assure him that it's true, and ask him to let them handle it. He can later on be seen watching Kurt's and Rachel's NYADA auditions.
Will congratulates the Prom nominees in the club and happily informs the club they will be performing at the prom for the second year in a row. Will then tells the club to start thinking of 'Dinosau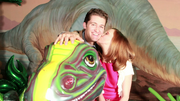 r' songs after Brittany announces the theme. He is later seen dancing with Emma at the prom and is surprised to see Quinn standing up during
Take My Breath Away
, but cheers her on with everyone else.
He can be seen discussing the New Directions' setlist towards the beginning of Props, though he lets Sue do most of the talking. When the glee-club isn't fond of Sue's idea to use props, he tells them to listen to her and try their best. When he says that everyone who isn't ready to give his best should leave, Tina gets up to walk out. He reminds her that she always was in charge of designing the costumes, but Tina doesn't care about that. Later, when the choir practices with props, Will agrees with the singers who complain about the props. He tells Sue that the props should add to the performance and be the performance, as she is planning it. He makes them practice choreography instead. He also disagrees with her plan to make Kurt dress as a girl for Nationals throughout the episode, and is also against Puck wearing a dress. He takes the appearance of Sue in Tina's Dream and stops the Sue who has taken his appearance from being mean to the students, before he tells Tina to show the club the solo for Nationals. After dream-Finn gives Tina a pep-talk, she sings and Will watches her. He can finally be seen comforting Shannon Beiste after she leaves Cooter.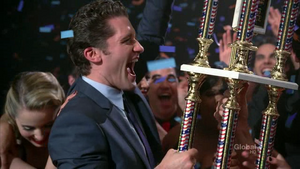 Will achieves his dream of winning Nationals again (once as a student in 1993, and now as the choir director in 2012).
During the first part of the episode, when they reached Chicago, He was called by Coach Beiste about the fights the Glee Club has. Everyone was pressured by getting the 1st spot in the Nationals. They all were arguing about the steps, their voices, about that Mercedes cannot sing with them and what not. Will see this as a good thing, telling them that everybody must have wanted it really bad since all they were fighting about is the performance.
Immediately before the performance, the Glee Club led by Finn Hudson, thanked Will and that they learned from him a lot, vowing to win the title for him and calling him their Teacher of a Lifetime. They won Nationals and was welcomed by everybody at McKinley, Will's fellow faculty members throwing a celebration in the staff lounge in his honor.
Because of the accomplishment, Emma decides to finally make love to Will. He is also awarded Teacher of the Year by Finn and Rachel, after their heart warming introduction and dedicate their performance of We Are The Champions to him.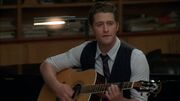 Will plays Forever Young on his guitar for the seniors as a way of saying goodbye. Will later sings In My Life with the non-seniors of New Directions. He is later shown with the rest of the parents, faculty, and non-seniors cheering on the students that graduated. Will is later at the train station with Emma and the Glee Club saying bye to Rachel.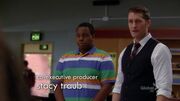 Will excitedly walks into the room of the returning members of the club shouting "Glee!" He thinks that recruiting new members won't be difficult this year since they are now the coolest club in the school. He announces that
Wade Adams
has transferred and is joining the club. He is confused by the lackluster response. When he learns that the members feel they are already in competition to be the "new Rachel," he says they need to be a team.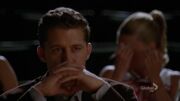 When they audition new members, he appears horrified by certain performances. He is excited by
Marley's
performance, calling it star quality. He cuts off
Jake Puckerman
(who doesn't give his last name) during his audition. Jake becomes upset and topples a music stand. Will asks him to pick it up, but Jake storms off. Jake is not on the posted list of new members. When Will gets a copy of Jake's record and learns he is Puck's half-brother, he calls him in to have a talk with him. Jake thinks Will is suddenly interested in him because he knows who he is. Will says he knows how good being in Glee Club was for Puck. He also tells him that he stopped his audition because he'd already decided he wanted him in the club. Jake still declines to join.
Will then choreographs the closing number, Chasing Pavements, led by new member, Marley.
Brittany, having recently been kicked off the Cheerios and wearing clothes she found in the lost and found, comes to see Will and Emma in Emma's office. They both express concern for her. Will suggests that Brittany should meet with Emma daily to deal with the impact of being held back to repeat her senior year. Will and Emma discuss Brittany's issues, and Emma suggests bringing Britney Spears songs back to help her.
Will announces to the New Directions that they are to perform at the pep rally and writes "Britney 2.0" on the whiteboard. The group is excited, but Brittany slouches and eats Oreos. She watches Blaine and Artie perform Boys/Boyfriend and thanks Will because she feigns being "inspired by the awesomeness of Britney." However, a while later, Will has to stop her from shaving her head in Glee Club.
Will confronts Jake who is riding his scooter in the hallways and heading the wrong way for his class. Jake wonders why he's hassling him when he isn't one of Will's students or in Glee Club. Will says that was his mistake and mentions that Jake's brother at least had a community and friends. Jake rides off saying he doesn't need friends. Later, when Jake starts fighting some guys who insulted Marley's mom, Will takes him out of the room then leads him to a room with Puck. He introduces them and leaves them to talk.
Will is horrified as he watches the pep rally performance of Gimme More including Brittany obviously lip-synching while eating Cheetos. He confronts the group saying this could lead to them being barred from competing if the show choir board of review hears of it. He asks what Brittany has to say for herself. She chooses to resign.
Will and Emma later begin tutoring Brittany. He then excitedly introduces Jake as the newest member of New Directions.
Will tells the Glee Club they get to host the annual show choir rules meeting and the New Directions asks exactly what they want to know, what 1/3 vintage meant, and why some groups do six songs while others do only one. Will says he's working really hard on their ideas, but secretly has no idea.
Will tells Sue he has no ideas what to do for Sectionals, but he has two really bad ones: Classical TV Themes or Salute to Autumn. She tells him that he won his Nationals title, he has nothing to look forward to, she told him to bow out more and explore other opportunities. Will is in a suit, leading the Annual Show Choir Committee meeting he'll go on a crusade to get money for the arts in schools.
He goes to speak to his guidance counselor, not his fiancee. Schue just wants to make a difference and make people's lives better and has the chance to make a difference on a whole new level there is a "Blue Ribbon Panel" to improve arts education around the country. Schue filled out the application, but hasn't sent it in yet because if he got it, he'd have to leave McKinley for several months. Emma isn't going to tell him to not follow his dreams, but Schue doesn't want to jeopardize their new life together. "Weddings can wait," Emma says, and tells Schue he has to apply for this position.
Will tells Sue he's taking her advice and he mailed in the application. He needs a recommendation from a colleague, but she's already ahead of "Buttchin." Sue admits this niceness between them is weird and that she wants him out of there, but in a good way.
Finn
stops by McKinley to see Will. He gives Will a hug and starts weeping. Will is letting
Finn
hang out as he thinking things over. They're trying to select the fall musical.
Finn
tosses out Grease and everybody likes the idea.  Will has been selected for the Blue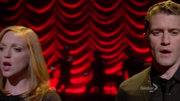 Ribbon panel and he asks
Emma
to come with him to DC for a few months. She doesn't seem keen on leaving her job for such an extended period and this turns into an argument.
At the end of the episode he is seen singing The Scientist with Emma, Finn, Rachel, Santana, Brittany, Kurt, and Blaine also during the song there is a flashback that shows Will and Emma kissing.
Will and Emma discuss their differences with a counselor, with Will making his case for Emma to join him while he's in Washington, D.C., and Emma resisting uprooting her life and career just to follow him. Their counselor - Shannon Beiste - urges them to resolve their problem through compromise. Will agrees: If Emma follows him now, he promises to follow her when she needs him to. Emma hesitantly consents. Will stands behind Finn and Artie's choice, and Finn defies Sue, who warns him about "the daily nightmare that is being my enemy."
Will finds Emma in manic homemaker overdrive, and she admits she doesn't want to go to Washington with him. She has bigger issues about what it will mean to be Will's wife, but in the end she realizes she'd rather feel close to him while he's physically far away than be close by him, but feel far in spirit. They agree to make it work through the distance.
At the end of the episode Will explains that he sees Finn as the leader the Glee Club needs in his absence - because it's not an official teaching position, Finn can replace him in overseeing the Glee Club. And, just like that, Finn finds the role he was born to play.
Will announces his sabbatical from McKinley to the Glee Club, revealing that Finn will replace him until he returns - after Sectionals. Sue summons Will and Finn into Figgins' office. She objects that Finn doesn't have the credentials or maturity to oversee the Glee Club, but Figgins and Will agree that Finn's simply an adult volunteer. Furious, Sue insists that if Finn remains in charge, her fragile peace with the school will be over, and she storms out in a destructive rampage.
He was later seen watching the show. At the end of the episode after positive reviews for the show, Will's pleased to leave the Glee Club in capable hands, but as he says goodbye to Finn, he tries to offer some final advice. "I've got this," the newly confident Finn assures him.
Will returns to McKinley to watch the club perform at Sectionals, to the surprise of
Emma
 and 
Sue
 who he sits with in the audience for the competition. At the end of
Gangnam Style
he notices Marley collapse and begins to run to the stage with
Finn
and Emma as the episode ends.
Will can be seen in the choir room after Marley fainted - he tells the Glee Club that they can't leave the stage or else they will be disqualified.
In Artie's dream, Will never formed New Directions, was still married to Terri, and became an alcoholic.
Will returns from Washington for good in this episode. He first appears in Emma's office where she and Finn are having a conversation. He then enters the choir room with Finn, where all the New Directions happily welcome him back. He assigns Finn to sing him a song in lieu of a best man's speech and the rest of the Glee Club to provide the rest of the entertainment.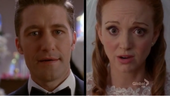 Will's wedding day arrives and he sings 
Getting Married Today
 with Mercedes and a panicking Emma. When the ceremony actually starts and Sue enters in a wedding dress instead of Emma, everyone is confused, and when Sue announces to the congregation that Emma has left the church, Will feels hurt and crushed. He then has a conversation with Finn, blaming himself for Emma's cold feet. He then goes to look for her when Santana comes to convince Finn to join in at the reception.  
Towards the end of the episode, Finn finds Will moping in the teachers' lounge and tries to convince him to take action - the biggest lesson Will and Glee Club taught Finn. Although Will wants time to think about what happened, Finn promises ro help Will find her and help him guide the Glee Club to another victory at Nationals. Finally Will is seen with Finn watching the New Directions perform Anything Could Happen.
In this episode, Will is having a dream about him and Emma singing
You're All The World To Me
. After this, he wakes up, completely terrified. He tells New Directions that their next assignment is singing songs from movies, as he says that movies calm him down. Shortly after, Finn and Will talk about finding Emma. But, Will tells him that she needs to have her own space, and, if Emma really loves him, she will come back. After Finn and Artie convinced Emma's parents about where Emma is, Finn tells Will that Emma's been staying with her sister and tries to inspire Will to make a big movie-style romantic play to win her back.
Will parks outside the house where Emma's holed up, singing 
In Your Eyes
, with New Directions backing him up, and draws Emma to the window. Will and Emma try to work out just why Emma bolted from the wedding: she felt that she barely knew him anymore when he returned from Washington, D.C. Will suggests starting to get to know each other all over again, beginning with a Friday-night movie date. He is seen announcing the winner of the mash-up competition: which ends in a draw, saying everyone's a victor. In the end of the episode, Finn finally reveals to Will that he kissed Emma in
Diva
, leaving Will heartbroken and disappointed.
Ever since Finn confessed that he kissed Emma, Will has been picking on him. The glee kids have realized of their feuding,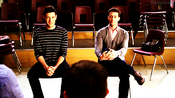 so for the first time in the Glee Club history, the students assign the theme of the week: Epic Musical Feuds. Finn suggests that instead they should just talk, but Will denies it and says they are doing this and he will kick Finn's ass. Will also mentions that he felt pity for Finn and he felt he was lost and that's why he gave him the Glee Club, but he just felt Finn betrayed him in the worst way possible when Finn confessed that Finn had kissed
Emma
. Will and Finn sing
Bye Bye Bye/I Want It That Way
with the New Directions Boys, they fight during the song, but they end up getting along. Sam suggests a hug, Finn agrees, but Will says that even though he really wants to, he just can't. Finn understands it that there's nothing he can say or do to get Will's trust back. When Finn and Marley talk and she says that if Mr. Schue doesn't want Finn around, then he should forget him and to not letting him define him.
Tina mentions to Blaine and Sam that Mr. Schue is sick, so there will be no Glee Club for a week. But Sam and Blaine decide to take care of the Glee Club while he's sick.
In the auditorium, Will tells the New Directions about their competition for Regionals, including the The Hoosierdaddies and the Nuntouchables, before Brittany gets in and tells everyone that an asteroid is coming to the Earth. Back in the choir room, Will asks who is worried about her prediction and that there's two options: They can forget about her theory and prepare for Regionals or they can trust her and make "Last Chances" this week's assignment, that also would be useful for preparing for Regionals. Shannon invites Will to a dinner, a "Lady and The Tramp" themed dinner, during the dinner she confess her feelings for him and that she wants Will to be "the man in her life." Will says that he is flattered, but he is also back together with Emma. Shannon leaves hurt.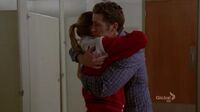 Then back in the choir room they hear two gunshots, he as soon as possible tells the glee kids to hide, he along with Coach Beiste look the doors and shut the lights. Will tells them to start texting and tweeting so that outside people know what's going on and can send help. When Sam tries to get out to get Brittany, he stops him once and then he, along with Shannon, must physically restrain him a second time when he attempts to get to Brittany again and calms him, telling him he is scaring the others (who are shown crying and whispering for Sam to sit back with them). He then goes into the girls' bathroom, where Brittany looks scared because she thinks he's the shooter, but then he realizes it's Will and she gets out of the bathroom and hugs him. He gets Brittany and other students back to the choir room with the help of the SWAT. When the shooting is over, he shares a group hug with the rest of the glee kids.
In the teacher's lounge, Will, Shannon and Sue talk about the shooting. When Will mentions that every student is being questioned, Sue reveals that it was her gun and that it accidentally went off when she did her daily safety check. Feeling sorry for rejecting her, Will tells Shannon that the first words he'd use to describe her would be brave, funny, strong, both inside and out, great hugger, and wears kick-ass red lipstick. He then reveals that he created an online-dating profile and confesses that he could not have gotten through the past few days without her and that he loves her. Shannon tells him that she loves him, too. The both of them then discover that the first person to respond to Shannon's online-dating profile is Ken Tanaka, the former football coach of McKinley High School. In Sue's office, Will confronts her about her confession and tells her that he doesn't believe her. Sue insists that she told the truth. Will is still suspicious, but agrees to keep an eye on Becky.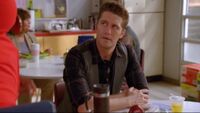 When Coach Roz makes an insensitive comment about the school shooting that happened a few days ago, he replies to her that it was traumatic experience for those kids and not something to joke about. After she leaves, Shannon asks him if he has talked to Finn, Will denies it and says that people sometimes just grow apart, but Shannon tells him to make the effort to talk to him because it's worth it. In the choir room, Will tells the kids that this year's theme for Regionals is "Dreams" and announces his setlist for Regionals. Will takes the theme too seriously because every song in his setlist has the word "Dream" in it. He realizes that Marley doesn't seem to agree with Will's setlist, but she just replies that she doesn't know any of those songs and wants do to original songs. But Will doesn't agree, reminding them how lucky they are for being at Regionals and they can make no mistake if they want to win.
Later, he goes to the University of Lima to apologize to Finn saying that after what happened at the wedding and then Finn telling him that he kissed Emma, he just didn't handle the situation in the right way. Will wants Finn back to help him with the Glee Club, stating that he needs Finn; but Finn doesn't want to comeback since he is pretty "busy" with college.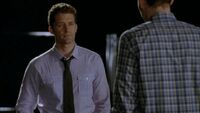 Back in the choir room, when Blaine tells him that they have been exploring another song choices for Regionals, he gets pretty mad and yells at them. He also tells Unique to stop with the boob thing, Sam to sit down and that he doesn't have a twin brother and that he's disappointed in Blaine. Will walks into the auditorium during You Have More Friends Than You Know, after the song ends Blaine tells Marley that they need to tell Mr. Schue about it, but she replies that he made pretty clear he's not interested. Finn comes back and accepts his apology, but also wants to be treated like a teacher, Will agrees saying that it sounds fair and they hug. Back in the choir room, he apologizes to the glee kids for make them feel like they don't have a voice there because actually they all do, including Finn, after that Finn walks into the room. He also says he wants one of Marley's original songs to be used at Regionals. He joins the Glee Club during Outcast.
Will worries that their Regionals rivals the Hoosierdaddies have a ringer in big-voiced Frida Romero and decides New Directions needs to go bigger than ever with an epic stadium rock style. But an unexpected power outage at McKinley - during which Figgins insists the students remain in school - changes Will's plan: "It's Unplugged week." Roz complains to Figgins about Becky's ongoing belligerence, but Becky confesses to Figgins that she only acted out to be sent to the principal's office so she could unburden herself. The power at McKinley is restored, and the Glee Club's ready to plug back in, but Will insists on one more lesson a capella and wants the students to really deliver.
Good news is in abundance for the Glee Club: Rachel calls Will to tell him she's one of the finalists for the role of Fanny Brice in "Funny Girl" and credits him for helping her to get there; Will has re-proposed to Emma, and she's re-accepted. The rash of "wonderful" news prompts Will to build his latest lesson around the positivity of the music of Stevie Wonder. During the week, he is seen enjoying the performances given by old and new members.
We see Will running down the set list, but Brittany insists on changing everything to showcase her, unleashing a ridiculous set of demands based on her new confidence in her "megawatt star power." When her friends, including Sam, whom she dumps via text message, are stunned by her behavior, she says that she's just embracing Will's "All or Nothing" mentality.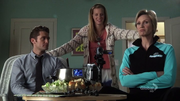 When Sue and Will confront Brittany about her demanding behavior, she insists she'll only discuss things on her own terms - on her Internet chat show Fondue for Two. Brittany asks him if its true that he and Emma are getting married, to which he says yes. She then asks him if he plans on having kids or continuing having sexual relationships with high school kids, he says no because they're planning on having kids.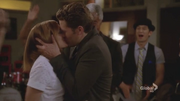 We then see him with Emma, telling Santana that their luck is about to change. During their show circle, Brittany reveals that MIT offered her early admission and wants her to leave immediately and that she will miss everyone. This makes Will sad, especially because she says that he is like a father to all of them. Back in the choir room Emma makes an unexpected appearance with a priest in tow; she and Will are throwing a surprise wedding. The New Directions, Mercedes, Kurt, Santana and Mike hum the wedding march as Emma walks down the aisle and ties the knot with Will, making everyone cheer for them. 
Will appears at the beginning of the episode, and announces that the assignment for the week was going to be the Beatles. Because they were so massive, he decides to make it last for two weeks which gets support from many including Blaine, while getting some grumbling from Kitty. After the kids show how they could relate to the members of the band even now, Will says the kids better prepare to be National champions again.
The Glee Club teacher is later seen in
Sue's
office with
Roz Washington
. Both are fearful that Sue may finally get what she wants and fire t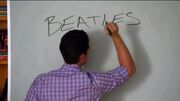 hem since she is now principal, and after Roz dishes some of the dirt that could be found on her, Will mentions they both were in huge trouble. To both their surprises, Sue didn't intend on firing either of them, saying she needs the clubs and sports to be succeeding in order to help keep the job after the internment. She does mention she will fire Will if he doesn't bring home a national championship.
He later is shown watching some of the performances by the students, and is present in All You Need Is Love when Blaine proposes to Kurt.
Will has a relatively minor role in the episode. He appears at the beginning explaining how they're going be tackling the Beatles' later years, and how their music began to change. Will is then interrupted by Sue over the intercom, so she can announce the prom king and queen candidates. When several Glee Club members are shown to have been nominated, he is seen smiling and applauding them. Tina promptly denies his high five and he seems impressed by Tina and her performance.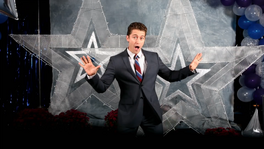 Will later encounters Sam in the choir room, and begins to talk to him about his issue of finding a song and not being nominated for court, when Sue comes barraging in. She demands that everyone will have to get vaccinations since attendance is so horrible at the school, and the Glee Club kids will be the first ones to get this done. Will seems confused at her request, as polio was pretty much eradicated and there is no need for a vaccination. He later is seen enjoying the Glee Club's performance of
Let It Be
.
Will makes an appearance at the beginning of the episode with Emma and Besite are shown to be talking about the school and themselves. They were all still trying to figure out how to grieve with Finn's death, and Emma points out she cleared her schedule to provide grief counciling, but no one is coming.
In Glee Club, he is shown to have invited all the alumni to come back for this week's lesson: to sing anything that reminded them of Finn. Will says he wanted to have a memorial just for them, as the Glee Club was a special place for Finn. When Will comes in to Emma's office later, she points out that he isn't letting himself mourn. He hasn't cried since the funeral, and he's trying to stay strong for the kids. When Santana and Puck are fighting over Finn's jacket, Will breaks up the fight between the two.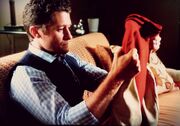 Later in the hallway, Will encounters Santana hanging up reward posters for the jacket. She says she is using it as a trap to catch the person and she can beat up whoever stole it. Will tells her it makes him so happy when he sees his kids moving on from McKinley, and he says that way it doesn't end like it does with Finn. He tells her to get out of the school and head back to New York and then hugs her.
When Rachel comes back into the choir room, she shows Will a special plaque she had created that she hoped could be hung in the choir room. It is a photograph of Finn with a quote of his from A Night of Neglect. They both laugh at the quote, and they acknowledge how it could encourage the New Directions later on. When Rachel says her plan that she had for herself and Finn, Will questions that there might be something better for her now. 
The last scene of the episode shows Will coming home and pulling out Finn's jacket out of his bag, revealing that he was the one who took it. When Emma arrives home, she finds Will in the living room sobbing and holding on to the jacket, and she begins to comfort him, weeping too. 
Will comes to the Glee Club meeting carrying the list of competitors for the Nationals. After he announces that one of the showchoirs they will be competing with is Throat Explosion, Tina screams, and Will seems to be confused by her reaction. After hearing Tina and Blaine's explanation, he asks the students if they describe themselves as Katys or Gagas, and decides to make them sing the opposite songs (Katys sing a Lady Gaga's song and vice versa) so they would manage to turn their weeknesses into strengths.
Next we see Will teaching a class that is interrupted by Sue's morning announcement. After Becky tells them to, Will and his students open their laptops to see Sam's teaser video for the performance of Applause. Will watches the Applause performance and seems very pleased with all of the "Katys" except Marley. He calls her out for putting her personal agenda above the team effort to win the Nationals, and suspends her from Glee Club for the rest of the week. Will is seen enjoying the performance of Wide Awake.
He is holding a Glee Club meeting when Tina barges in telling them Throat Explosion is doing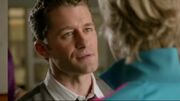 Applause as one of their Nationals' numbers. The students start freaking out, but Will gives an inspirational speech to make the New Directions more confident. He is interrupted by Sue, who mocks him and tells him she still hates Glee Club and will do her best to stop them from winning. She suspends the whole Glee Club for a week because of the outfits they wore that week. Will stands up to her and warns her how he always won "the war" between them and he isn't planning on changing that.
He is last seen watching the performance of Roar.
When a video of Blaine twerking is shown around during glee-club practice, he tells Blaine, who is very ashamed, that he shouldn't feel embarrassed. The judges at sectionals would appreciate something that is a bit rebellious, and "twerking" as Blaine's dancing is called would be just the right thing. He thus makes "twerking" the week's assignment, and has lessons given to those who are not fit to "twerk" in the auditorium. Unfortunately, Sue watches all this.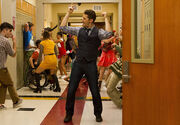 Sue bans "twerking" next time at Sue's Corner, and encourages the school board to ban it in the whole country. Will and the New Directions agree that this is not acceptable. As an act of protest they perform Blurred Lines with the purpose of "blurring the lines." When Sue hears about that she fires Will for performing a song about date-rape (although Will denies that this is what the song's about) with a bunch of minors. Will announces, however, that he is not going to deal with his punishment.
During the following lessons, after Unique performs If I Were A Boy, he keeps the boys from using violence against her bullies.
Soon after he holds a montage for the school board council. He has the kids present to them a variety of dances, including waltz, jazz, rock 'n' roll, dirty dancing, and the lambada. They all had in common that they used to be considered inappropriate, yet aren't considered that anymore. He explains that, in the same fashion, twerking will most likely be considered a nostalgic dance in 20 years, and thus it isn't right to ban it. He asks the school council to do the right thing and not introduce a ban on twerking.
Soon after that he is called to Sue's office because she wants to inform him of the Dixie toilet she has organised for Unique, which got set up in the choir room. When Unique had to go to the toilet, the other glee-club members weren't pleased by the thought of her using the Dixie toilet in the choir-room. Will then offers to help her, and tells her not to let them get her down. In the past history progressed when people wouldn't do what others expected to be the norm for them. If Unique just would keep going to the toilet, although others didn't want her there, she might not change the world over night, but would well set a sign. When Unique then says she doesn't feel safe anyhow, he invites her to use faculty toilet. Sue sees Will unlocking the teacher's bathroom for her.
Sue then makes a deal with Will. If he stops the week's "twerking"-assignment, she would let Unique use the staff's bathroom constantly. Although he originally declines the offer and even vandalizes Becky's office on his way out, he is later revealed to have accepted the offer after all. He justifies this by saying Unique's safety shouldn't come second to their rebellious act. He and the kids agree that they shouldn't shock at Nationals, but should rather impress the judges with who they are. As a performance which truly represents the New Directions the club then performs On Our Way.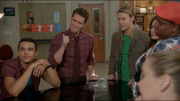 Will demands an explanation from Sue about the crowd in the school hallways. After she explains it's a career fair, he complains about there not being anything to represent a career in the arts. Sue mocks the thought of anyone pursuing a career in the arts, and insults Will. After that, at the Glee Club meeting, Will makes a speech about how hard it is to succeed in the arts, but concludes by saying that everyone should pursue what they love. As an inspiration for them not to give up and to try to make their dreams come true, he makes this week's assignment Billy Joel. He explains that Billy Joel had to fight every step of the way in his career, and that's what makes him a true inspiration. He then gives an introduction to
Blaine
and
Sam
who want to pursue a career in the arts. During their speech about their college plans Will seems happy and supportive. He then enjoys their performance of
Movin' Out
.
He watches the performance of My Life, and later An Innocent Man, in the choir room with the New Directions.
At the end of the episode Will sees that Sue made a place for arts to be represented at the career fair. He asks her what made her change her mind. Sue says everyone deserves a shot at their dreams, but then insults him and the New Directions, and says they will never succeed in life. The Glee Club confront her before Will manages to say anything. When Becky says they are all crazy, Will uses it to start the performance of You May Be Right.
Blaine walks in the choir room to announce that Will has a meeting and that he therefore can't attend Glee Club today, but that they will practise nonetheless.
In Blaine's gas hallucination dream puppet Will plays the piano together with puppet Jake and joins the performance.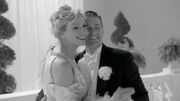 Sue walks to the choir room where Will asks her to let him work for an hour before she comes in insulting him without any reason. Sue tells him about the handsome Harris who was flirting with her but thought that she was a man. Will tells her a story about Fred Astaire's female dance partner Ginger who was leading the dance while dancing backwards in high heels. He offers her to teach her to do that in exchange for her giving the Glee Club $600 for costumes. Sue rejects vehemently and Will walks out the room. Sue sits in the back of the choir room as the gas slowly begins to operate. Sue is seen on a fancy mansion's balcony in a white gown, Will comes and together they perform Cheek to Cheek. After it a bewildered Sue is woken up by Becky. In the performance of The Fox, Will is the fish as he performs with New Directions.
Will writes "Green Christmas" on the board, explaining that this year's Christmas tree decorating competition is themed "Green is Good". Sam and Tina as the decorating committee go in front of the class to announce what it is about. Tina loses it a bit when she points out how important it is to win for her and everyone watches her skeptically. Will then says: Merry Christmas everybody and Blaine starts singing Joy To The World, but the others tell him to shut up.
In the choir room
New Directions
and Will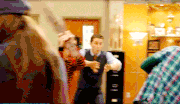 decorate the Christmas tree while performing
Rockin' Around the Christmas Tree
. Will sings and then dances with
Unique
. When they're done, he turns on the Christmas tree lights and hugs the tree.
In the auditorium the Glee Club has gathered for the audition of Virgin Mary. Coach Beiste and her director Artie asked the help of Will, because Shannon doesn't know who should sing as Artie responds: I'm right here. Will is happy to help and so Tina, Unique and Marley perform Mary's Boy Child. Shannon is touched by the performance and asks if there are any last minute auditions for the role of Mary, Kitty gets up and leaves.
Will teaches his history class as an announcement of Sue directed to the McKinley idiots starts. She then names all the runners-up for the Politically Correct Green Themed Christmas Tree Decorating Competition. The Glee Club is announced to be winner which upsets Becky. Will throws his fist in the air for he is happy about their win. Becky then trashed the xylophone and as the crashing sound immediately stops all celebration Sue tells them that everything is fine, shooting a dirty look in Becky's direction.
In the next scene Will and Shannon put up the list of the cast of the nativity scene looking pleased with their choices. In the choir room Will tells the New Directions all dressed up for the nativity scene that they are tired and hungry, but really excited. Kitty asks why Marley isn't dressed up as Virgin Mary. Marley replies that there is only one who could do the part justice: Unique. Then Unique performs Love Child together with New Directions. Will moves along to the music and after they finish tells them that they were not bad, but that Ryder has to deliver the child a few bars earlier. Kitty stands up in front of the class and tells them that this was the most horrible performance of the most beautiful story ever told and that they can only do it the right way or not at all. She then requests the part of Mary. Will asks Unique if she is ok with that and Unique happily hands over the baby and the role to Kitty.
New Directions are outside all dressed up and argue about what is what gift of the holy three kings, Kitty comes to them and Marley tells her she looks beautiful. Kitty says "Mary's in the house, bitches" and high-fives Will. They then start to perform Away in a Manger as snow begins to fall.
In the choir room Will announces that there will be two solos at nationals, one of them sung by Blaine since he was voted "The New Rachel". Tina immediately wants to sing the other solo, to which Artie replies: what a shocker. He also thinks he deserves singing the solo at nationals. Will suggests a sing-off, so Tina and Artie start to perform My Lovin' (You're Never Gonna Get It) with the New Directions doing back-ups. As the performance gets more and more hostile, Will interrupts by saying: "It's time for a break down." The performance ends with everybody including Tina being shocked at her pushing Artie out of his wheelchair. Sam carries Artie back into his wheelchair and Artie and Kitty leave the choir room with Kitty shooting Tina a dirty look, after Tina made clear during the performance that she doesn't think that Kitty loves Artie. Will is also seen in this episode as part of Principal Sue's panel to determine this year's Valedictorian. Will comforts Figgins while he cries during Tina and Artie's speeches and rolls his eyes at Sue when she declares the speeches a waste of time and that she hates them both.
The episode starts with Will giving a history lesson until Emma interrupts; the two of them leave the class room and head to the faculty bathroom. When Becky walks past it she hears loud noises and checks in on the bathroom. She catches Will and Emma having sex and screams.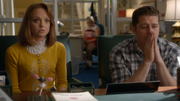 In Sue's office a disgusted Sue confronts Will and Emma about their intercourse claiming that Becky will be scarred for life. Will apologizes and assures Sue that it wtron't happen again. Emma then explains that she is trying to conceive a child and they want it to happen fast since the risk of complications and diseases increases with the age of 35. When Emma mentions Down Syndrome Sue and Becky ask what is wrong with it. Embarrassed Emma and Will answer "nothing". When Emma goes more into detail about their conceiving act, Sue is obviously nauseated and asks them to leave her office immediately. When the wave of nausea passes, she exclaims: "didn't even know that" a couple of times.
In the choir room Blaine, Sam and Tina are performing Jumpin' Jumpin'. After it Will tells them that it was awesome but that he is not sure if it would work for nationals. Unique agrees with Will since she doesn't want to sway in the background. They reply that they only did it for fun and that since they will be graduating soon their time is running out for that. Artie informs them that a quartet is 25% more powerful than a trio, implying that he would have wanted to be part of their performance. Will chimes in and says that these are the friendships that they are going to cherish for the rest of their lives and that they should collect as much memories as possible because they are all heading in different direction after graduation. This makes Tina cry. Sam and Blaine try to comfort her and hug. Artie tries to join the group hug but is pushed away by Sam, who tells him that he had his term.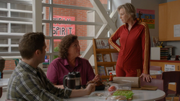 In the teachers room Emma walks up to Will and tells him that her pregnancy test came out negative. Will hug her and tells her that it is ok and that it takes some couples years to finally have a child. He also informs her that he made an appointment at a fertility doctor, Emma is not happy about it and excuses herself. Beiste tells Will that she is sorry for him. Sue gives Will an advice on how to become pregnant which first sounds really ambiguous: When Michael Bolton impregnated her, he called a friend who then played saxophone for them and Michael Bolton used his whole vocal range, so she was very relaxed. Beiste agrees and tells Will that he has to take the pressure away from both of them and Will is thinking about it.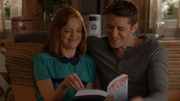 At Will and Emma's apartment Will is painting the nursery walls yellow. Emma comes in and asks him what he is doing to the craft room. When she realizes what he is doing, she asks him if it won't give them bad luck since she isn't even pregnant. Will smiles and says that she shouldn't worry so much and he shouldn't either. His dreams aren't as big as flying to the moon or becoming a successful baseball player, he only wants to teach arts to kids and start a family with the woman of his dreams. She just has to enjoy herself and see who else, meaning their children, will join for the ride. They tell each other that they love each other and Emma helps Will with painting the walls. Will begins to perform Danny's Song and Emma joins in later. During the performance they can be seen trying to choose a name for the baby, watching a movie, having another negative pregnancy test and then going to bed together.
In the choir room Will announces that nationals are in one week and that he wanted to work into the night with them, ordering dinner but then he realized that working too hard on something can keep you from achieving it. As a coach who knows what a national champion team looks like he can inform them that they are ready, to which the glee club applauds. The only thing they need will be sun block, because by next week they will be in sunny Los Angeles. Blaine gets up along with Sam and Tina as they want to perform another song since this is one of their last glee club meetings and therefore a big deal for them. They also want Artie to join them and Tina says that if her memory serves her right, a quartet is 25% more powerful than a trio. The four seniors perform Hold On, which is split between Lima and New York.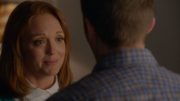 In their apartment Will is packing his bags for their trip to L.A. When Emma walks in he tells her to start packing her things too. She doesn't want to go and Will tries to convince her to come with him since she is their good luck charm and that he doesn't want to miss a week of "prime time baby making". She tells him that they can't have that since the baby has already been made because she is pregnant. Will asks her again if she is sure because the last time someone told him that things turned out really bad. She ensures him and a very happy Will hugs and kisses her.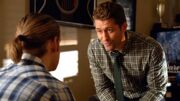 Will calls Sam into his office, telling him how Finn was a real leader and their secret weapon at competitions since no other glee club has had a "Finn." He thinks that Sam should be the new leader of the New Directions, because both the new and the old members love him. Sam doesn't think that he is a leader and that it's not as natural for him as it was for Finn. Will convinces him that he is and Sam finally agrees.
In the choir room, Burt and Carole give a little speech about what the glee club and they especially meant to Finn. They say that winning at nationals was the happiest moment of Finn's life and the achievement he was proudest of. The glee club and Will decide to dedicate their performance at nationals to Finn and win it for him. Will starts to perform I Love LA and the boys join him as they are seen riding a bus in L.A.
In the hotel lobby Will has problems checking in as a certain officer Sue from the FBI has called the hotel staff to contact her immediately when a 50 year old man with 12 teenagers should try to check in. Will is taken aback but is able to check them in eventually.
As the glee club gathers before their performance, Burt and Carole are nowhere to be found. But, suddenly, they show up and tell them to win nationals and to have the time of their lives. Burt has convinced Carole, without even saying a word, to come see the New Directions perform since they are Finn's legacy.
Will is seen alongside the glee club on stage waiting for the results. When asked why he looks so worried, he say's he has "a lot riding on it." He is devastated when they only make it to 2nd place.
In the choir room they put their new trophy in the shelf, while Carol talks again about how Finn would have reacted to their loss, like being angry for months and accusing the jury of unfairness since he would have thought that the win should have been theirs.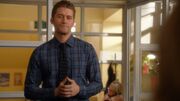 Sue calls Will into her office to tell him that the glee club is officially over since she as the principal has to think of the best for McKinley as a whole and cannot privilege some because she likes them. She tells Will she only makes fun of him because she likes him. She also tells him that she considered the situation more than he can think of but that in the words of ex-principal Mr. Figgins; "My hands are tied." Will asks her what he can do, suggesting to give a speech about the art and how much the glee club means for him personally, but Sue tells him that it wouldn't make a difference. The choir room will be turned into two class rooms and since they won't need the band's equipment anymore the money from its sale will be used to buy new computers. Will is obviously very upset and Sue seems to be too, even though she has tried countless time to take the glee club down. Surprisingly, she reminds Will of his accomplishments through the past four years and even says that even though he lost the Nationals Championship and the club, he didn't lose, "the game's just over."
Will writes 100 on the white board saying 100 lessons. Puck asks if he can have Finn's plaque but Will tells him that it belongs here at McKinley, he thanks everyone who came on such notice to celebrate the last few years. He gives them one last assignment: to reinvent a song they already have performed. He tells them how in the old days he would give a little demonstration for the assignment, everybody claps and cheers, only Santana says that they will all stop cheering once Will starts to rap. Will assures her that it won't happen and that he invited a special guest who has given the glee club their auditorium. April. She gives a little lesson about female empowerment. Artie asks why are they holding glasses in their hands, April tells him that they are about to pop the corks and perform the best song New Directions ever did. Blaine interrupts and tells her that New Directions never did this song since the Warblers did. April says that this explains why the song didn't annoy her every time she hears it in her head. She and Will start to perform Raise Your Glass with the New Directions and the alumni.
Again in the choir room Will watches the Unholy Trinity perform Toxic.
In Sue's office April and Will explain to Sue that as long as April pays for the auditorium, she can decide on who gets to perform there and her choice is obviously the glee club. A victorious Will announces that the glee club will move to the auditorium full-time and that it's not over for them. Will and April leave the office.
In the choir room Will announces the diva-off between Rachel and Mercedes saying that he had hoped that there would be fighting this week but that they are competing nonetheless with the only song they obviously know for it with. Rachel, Mercedes and Kurt perform Defying Gravity. After they're finished Mercedes wants the glee club to vote but Will stops her and tells them that they should pay their respects to these beautiful performances by voting the next day.
In the choir room Will says that Puck has prepared a song but before Puck can perform Santana interrupts with a request for a dance duet with Brittany. She then starts to perform Valerie with Brittany joining in. When it is over and everybody's cheering, Puck asks them all to move to the auditorium, where he then performs Keep Holding On. Everyone but Quinn joins the performance with the dance moves from their first rendition of the song almost 4 years ago. In the choir room everybody gets ready to vote for the true star of the glee club but Santana interrupts again by telling everyone what an awful person Rachel truly is, Rachel storms out of the room. After Rachel and Mercedes are back from the bathroom, they announce that this whole diva-off was ridiculous and that they now know that they are both great and that it's impossible to choose between two queen divas. Will smiles and says that the voting said the same and that he thinks they are equally talented. Mercedes and Rachel hug.
Once again in Sue's office Sue presents the results of her online research. She found out that April wasn't allowed to leave the state New York and that now that she did all her bank accounts are frozen. Will is shocked and asks April if this is true. April answers that it sounds true to her. Sue calls the glee club officially over and Will storms out with April running after him. She tries to apologize to him but he cuts her off telling her that she has done the worst thing she could possibly do: giving him hope.
In the choir room April tries to apologize again by having invited Holly whose presence will make everybody happy. Will is surprised that they even know each other and Holly tells him about the Facebook group where all the glee club's guests are in, such as Blaine's brother and Rachel's mom. After she hears of the assignment she calls it terrible and that she won't look in the review mirror but will look forward. She starts to perform Happy while everyone dances along and Blaine, Will and Mercedes join her.
In the auditorium Will shows the alumni where he placed the plagues, he gives a very emotional speech on what glee club meant to him and stars crying at the end. The former glee clubbers hug him.
In the hallway, Will, tells Holly that he's not so sure about what she's about to do anymore but she tells him not to worry. In the animal club Holly walks in and performs Party All the Time, dancing with Rachel, the scenery changes and everybody is dressed up and walks down the hall into a big room that's actually a disco. Holly and Will are seen dancing.
In Sue's office Sue presents a lot of letters from the animal club students' parents and tells them that this is the end of their little musical project, Holly wants to protest but Will cuts her off, promising Sue that it won't happen again, he runs out of the office followed by Holly. She tells them that it doesn't have to be over yet, that they can go to the hockey team and do glee on ice. Will tells her that she should just stop, that it's over and all he's trying to do is get through this week and enjoy graduation. He leaves her with the words: I've accepted it.
In the choir room Quinn and Puck perform Just Give Me a Reason, while everyone is smiling, including Rachel. Quinn announces that she and Puck are officially dating now, something they've never did before. Will gets up and tells them that this was the last song that's been ever performed here and that he knows that everybody got more songs to sing but that they cannot do it here anymore. He sighs and tells them that glee club is officially over, thanks them and says that it's been an honor. Rachel smiles sadly at him.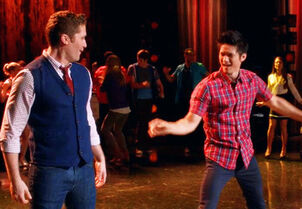 Will walks into his office and finds a large envelope reading "Will Schuester" on his desk. It's an invitation to the auditorium. He goes there to find a press me sign on the table facing the stage. As he approaches the table a spotlight shines on him, blinding him and he shields his eyes with his hand. He presses the button and a video starts, where the glee club member, current and former, Sue and Holly, tell his not yet born child what kind of person her or his father is.
Rachel
says that he always took care of them and that all of them love him and no matter where they are he will always with them because they have the same tattoo on their hearts.
Don't Stop Believin'
starts playing and is performed by Rachel,
Artie
,
Sam
,
Blaine
and
Tina
. Will and the rest of the former and current glee club members join them, dancing and singing. At the end everyone cheers and they all hug in a big group hug. In the auditorium,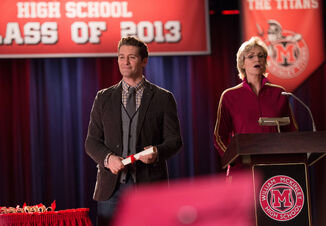 graduation takes place with Sue announcing the names. When Sam's name is announced he walks up to Will and hugs him.
Will walks in the choir room, where Sue is already waiting for him with her last two wine coolers from the 80's, telling him that she wanted to save them for something special, Will replies that the funeral of the glee club is as special as it could get. Will tells her that he won't miss all their fights but Sue says that she surely will since no one ever walked the distance with Sue Sylvester like he did. All her life she was searching for a worthy adversary and she's sad that the fights are over now. She tells him that he did change the lives of many kids for the better and even changed her. She says that he's a horrible History teacher and an even worse Spanish teacher and that she has managed to get a job interview at Carmel High for him as the new coach of Vocal Adrenaline, because coaching a glee club is the only way how he could be of any use. Will is stunned and Sue tells him that he should imagine what would be possible with a real budget and no one like her to try to bring them down. Will is reluctant since Vocal Adrenaline are their mortal enemies but Sue tells him that it's really over and that it is just a job interview, which he could always blow. Will takes a sip from the wine cooler and says that it's awful. Sue says she knows, that's why they went out of business and leaves him alone to think.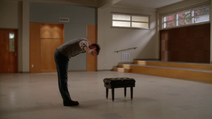 Will sits on a piano chair and thinks, then he gets up and hears the voices of the glee club kids back when they lost their first regionals, when everybody told him what glee club has done for them. He turns out the lights and leaves the choir room behind. But even after the lights are turned out the laughter of the kids who spent so much time in this room can be heard.
As of the time jump, it is revealed that Will is still teaching at McKinley and didn't take the interview for the coaching position with Vocal Adrenaline. In the hallway Sue runs after Will asking him how he's doing. However, when he starts to answer she tells him that she doesn't care but that she heard that he had an extra ticket to New York left. Will explains that he has since Emma is too pregnant to fly and Beiste needs two seats so she can't come with him. Sue declares that she will take the ticket, because she needs to see New York and tries to leave. Will stops her asking her why she wants to go there since she seems to hate the city. On a Sue's Corner episode Sue gave her opinion on New York that made clear that she thinks that New York is an over-rated stinking rat hole. A lot of people were outraged by it and when the cable did some research they found out that Sue has never been to New York. Sue then explains that she has been lying a lot in her broadcast and that she now has to visit that place. Will agrees but tells her that she has to pay him back for it and that she has to come to Rachel's opening night. Sue tells him that he drives a hard bargain but that she'll do it. Will leaves her office telling her that he is actually looking forward to it.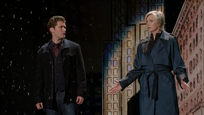 The performance of NYC starts with Sue and Will standing inside a snow globe, then they are on a stage while people with cart box props walk around and dance next to them. Then the scenery changes and Sue and Will are in New York City. Sue exclaims that it smells like barf and Will asks her to follow him.
In a flashback Sue accuses Will of trying to sleep with her, when there is only one bed in their hotel room, explaining why Sue has to stay at Rachel and Kurt's apartment.
At the theatre Sue is trying to sell her ticket and when Will confronts her about it, she says that she cannot stand the thought of Rachel ruining the show. Will tells her that she promised to see the show but Sue says she has no memory of that, Will leaves her standing there.
Will knocks on Rachel's door telling her how proud he is of her. Rachel tells him that she hopes she'll get through the who are you now performance since it always makes her think of Finn and that she is wearing her Finn necklace since she promised him to get a ticket for her opening night. Will receives a call from Emma whose water just broke. Will wishes Rachel luck and rushes off home for the birth of his child. Rachel receives a call from Will, who is calling her from the waiting room. Rachel puts him on speakers and he tells her that he got there in time for the last few pushes. Mercedes asks him to tell him if his baby is a boy or a girl. Will says that it's a boy who they named Daniel Finn. He then asks about her opening night and she tells him that it was great. He tells them that he is completely happy and Rachel says she feels the same.
Profile
Singing is what Will is all about. As a student at William McKinley High School, he helped the Glee Club win the 1993 National Show Choir Championship cup - it was one of the best moments of his life. But after graduation, he stopped performing, married his high school sweetheart, and left college with a safe degree in accounting. A few years later, Will found himself back at McKinley, this time as the school's Spanish teacher. And when choir director Sandy Ryerson is fired for inappropriately touching a student, Will offers his services as a replacement, hopeful that it will capture some of the joy from his youth. Of course, Will gets the job and New Directions is born! At home, Will tries to balance the needs of his demanding wife Terri (who says she is pregnant with his baby), the anxiety of fatherhood, and the close bond he's forming with fellow McKinley faculty member, Emma Pillsbury.
Personality/Appearance
Will Schuester can easily be described as the ultimate "Mister Nice Guy." Sweet, compassionate and even a bit naive, Will is always trying to do his best by not only his loved ones, but also his friends and students. He tries to see good in everyone, and wants to bring that good out of others, especially if it turns out to be musical talent. He is often willing to overlook obvious personality flaws and can at time be completely oblivious to the manipulative and malicious behavior of other people (such as his wife Terri, and at times the intents of Sue).
Unfortunately despite Will's inherent goodness, he's an extremely driven and at times obsessive individual when it comes to his personal desires. He pushes not only himself, but his students to their best, to the point that he overlooks or ignores their personal feelings. He is also willing to resort to dark methods in order to get what he wants, such as blackmailing Finn into joining Glee and failing the Cheerios to get back at Sue. Will can also be extremely paranoid, particularly towards Sue (although rarely without reason).
Will can also be hypocritical in his beliefs such as after telling Sue to be fair to people, but then becoming upset at Sue for not giving a handicapped girl special treatment. He also allows his 'liberal guilt' to be unfairly manipulated because although he wants to make everyone happy and desperately doesn't want to hurt anyone's feelings, others take advantage of that.
His female students have tendencies to fall in love with him and express their love with a gift. As Will said "It always starts, with a novelty gift."
Relationships
Emma Pillsbury is the school guidance counselor who suffers from mysophobia and OCD. She is one of Will's closest friends and he usually comes to her for all of his problems. She's been in love with him for some time now, despite him being married. He too has deep feelings for her, but never acted on it due to his marriage and supposedly expecting wife Terri. Emma, tired of pining after Will, became engaged to football coach Ken Tanaka, who is deeply in love with her, but his feelings are one sided.
In
Sectionals
, Emma moves back their wedding time to take the Glee Club to their sectionals competition as a favor to Will. Ken is very upset by this and declares their relationship over knowing that he could do nothing to prevent the fact that Emma truly loves Will and not he. Will arrives at the wedding and finds Emma sitting alone. She tells him that Ken has dumped her and she admits to Will that she was settling for Ken and if Will had shown any interest in her, she would've been with him in an instant. She tells him that she is resigning from the school because she is ashamed of her actions towards Ken, and heartbroken over Will. He tries to stop her by saying that he has just left his wife, but she feels it's too soon for him to move on.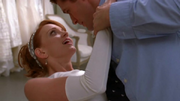 On the day of her resignation, Will realizes that he can't let her leave. He runs to her office, but it's empty. He finally spots her across the hall with a box of her belongings as she is about to leave. He catches up to her, takes the box, shushes her as she is about to say something, and then kisses her for the first time. Afterwards they both look nervous, but are smiling.
In Hell-O, Emma stays and they go on a date, which gets very intimate. Emma breaks it off and reveals that she's never been intimate as it makes her uncomfortable and she hasn't found the right person. Will doesn't seem pleased by this news, but tells her its okay. In The Power of Madonna, Will and Emma attempt to sleep together because Emma wants to take power of her body. Will later files for a divorce and tells Emma to wait for him. In Bad Reputation, Emma finds out about Will kissing Shelby and sharing his bed with April Rhodes, although she thinks he actually slept with her, via Sue. Sue tells her she needs to stand up for herself and let Will know how he made her feel. Emma confronts Will, angrily calling out that he is a slut and she is through with him. He tries to apologize to her later, but she is indifferent. In Journey, Emma tells Will that she is seeing someone else now and he vows to fight for her. Despite any relationships Will has had, the actor who portrays him has said that Will's heart is truly with Emma.
In The Purple Piano Project he talks about starting a family with Emma and they seemed to have moved in together, for they are seen waking up in bed together/in bed together many times.
In Yes/No, Emma continues to mention her desire to be married. Expressing it by singing Wedding Bell Blues to which Will soon catches on to her desire. Will gets the New Directions to come up with multiple songs to help propose to Emma. Ending with Will choosing We Found Love. Having the New Directions perform We Found Love in the school's pool. Will proposes to Emma, to which she accepts.
In All or Nothing, Emma and Will finally get married in The Choir Room, after the unaccomplished wedding during I Do and the long wait.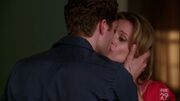 Will and Terri started out as high school sweet-hearts, the "it" couple William Schuester and Terri DelMonico who after graduation got married. Although Terri and Will have been in love for years, it is clear that their relationship is not a healthy one, at least from Terri's end. While Will tries his best to be kind, supportive and understanding, Terri is rude, selfish, manipulative and shows no concern for the consequences of her actions and who they might hurt. The key example of this is when Terri fakes her pregnancy. Rather than admitting to Will the truth, she hides the fact her pregnancy was never real, and behind his back makes plans to adopt Quinn Fabray's baby. Will remains convinced that Terri is a good woman, however as the series progresses he begins to show discontent with the relationship, particularly after Terri begins giving kids medication during a brief stint as a school nurse, and manipulating his student Rachel when she had a crush on Will. Upon discovering that Terri has been lying to him about the pregnancy, Terri reveals that she was unhappy with how Will was more confident and happy, and was afraid that he would leave her, as they were no longer the same people they were as kids. Will is furious and almost on the verge of being violent, as he storms out of the house, with Terri sobbing behind him. The next time we see Terri is in
Sectionals
, where she tells Will she has began therapy. He tells her that he doesn't feel love for her anymore, and ends up leaving her for Emma. In the episode
The Power of Madonna
, Will files for a divorce and it's finalized in
Funk
. In The Substitute Terri looked after Will when he got sick with the flu and Terri started rubbing an oil on his back and then they sleep together. Terri says that she is his wife in front of Holly, but Will said to never come back. Terri later Sue's 'League of Doom', the objective of which was to bring down the Glee Club. Later, when Sue had a change of heart, Terri gave Will first class plane tickets to New York for when the New Directions went to sectionals. She then announced that she was moving to Miami to open a new branch of '
Sheets n' Things
' and the pair parted on good terms.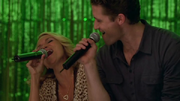 April Rhodes was a girl who in high school, Will had the biggest crush on. Unfortunately, at the time she was seeing someone else, and more or less had no idea that he existed. Years, later, when Rachel Berry quits the Glee club, Will decides to recruit April as their leading singer. He offers her the chance to get her high school diploma by doing one more credit of Spanish (she dropped out of high school, just short three credits). Will is shocked to find April an alcoholic, has-been, down on her luck, but still offers her the chance, which she takes. The two begin a flirtatious friendship, that falls apart upon discovering that April is leading the rest of the Glee Club down a bad path of drinking and partying. In the end, Will makes an attempt to fire April, who stops him and admits her own failings and how it was not her place to begin with to even be there. She leaves Will and wishes him and the kids well. But recently, in the episode Home, Sue has taken the auditorium for cheerios practice so Will resorts to asking April for a hand. April had begun seeing a very rich man which allowed her partly own a local skating rink. When Will asks her if the glee club could borrow the rink April doesn't even hesitate. April stays the night in Wills apartment, and the two end up sleeping in Will's bed, only sleeping, due to both feeling lonely.
Will pursues and kisses Holly in the episode Sexy, but she saying that she destroys nice guys like him. She later changes her mind, saying that maybe it's time she learns something about romance, and they start dating. They are shown speaking on the phone in the episode Original Song. They break up in A Night of Neglect.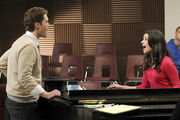 Rachel, his student, had a quite large crush on him for most of the episode Ballad. She gave him a tie, and cleaned and cooked in his house. Will was annoyed and stressed about her inappropriate behavior and tried a variety of methods to tell her he wasn't interested, such as in song, before telling her directly. However, she eventually got over the crush and they mended back their relationship.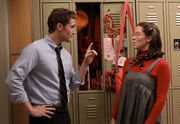 Suzy had a crush on him, and hinted her attraction to him in class, by asking how to conjugate 'to love'. She gave him a novelty gift and called him in the middle of the night, upsetting his wife. Will told her he wasn't interested directly, causing her much sadness and a hole in her esophagus due to the consumption of the world's hottest pepper. She ended up in a coma as a result and later spent two years in therapy. Will quotes her as crazy.
Will considers the glee club as his family (Yes/No when he asks for the club's help in proposing to Emma). The same situation occurs in All or Nothing when he married Emma.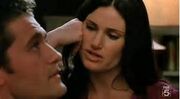 They make out in Hell-O, but Shelby pulls back when she finds out he's just divorcing his wife. She suggest him to call her as soon as he sorted everything out. In Season Three their Glee Clubs compete against each-other.

Songs
Trivia
Gallery
Quotes